Looking for gold in Sweden!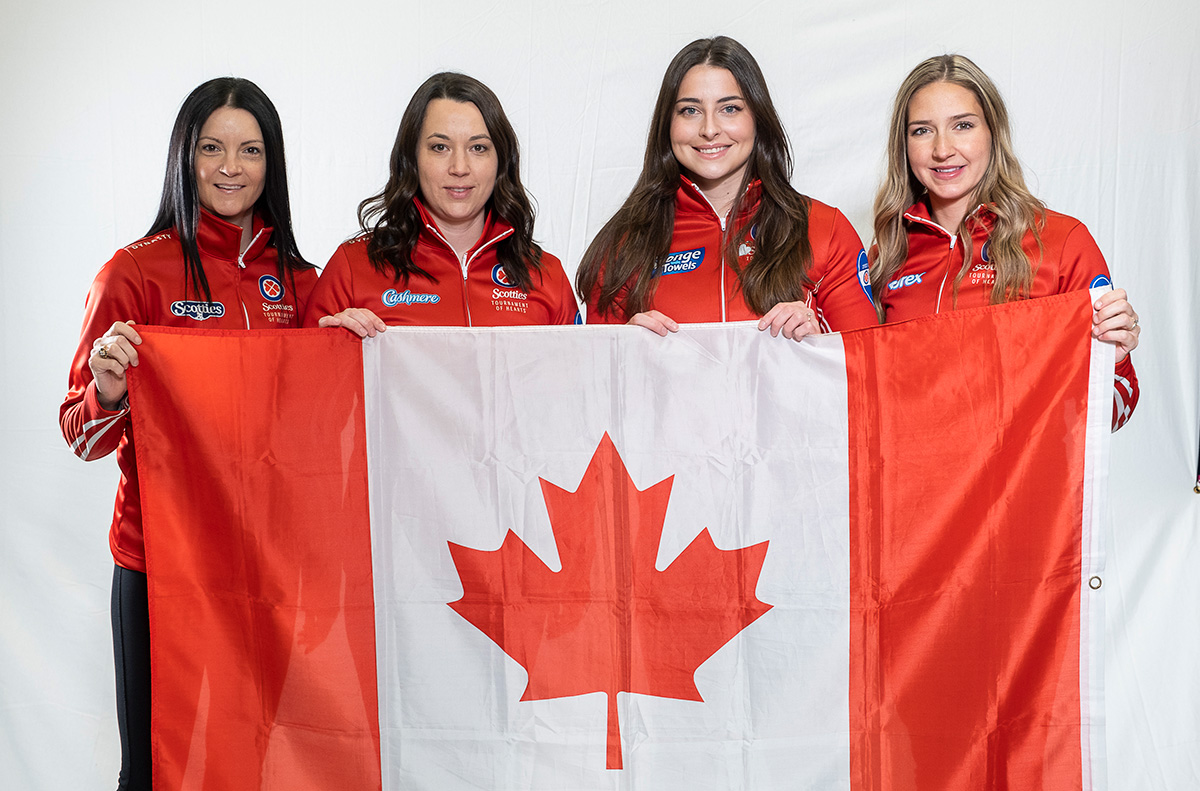 Canada's Team Kerri Einarson gets set for 2023 worlds in Sandviken, Sweden
Canada's Team Kerri Einarson will be more determined than ever to reach the top of the podium at the 2023 LGT World Women's Curling Championship, presented by New Holland, when the event gets underway on Saturday at Sandviken, Sweden.
After winning its historic fourth-straight Scotties Tournament of Hearts title a few weeks ago, the team from the Gimli Curling Club in Manitoba is making its first international trip to represent Canada at a world women's championship.
Team Einarson earned bronze for Canada last season, but the sights are set on an improved performance this year.
Skip Einarson, vice-skip Val Sweeting, second Shannon Birchard, lead Briane Harris, alternate Krysten Karwacki, coach Reid Carruthers and national coach Renée Sonnenberg have improved each performance at the past two world championships (in 2020, the event was cancelled due to COVID-19). In 2021, the team qualified for the six-team playoffs. One year later, Canada earned a spot on the podium as bronze-medallists following an 8-7 win against Sweden's Anna Hasselborg.
Canada jumps into its 12-game round-robin schedule against the home nation Swedes and Team Hasselborg on Saturday at 2 p.m. (all times ET).
The schedule continues with a game against another podium contender in Team Tabitha Peterson of the United States. Peterson won bronze at the 2021 world women's championship and intends to give Canada a strong challenge early in the round robin.
Team Einarson most recently defeated the Americans in the inaugural Pan Continental Curling Championships bronze-medal game in October 2022, which was the event to determine which teams from the newly formed Pan Continental region would compete at the world championship.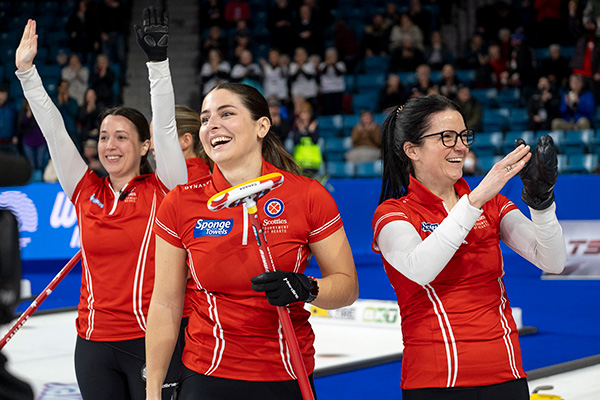 Also in the field is the three-time defending world women's champion Team Silvana Tirinzoni of Switzerland. Team Tirinzoni, with a re-tooled front end, is seeking a fourpeat of its own after winning the past three world women's curling championships.
Other teams in the field include Denmark's Team Madeleine Dupont, Germany's Team Daniela Jentsch, Italy's Team Stefania Constantini, Japan's Team Satsuki Fujisawa, Norway's Team Marianne Roervik, New Zealand's Team Jessica Smith, Scotland's Team Rebecca Morrison, South Korea's Team Seungyoun Ha and Turkey's Dilsat Yildiz.
Here is Canada's full schedule (all times ET):
Saturday, March 18 – vs. Sweden @ 2 p.m.
Sunday, March 19 – vs. United States @ 4 a.m.
Sunday, March 19 – vs. Norway @ 2 p.m.
Monday, March 20 – vs. Italy @ 4 a.m.
Monday, March 20 – vs. Scotland @ 2 p.m.
Tuesday, March 21 – vs. Switzerland @ 9 a.m.
Tuesday, March 21 – vs. New Zealand @ 2 p.m.
Wednesday, March 22 – vs. Germany @ 9 a.m.
Wednesday, March 22 – vs. South Korea @ 2 p.m.
Thursday, March 23 – vs. Japan @ 9 a.m.
Friday, March 24 – vs. Turkey @ 4 a.m.
Friday, March 24 – vs. Denmark @ 9 a.m.
Saturday, March 25 – Qualifying round @ 5 a.m.*
Saturday, March 25 – Semifinals @ 11 a.m.*
Sunday, March 26 – Bronze-medal game @ 4 a.m.*
Sunday, March 26 – Gold-medal game @ 9 a.m.*
*if qualified
(Note: Daylight savings time starts in Sweden on March 26 and clocks move forward one hour)
This is the 44th edition of the women's world championship. Canada leads the field with 17 gold medals and is seeking its first since 2018, when Team Jennifer Jones hoisted the title in North Bay, Ont. Canada has also earned eight silver medals and 10 bronze at the event for a leading 35 medals won.
The round robin concludes on Friday, March 24, with the top six teams advancing to the playoffs; no tiebreaker games are played, so ties for playoffs spots are broken based on head-to-head results, and if that doesn't resolve the tie, then the pre-game Last-Stone Draw distances.
The top two teams from round-robin play will be seeded directly into the semifinals on March 25, while third will play sixth and fourth will play fifth in the qualifying-round games earlier in the day.
The winners of the qualifying-round games will advance to the semifinals. The semifinal winners will play for gold on March 26 at 9 a.m., with the semifinal losers playing for bronze on March 26 at 4 a.m.
TSN/RDS2, the official broadcast partners of Curling Canada's Season of Champions, will provide live coverage of Canada's round-robin games, in addition to all playoff games. Click here for the full broadcast schedule.
Visit the event website for list of teams, schedule information and live scoring.