Tied for third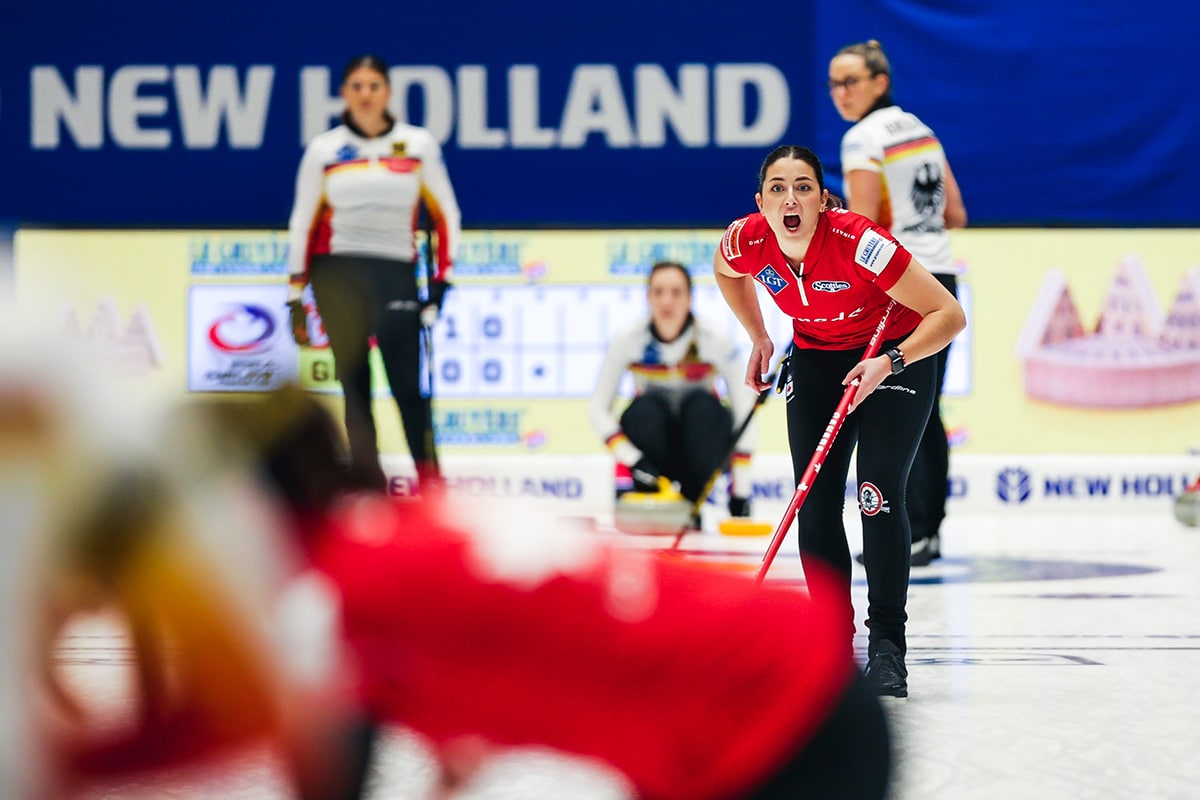 Canada falls to third in standings following loss to Germany at world women's
SANDVIKEN, Sweden — Canada was a half-step ahead of the playoff logjam at the 2023 LGT World Women's Curling Championship, presented by New Holland. But following a loss on Wednesday afternoon, the playoff door for some nations got a little wider as the hinges on Canada's tightened.
Canada's Team Kerri Einarson of Gimli, Man., lost 8-3 in an eight-end game to Germany's Team Daniela Jentsch at Goeransson Arena in Sandviken, Sweden. Once second place in the standings, Canada drops to a third-place tie with a 5-3 record.
"Frustrating. We started off well with the draw to the button and had two near pins. The first end it looked like we had a deuce set up and I feel like we just didn't quite pick up on the ice enough. It's different than what it was. It wasn't bad, but it was different. We weren't as sharp as we should have been," said Team Canada's coach Reid Carruthers.
Einarson, vice-skip Val Sweeting, second Shannon Birchard, lead Briane Harris, alternate Krysten Karwacki, coach Carruthers and national coach Renée Sonnenberg started the game with a chance for two, but the team was heavy on the draw. Canada ramped up the pressure and had a solid third end when it forced Germany to make a difficult hit through the port against four to tie the game.
But small mistakes started adding up for Canada. An intended hit in the fourth end rolled too far away from the centre and Germany stole a point, for example. Half-shots in the eighth end led to Canada's downfall, forcing Team Einarson to make a challenging long double raise takeout on its last. Canada missed and Germany drew for another point to end the game.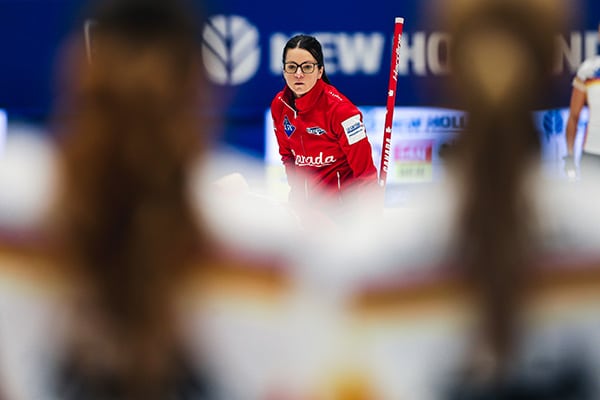 "We didn't really have anything on the in-turn side. We needed Kerri to make a hero shot, a really tough angle-run double," Carruthers said of the final end. "Unfortunately, we missed a couple of shots early and in the mid-part of the end to set up a potential steal. But they made some great freezes that put the pressure on us and left Kerri with a difficult one."
There were moments of execution by the Canadians, who were still shooting efficiently. However, most of the efficiency was notable during shots where Canada had to limit the damage being administered by Germany, including an essential draw against two in the seventh end to score a point.
Switzerland's Team Silvana Tirinzoni (7-0) and Italy's Team Stefania Constantini (6-2) hold the top two spots in the standings, which comes with the gift of a bye to the semifinals at the end of the round robin.
Canada's loss allows Germany and Norway to catch up with it in the standings. Norway improved to 5-3 after a win against Turkey.
Team Einarson will not have much time to dwell on the loss. It's back on the ice at 2 p.m. ET against South Korea's Team Seungyoun Ha (4-3), which is also in the hunt for the playoffs.
"Believing our eyes," Carruthers said is the key message to his team between games. "We'll have to chat a little bit about how that game went and we'll have to come out sharper against Korea or else we'll be in trouble."
The top six teams qualify for the playoff round, with the top two receiving a bye while the remaining four play in the first round. The medal games will be played Sunday.
For Team Canada updates, go to www.curling.ca. Follow us on Twitter, Instagram and Facebook.
TSN/RDS2, the official broadcast partners of Curling Canada's Season of Champions, will provide live coverage of Canada's round-robin games and all playoff games. CLICK HERE for their complete broadcast schedule.
The list of teams, schedule information and live scoring can be found on the event website.
The French version of this story will be posted as soon as possible at www.curling.ca/?lang=fr