See you in the playoffs!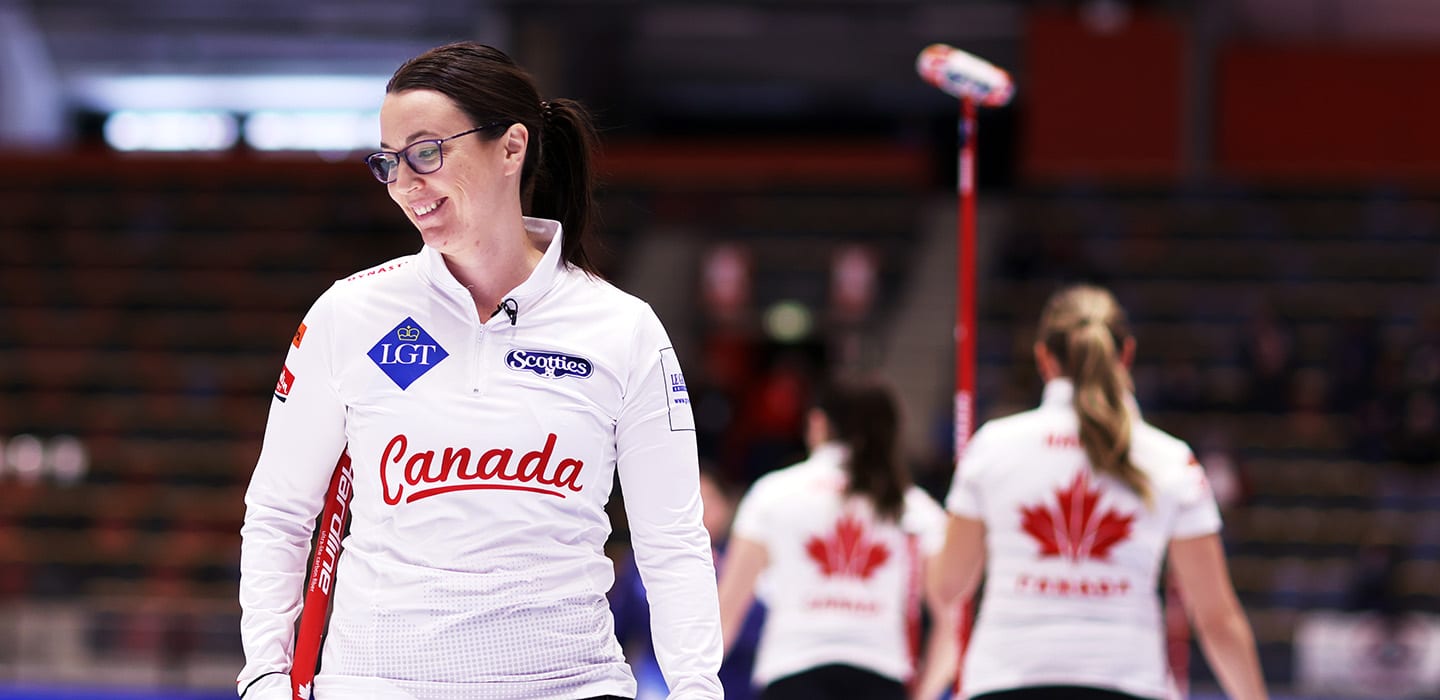 Canada qualifies for playoffs at 2023 LGT World Women's Curling Championship
SANDVIKEN, Sweden — It wasn't until the 11th hour that Canada qualified for the 2023 LGT World Women's Curling Championship, presented by New Holland.
Canada's Team Kerri Einarson finished its 12-game round-robin schedule with an 11-5 loss against Denmark's Team Madeleine Dupont on Friday afternoon at Goeransson Arena. The team from Gimli, Man., gave up two scores of three and a four-ender during the game.
Skip Einarson, vice-skip Val Sweeting, second Shannon Birchard, lead Briane Harris, alternate Krysten Karwacki, coach Reid Carruthers and national coach Renée Sonnenberg left the ice early with no idea if they would qualify for Saturday's playoffs. All they could do was wait and see how the results played out.
Fortunes favoured Team Einarson of Gimli, Man., as teams provided some help after Canada fell to 7-5 in the standings.
"We were going to have some anxious moments here waiting, but we knew there were a lot of scenarios here where we still make it through," Birchard said.
South Korea's Team Seungyoung Ha (7-5) aided Canada by defeating Team Tabitha Peterson of the United States (6-6) by a score of 10-6 during the afternoon draw. Italy's Stefania Constantini (7-5) also helped after earning a 7-3 victory against Sweden's Team Anna Hasselborg (7-4). Japan's Team Satsuki Fujisawa also played a role with a 7-5 win against New Zealand's Team Jessica Smith (0-12) to improve to 7-5 in the standings.
Those results have determined which six teams have qualified for the playoffs. Switzerland's Team Silvana Tirinzoni (11-0) will have a first-place bye, while Norway's Team Marianne Roervik (7-4), Sweden, Canada, Italy and Japan will complete the remainder of the playoff bracket.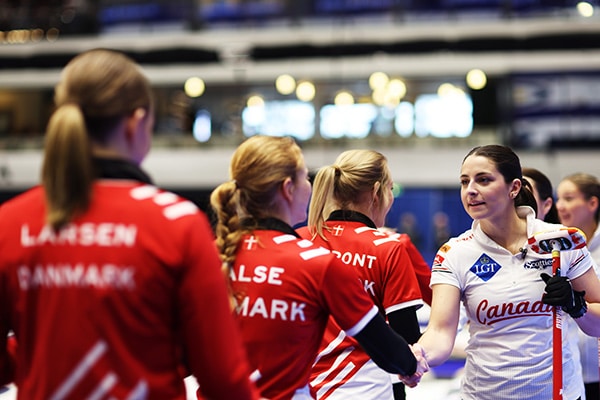 Canada still has a chance to finish second overall in the standings and receive the first-round bye in the playoffs. Canada will need wins from Denmark (against Sweden) and Germany (against Norway) during the evening last round-robin draw at 2 p.m. (all times ET) to earn the playoff bye.
Denmark started the game with the hammer but couldn't generate more than a single point. In the second end, Canada had an open draw for two and took the lead. It was textbook for the Canadians until that point.
Denmark scored its first of two three-enders in the third end. Canada caught itself in trouble after a couple of missed runbacks and doubles in the middle of the end. Those half-shots led to Team Dupont having a hit for three, executed nicely for a 4-2 lead.
"We had a great start to the game and then in the third end we just let them off the hook. They played well to their credit, making some fantastic freezes and chases and draws. We just weren't responding in that sense," Birchard said.
In the fifth end, Canada wrecked on a come-around tap, which allowed Denmark to play a raise takeout to sit three. It left Canada chasing for the rest of the end, with the team unable to overcome it and gave up its second three-ender of the game.
Team Dupont put the game out of reach in the eighth end after Canada missed its final shot when it attempted to hit and roll off its own stone to land on the button. Denmark made the hit for four to win the game.
In the qualification games on Saturday at 5 a.m., the third- and sixth-ranked play in one game, while the fourth- and fifth-ranked teams play in another. The winners advance to the semifinals to play the two teams with a bye.
For Team Canada updates, go to www.curling.ca. Follow us on Twitter, Instagram and Facebook.
TSN/RDS2, the official broadcast partners of Curling Canada's Season of Champions, will provide live coverage of Canada's round-robin games and all playoff games. CLICK HERE for their complete broadcast schedule.
The list of teams, schedule information and live scoring can be found on the event website.
The French version of this story will be posted as soon as possible at www.curling.ca/?lang=fr.