FINAL FOUR!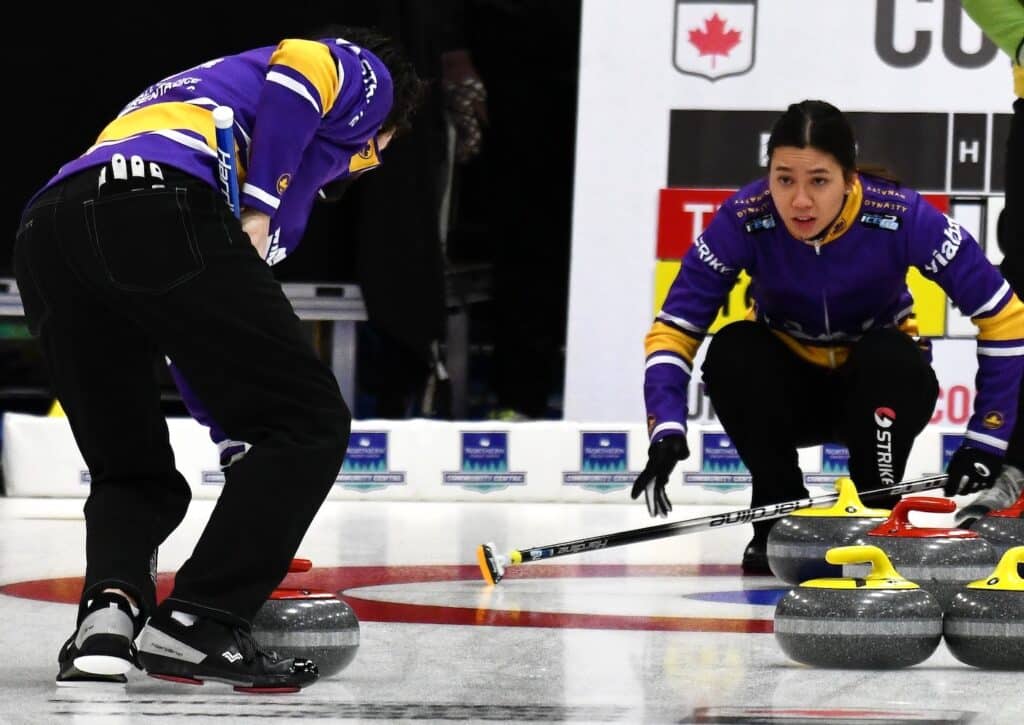 Semifinal pairings set at 2023 Canadian Mixed Doubles
It's a final four position that perhaps many may not have predicted, but Brittany Tran and Aaron Sluchinski proved on a snowy Sudbury Saturday Night that they belong with the elite at the 2023 Canadian Mixed Doubles Curling Championship.
The Southern Alberta tandem — Tran is from Calgary, Sluchinski hails from Airdrie (just north of Calgary) — capped a two-win playoff day before a near-capacity crowd at the Gerry McCrory Countryside Sports Complex, toppling previously unbeaten Laura Walker (Edmonton) and Kirk Muyres (St. Gregor, Sask.) 7-6.
The win advances Tran and Sluchinski to a 9 a.m. semifinal Sunday (9 a.m.; all times Eastern) against two-time champions Jocelyn Peterman and Brett Gallant of Chestermere, Alta.
"Awesome," said a happy Sluchinski, moments after Tran made a tough double-takeout to snuff out a looming Walker/Muyres steal in the eighth end. "We tried 'er a couple years ago (in the 2021 Canadian mixed doubles championship in the Calgary bubble) and couldn't quite get this far — there's lots of good competition here so to be in the final four out of 32 that's a pretty good feat."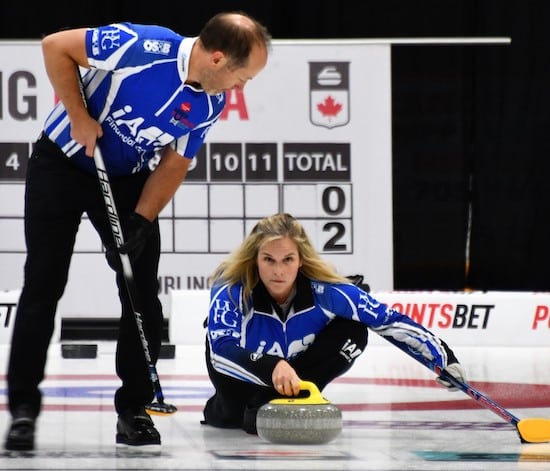 Peterman and Gallant, on an eight-game win streak, advanced with a tidy 8-1 win over Team Ontario's Lynn Kreviazuk and David Mathers of Ottawa.
Tran and Sluchinski, meanwhile, have now won six straight after opening the national championship with two losses in their first three games, and considered Saturday night's win their best game of the week.
"I think so," said Tran. "We've been building all week. We kind of had a little blip there in the middle of our schedule, but we were able to bounce back and we've been getting better and better every game."
Tran and Peterman, of course, have a history — they were teammates on the Peterman-skipped Red Deer, Alta., team that captured the 2012 Canadian junior women's title.
Beating them, suggested Sluchinski, will be a matter of maintaining their momentum from Saturday.
"Just keep playing the way we're playing," he said. "We played really well that game, and I feel like we can hang in there with anybody if we play that well."
The other semi will feature undefeated Jennifer Jones and Brent Laing (Horseshoe Valley, Ont.) against Rachel Homan (Beaumont, Alta.) and Tyler Tardi (Peachland, B,C.), who've won eight in a row after dropping their opener.
Tardi and Homan stole both of their victories on Saturday, including a 6-5 win in the quarterfinal over Chaelynn Kitz and Brayden Stewart of Saskatoon, after Kitz was heavy with her last-rock draw to the four-foot for the win.
Jones and Laing, meanwhile, have yet to lose, and sailed to a 7-2 win over Lisa Weagle (Ottawa) and John Epping (Toronto) in the round of eight.
Among the most successful four-player team curlers in the history of the sport, both admit the prospect of being able to play together at a world championship is a motivating factor for them..
"I think that would be really cool," said Jones. "I feel like we already have done it together because we're such a good support system, for each other even when we're not on the ice together. A good part of my success already has been Brent, but it would be fun to share it on the ice with him."
"It would be awesome," added Laing. "To be honest, I haven't thought about it much because it's so hard to win this thing, and thinking about it now wouldn't do me any good. But it would be really cool. We've experienced a lot of really cool competitions together, Olympics, world championships, Grand Slams — this would be really cool for sure."
Saturday night's near sellout crowd despite a crushing snowstorm that featured thunder and lightning over the skies of Sudbury left Jones awestruck.
"This has been an unbelievable mixed doubles," she said. "Sudbury has put on one of the best events we've ever been to. It's been unbelievable."
The semifinal winners will play for gold and the right to wear the Maple Leaf at the World Mixed Doubles Curling Championship April 22-29 in Gangneung, South Korea, Sunday at 1 p.m.
In the playoff qualifying round earlier on Saturday, Weagle/Epping turned back Team Manitoba's Kadriana Lott and Colton Lott (Winnipeg Beach, Man.) 8-6; Kreviazuk/David Mathers defeated Team Nova Scotia's Karlee Everist and Bryce Everist (Bedford) 6-4; Tran/Sluchinski doubled Laurie St-Georges and Félix Asselin (Laval, Que./Montreal) 8-4; and Homan/Tardi stole two in the eighth end for a 7-5 win over Patty Hersikorn and Steve Laycock (Saskatoon).
Sunday playoff games at the 2023 Canadian Mixed Doubles Championship will be streamed live on Curling Canada's streaming platform, Curling Canada+.