Back-to-back bronzes!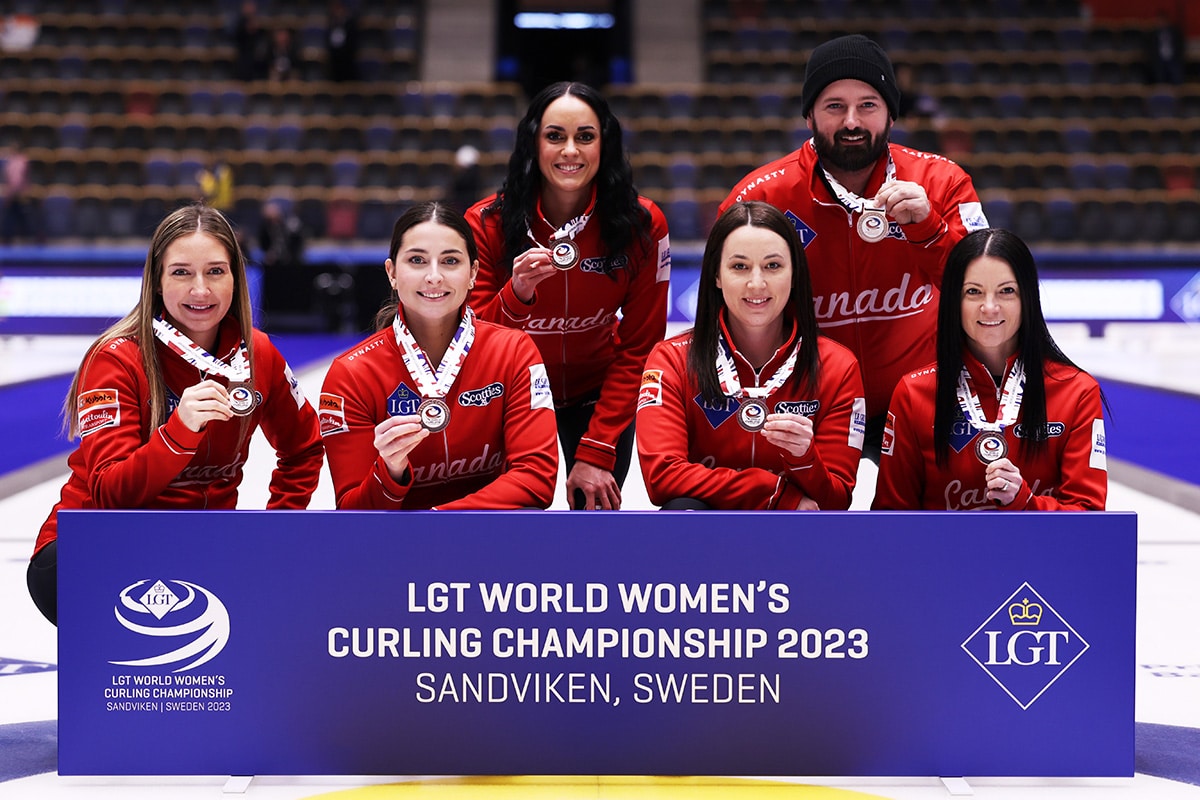 Canada's Team Einarson captures bronze at 2023 LGT World Women's Curling Championship
SANDVIKEN, Sweden — Canada's Team Kerri Einarson is back-to-back bronze medal champions following a win on Sunday morning at the 2023 LGT World Women's Curling Championship, presented by New Holland.
Canada's Team Einarson of Gimli, Man., defeated Sweden's Team Anna Hasselborg by a score of 8-5 to earn bronze at Goeransson Arena. It's the second time in a row the teams clashed for third place at a world championship.
"I feel pretty excited to come here and medal. I know it's not gold like we wanted, but at least it's a medal. To win bronze two years in a row is pretty special," skip Einarson said.
Ask any member of Team Canada – skip Einarson, vice-skip Val Sweeting, second Shannon Birchard, lead Briane Harris, alternate Krysten Karwacki, coach Reid Carruthers and national coach Renée Sonnenberg – to describe the week and they'll say it was an up-and-down event. Canada built momentum early in the week but couldn't string together wins in the latter part.
The team's 7-5 round-robin record was good to qualify for the third seed in the playoffs. However, a semifinal loss to Norway kept the Canadians short of the gold-medal game and they needed a solid performance to earn bronze.
"It is very special. It was an up-and-down week, but we put ourselves in a good position yesterday and it was really hard to lose that semifinal again. But I'm super proud of how we came out today and getting up against the hometown team isn't easy either. We have a really good support crew here with our coaching and families and everything and it definitely helped us get through that," Sweeting said.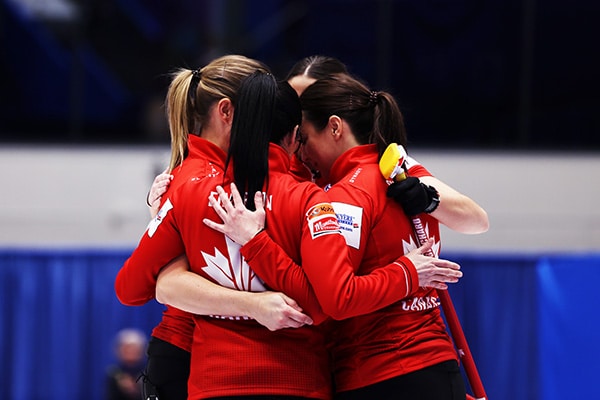 Sweden had the support of the hometown crowd, but it didn't deter Canada, which jumped out to an early three-point lead. Team Einarson found its footing when Canada had to make a pinpoint draw to the side of the button to score two in the first. Sweden had a chance to score in the second end but rolled out on a hit and gave Canada another point.
Canada forced Sweden to one in the third and repeated its deuce with hammer and steal combo in the fourth and fifth ends to take a five-point lead into the fifth-end break. In the fourth end, Canada was sitting five counters, but an excellent draw from Sweden forced Canada to play a long angle raise to score two. In the fifth, Sweden attempted a runback to score but left Canada sitting one.
Team Hasselborg was far from out of it in the second half of the game and hung on until the 10th end. The teams traded deuces in the sixth and seventh ends, then Sweden scored a single with hammer in the eighth and stole a point in the ninth to get within three. Team Einarson ran Sweden out of stones to claim the win.
The bronze-medal win adds another piece of hardware to Team Einarson's mantel. While gold was the preferred colour to bring back to Canada, the team believes this will be another building block in long-term success.
"The fact that we were able to still get the bronze with not our strongest performance this week is big for our team," Birchard said. "It's lit a fire under us. We want to come back and we want to challenge for the gold, obviously, we had hoped to do that this week but it wasn't in the cards, so we'll just look forward to next year."
The gold-medal game between Switzerland's Team Silvana Tirinzoni and Norway's Team Marianne Roervik is scheduled for 9 a.m. ET.
For Team Canada updates, go to www.curling.ca. Follow us on Twitter, Instagram and Facebook.
TSN/RDS2, the official broadcast partners of Curling Canada's Season of Champions, will provide live coverage of Canada's round-robin games and all playoff games. CLICK HERE for their complete broadcast schedule.
The list of teams, schedule information and live scoring can be found on the event website.
The French version of this story will be posted as soon as possible at www.curling.ca/?lang=fr.