BATTLING BISON!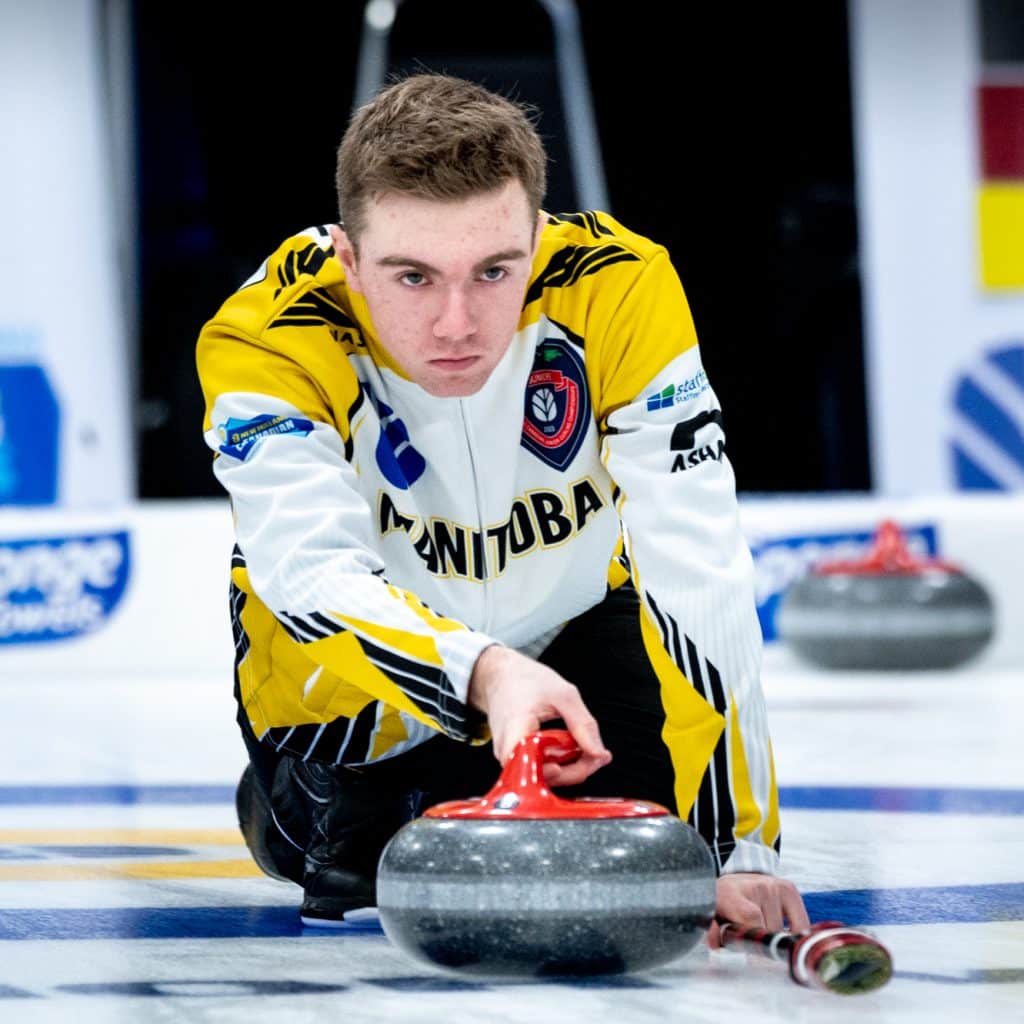 All Manitoba matchup thrills Rouyn Noranda crowd at Junior Nationals
When an alpha male plains bison – or buffalo – is challenged for dominance in a herd, two of the giant animals will charge at each other at high speeds, butt heads, lock horns, and wrestle until a victor is established.
While that would be quite a sight to see, the show put on by the two dominant teams wearing the buffalo crest in Rouyn Noranda, Que. was probably more exciting than two 1,800 pound beasts smashing their heads together.
In the all-buffalo contest at the 2023 New Holland Canadian Juniors, Manitoba #1's Jordan McDonald turned around a rough start to defeat provincial rival – and buddy – Jace Freeman, remaining undefeated in the process. Freeman dropped to 4-1.
"We got off to a rough start," said McDonald. "We had a really bad second end where we almost gave up a big one. We said that was gonna be our worst end of the week, and that we were going to turn it around starting now. We flipped control of the game after that."
After McDonald took one on a measure in the third end, they stole two in the fourth, to take their first lead of the game. After trading singles for several more ends, a steal of three in the ninth put the game away.
"We knew that was a really big game to win," said McDonald. "It's always tough playing against your buddies, but we have to play them a lot, so when you're on the ice, it's down to business. Off the ice, were buds."
"We know each other really well," said Freeman. "We're all good friends. It almost felt like a Manitoba game. A lot like our junior provincial final."
The two Manitoba teams (famous for showcasing the bison on their provincial gear) were both undefeated prior to Wednesday night's draw at the New Holland Canadian Juniors. Entering the late draw, only Newfoundland and Labrador #2's Nathan Young and Nova Scotia #1's Calan MacIssac could claim the same.
Young is in the same 'A' pool as the Manitoba teams, and will have to play them both in the coming days as they finish the round robin games, while MacIsaac – in the 'B' pool – won't see any of the other three until the playoff round.
Young's NL #2 team also won reaching 5-0, with a handy victory over British Columbia #2.
Wednesday is frequently called "moving day" in this sort of tournament, and most teams have gotten a sense of how they need to approach the remaining few games. Some, like the undefeated teams, have nearly got a playoff spot locked up. Others, like those with two or three losses, know they can't afford to drop any more contests if they hope to play on the weekend.
"We knew that was a really big game to win," said McDonald. "It really boosts our chances of making playoffs. Securing our playoff spot will be nice. It'll take some pressure off us, and then we can relax and build some momentum into the weekend."
"I don't know if we're really thinking about that yet," said Freeman. " We probably have to win a couple more to make sure. We have a tough finish, all the teams here have been tough."
Like the men's, the women's 'A' group also had three undefeated teams as of Wednesday night. Newfoundland and Labrador's Mackenzie Mitchell and Nova Scotia's Sophie Blades are both perfect through five games, while Ontario's Tori Zemmelink is keeping up with a 4-0 record.
Zemmelink's Ontario team will face both Blades and Mitchell on Thursday, while Blades and Mitchell will meet on Friday afternoon.
Again, like the men's side, there is only one undefeated team in the 'B' pool; Alberta's Myla Plett. The U18 National champion will face Manitoba's Zoey Terrick in a Saturday morning battle that could determine first place in the pool. Terrick is currently 4-1 and would claim the top spot in the pool based on a head-to-head win if both teams finished with one loss.
The top three teams in each pool will advance to the playoffs, with each of the first place teams earning a bye to the semifinals.
For event info, scores, and draws, please visit: https://www.curling.ca/2023under21/
For streaming information, visit: https://plus.curling.ca/schedule?competitionId=8135&idx=2