More Award Winners!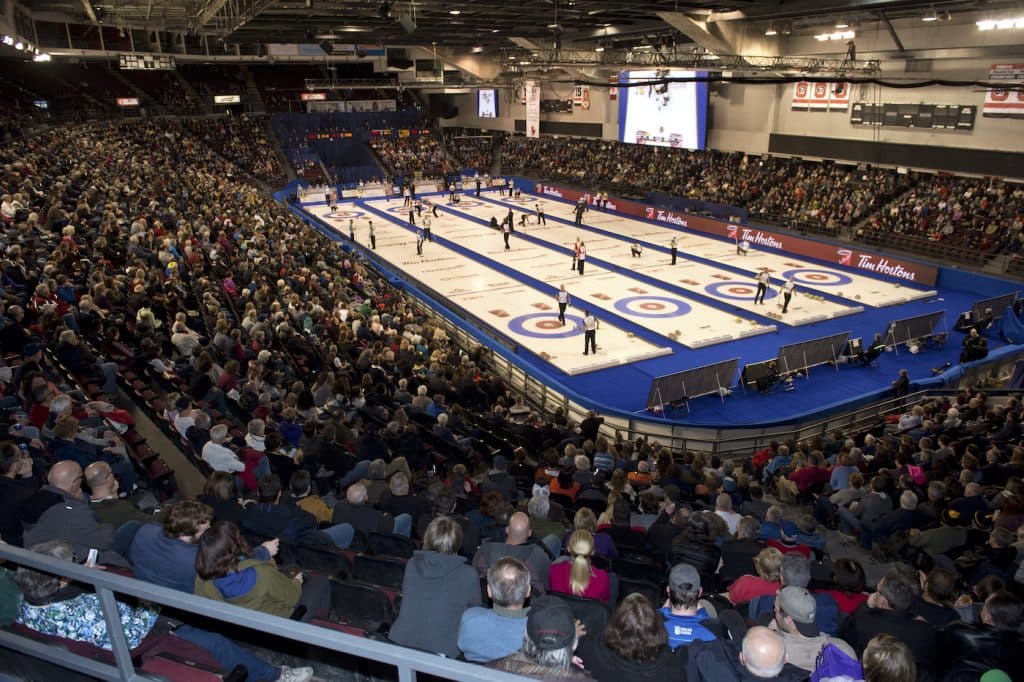 Curling Canada honours more Hall of Fame inductees and award winners
Three more members will be inducted into the Canadian Curling Hall of Fame, it was announced today.
Additionally, three more Curling Canada award winners have been confirmed.
Joining the Hall of Fame will be former Curling Canada Board of Governors Chair John Shea, as well as builders Jack Lynch and longtime Curling Canada High Performance Director Gerry Peckham.
Meanwhile, the Ray Kingsmith Award for dedication to curling will go to Elaine Brimicombe; and the Curling Canada Award of Achievement will be presented to Jennifer Kjell and Kristi Petrushchak.
Here's a look at each of the honourees:
Hall of Fame
John Shea (Executive Honour Roll)
(Ottawa)
This longtime Ottawan has devoted countless volunteer hours to curling, beginning in 1990 when he was part of the ice crew for the 1990 Scotties Tournament of Hearts in his hometown.
Shea joined the Curling Canada Board of Governors in 2016, and served as finance chair for three years, and was elected Board Chair for the 2019-20 season, during which he also served as a member of the World Curling Federation's Finance Commission.
His company, John Shea Insurance, was a significant curling sponsor for many years in Ottawa, and he created the first comprehensive insurance program designed specifically for curling clubs. Shea also played a significant role in the creation of the Dominion Canadian Curling Club Championships in 2009; the event is now known as the Everest Canadian Curling Club Championships.
His experience with the 1990 Scotties started him down a road that would see him volunteer for just about every major provincial, national or international curling event staged in the Ottawa Valley, including most recently being the Team Captain for Canada for the highly successful 2023 Strathcona Cup Scottish Tour of Canada. Shea also will be Canada's captain when Canadian teams tour Scotland for the 2028 Strathcona Cup.
A member of the Governor General's Curling Club, Shea also is a former Chair and Vice-Chair of the Ontario Curling Association and a member of the Ontario Curling Hall of Fame.
Even after his time with the Curling Canada Board of Governors ended, Shea continues to be active in promoting the sport. He currently is the president of the Ottawa Valley Curling Association, and is a member of the Ottawa Hunt and Golf Club.
Jack Lynch (Builder)
(Posthumously)
Born in 1929, John Charles Lynch, better known as "Jack", was a sports enthusiast for his whole life: canoeing, kayaking, golf, football, hockey and, of course, curling. He was very involved with the junior program and for several years he was involved in the organization of the Jeux du Quebec as well as many local tournaments.
He also was employed by the Canadian Olympic Committee as its Technical Director until his retirement following the 1988 Olympics in Calgary.
Lynch was dedicated to the goal of curling becoming a medal sport at the Winter Olympic Games. After his retirement he was recruited by the International Curling Federation to help primarily with attaining the 25-member nation requirement for Olympic medal status. From 1988 until 1991 Lynch worked hand-in-hand with Günther Hummelt of the ICF until they managed to get the necessary 25 countries. Lynch would use his IOC contacts in the nations involved to get the ball rolling and then Hummelt would move it to the next step through his business connections.
After years of politicking and lobbying, Lynch's hard work, and the hard work of those with whom he shared the dream, culminated with the 1992 announcement in Barcelona that curling would be an Olympic medal sport.
Lynch also is being inducted into the World Curling Hall of Fame this year.
Gerry Peckham (Coach/Builder)
(Ottawa)
Peckham joined Curling Canada in 1990 after a solid career as a competitor that saw him play in two Briers representing British Columbia. In his time with Curling Canada, he oversaw the growth and development of one of Canada's and, indeed, the world's pre-eminent high performance programs.
As the High Performance Director, Peckham, who will retire from his position upon the conclusion of the 2022-23 season, holds a world-leading record for the production of international medals for Canada including World Championships: 26 for Men (15 gold), 28 for Women (11 gold), 54 for M/W U21 (26 Gold), six Wheelchair Curling (three gold) as well as multiple medals for Mixed, Seniors, and Mixed Doubles. Additionally he oversaw the Olympic/Paralympic program that produced 12 Olympic medals and five Paralympic medals, with podium finishes in every quadrennial since he joined the program.
Peckham developed a team of experts who work with Canada's best curling athletes in our collective pursuit of Canadian podium performances. He also was a recognized leader by Curling Canada's partners at Own the Podium, Sport Canada and the World Curling Federation, as his intelligence, values and integrity, and in-depth knowledge of systemic excellence were widely respected.
Awards of Achievement
Presented annually, Curling Canada's Award of Achievement recognizes individuals who have contributed significantly to curling in one of four areas — builder, technical development (instructor, coach, official, ice technician), marketing and media.
Jennifer Kjell
(Whitby, Ont.)
Kristi Petrushchak
(Etobicoke, Ont.)
Jennifer Kjell and Kristi Petrushchak don't throw any shots (on camera) but their contributions to curling are profound, nonetheless
Kjell is the Senior Events Manager, while Petrushchak is the Event Director for the Grand Slam of Curling series, which puts the world's best men's and women's curling teams on the ice in the biggest events outside of national and world championships.
The Grand Slam series, owned and operated by Rogers Broadcasting, is a crucial training ground for curling teams from around the world, and a staple for TV viewers in Canada, and Kjell and Petrushchak have played crucial roles for more than a decade in the success of the Slams.
They are involved in all aspects of the organization of the events, including securing venues, local and national marketing, player relations, sponsorship relations, event formats, scheduling, and working with host committees.
Kjell and Petrushchak also were instrumental in making the Slam events equal for men and women. When they started working for Rogers in 2011, women played in only one Slam event. Four years later, all Slams featured men's and women's teams and equal prize money.
Kjell and Petrushchak also were deeply involved alongside Curling Canada in the execution of two safe and successful Grand Slam events that were held in the Calgary bubble in 2021.
Ray Kingsmith Award
The Ray Kingsmith Award is named after the man who played a leading role in bringing curling to the Winter Olympic family. He was a tireless volunteer in administration and management roles in the sport of curling. The award honours individuals who best demonstrate a similar commitment and dedication to our sport that made Kingsmith the consummate sport executive.
Elaine Brimicombe
(Ottawa)
If it happens on the ice or off the ice when it comes to curling in the Ottawa Valley, chances are very good that Elaine Brimicombe is involved.
Major events such as the upcoming BKT Tires & OK Tire World Men's Curling Championship, the 2017 Tim Hortons Roar of the Rings Canadian Curling Trials, the 2016 Tim Hortons Brier and the 2007 and 2015 Canadian Wheelchair Curling Championships all had Brimicombe's touch on them, as she either chaired or vice-chaired host committees for them.
But championship events have hardly been Brimicombe's only focus. She has volunteered countless hours at the club level in helping to organize Learn to Curl sessions for new players, particularly in the discipline of wheelchair curling. In addition to coordinating the long-running Cathy Kerr International Wheelchair Bonspiel, Brimicombe has created a plan to offer two Try It days for wheelchair curlers and one-10 week dedicated Learn to Curl for wheelchair curlers. Her current work-in-progress is a proposal to create opportunities for youth wheelchair curlers.
Brimicombe, who gives credit to family, friends and fellow volunteers in her efforts to build our sport, also has been active as a board member, including three years as Chair of the CurlON board, as well as serving on the Ontario Curling Council, the Ottawa Valley Curling Association, and her home club at the RA Centre in Ottawa.
Brimicombe also is a member of the Governor General's Curling Club.