Slow start for Canada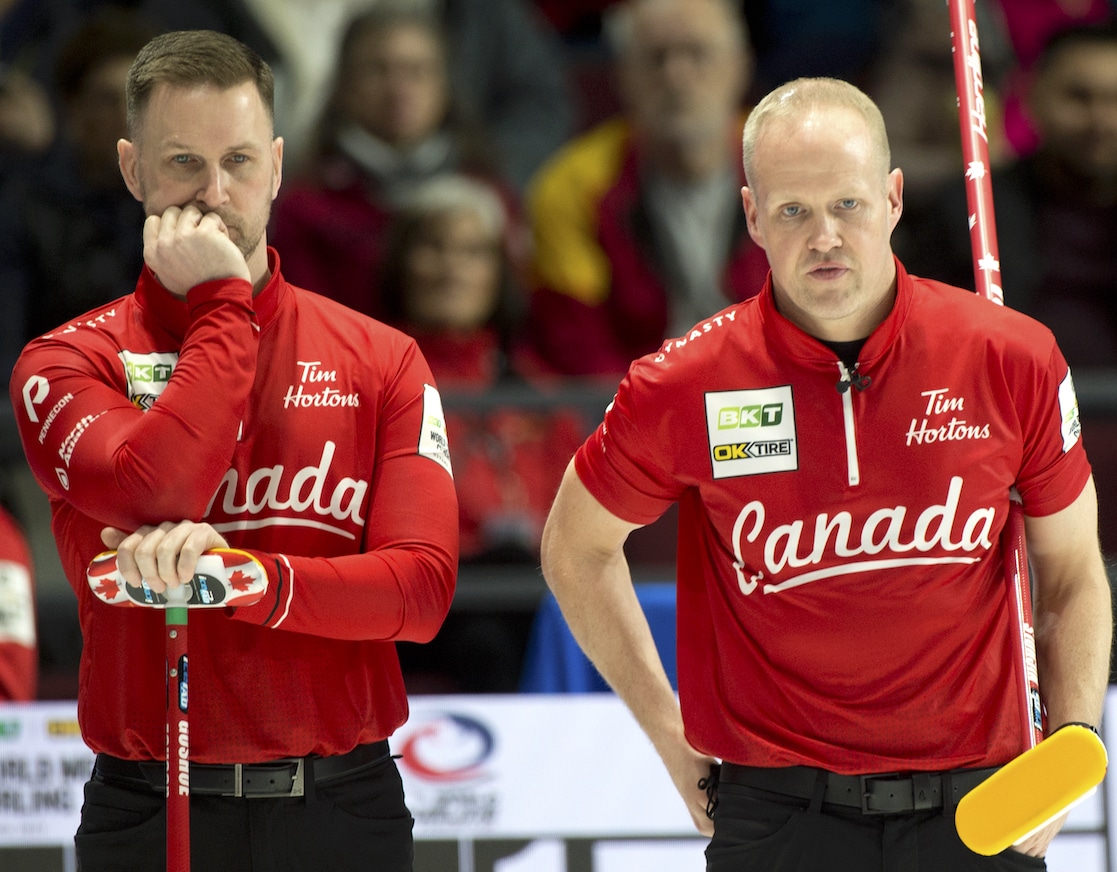 Team Canada drops opener as world men's championship kicks off
Team Canada skip Brad Gushue has lost his share of games over his long and illustrious career, but Saturday afternoon he did something he rarely, ever does.
He lost his opening game of a major curling event, and played poorly doing it.
For Gushue and his team, the pride of St. John's, N.L., the 8-3 loss to skip Yannick Schwaller's Team Switzerland in Draw 1 of the BKT Tires & OK Tire World Men's Curling Championship must have felt like a cold splash of water in the face.
The Canadians flooded the engine by falling behind 4-1 after three ends, and no manner of pumping the gas pedal was going to get it started.
It was the first time in four appearances at the world event that Gushue has skipped his Canadian team to an 'L' in its opener. Gushue's boys previously won in 2017, 2018 and 2022.
For Gushue, who puts extreme emphasis on getting off to a quick start, the lopsided loss was tough to swallow, especially coming in front of a lively Canadian crowd at TD Place in Ottawa. But the Canadians got what they deserved. They just didn't play well enough against an experienced and deadly accurate Team Switzerland.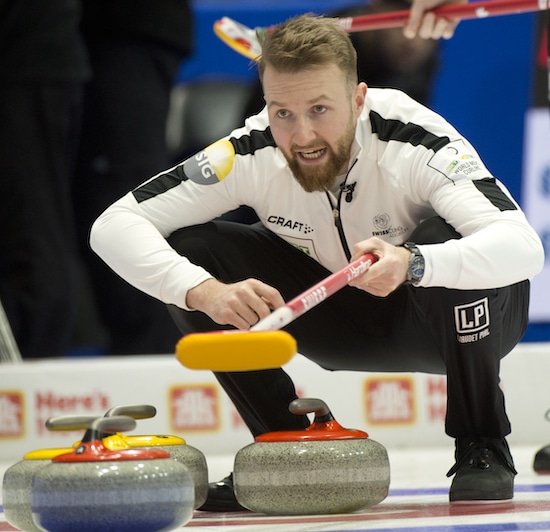 Gushue likened the loss to something akin to a "a hot mess, inside a dumpster fire, inside a train wreck", the infamous quote attributed to CNN's Jake Tapper describing the 2020 presidential debate between Donald Trump and Joe Biden.
"We haven't had our butts kicked that bad in a long time," said Gushue, who is supported in Ottawa by third Mark Nichols, second E.J. Harnden, lead Geoff Walker, alternate Ryan Harnden, team coach Caleb Flaxey and national coach Jeff Stoughton.
Gushue's quick starts have been his bread and butter in big events and go well beyond the world championship. In 20 appearances at the Canadian Men's Curling Championship, Gushue-skipped teams have gone 16-4 in openers, losing only to teams skipped by Stoughton — twice — and once each to Pat Simmons and Glenn Howard. There can be no shame in those losses, considering the opposition.
It's no different at the Winter Olympics, where Gushue has won both his starts in 2006 and 2022. He also went 2-1 at the Tim Hortons Canadian Curling Trials.
Quick starts have not guaranteed world championships for Gushue, who won gold in 2017 in Edmonton but had to settle for silver in both 2018 and 2022 in Las Vegas. All three finals came against Team Sweden's Niklas Edin.
The Canadians knew they had no soft touch in their opener against the Swiss, one of the strongest units in the 13-team field. Benoit Schwarz, who throws skip stones, is appearing in his fifth world event and was a bronze-medal winner at the 2018 Winter Olympics in Pyeongchang, South Korea.
The tone was set early as the Swiss made all eight shots perfectly to score two in the first end. Just like that, Team Canada was chasing.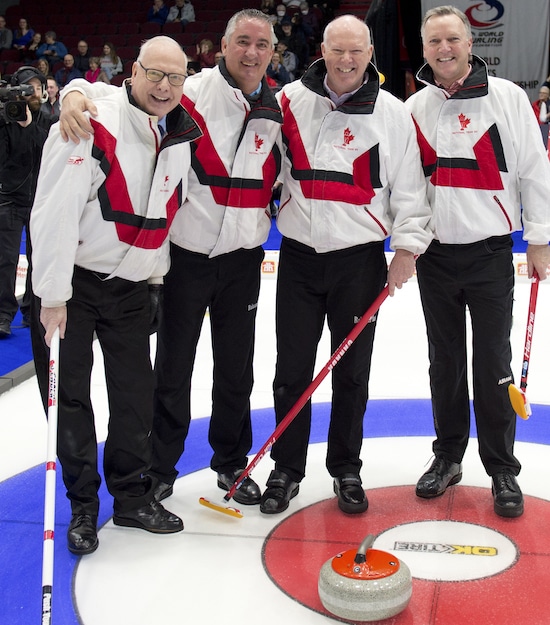 The Canadians were forced to take one in the second, but had a steal lined up in the third until an unfortunate pick on Gushue's first stone opened the door for another deuce from the Swiss.
"I don't know if it (impacted) that game," said Gushue. "At that point they were still 2-1 up with the hammer. It wasn't like we were in control. A mini momentum swing, I would say, but it wasn't what caused us to lose that game. But it still sucked."
Things went from bad to worse for Team Canada in the fourth when a certain deuce was left wanting when Nichols missed both his shots, and a desperation raise takeout by Gushue failed to hit the mark, leaving a steal of one.
By the fifth-end break the end was near after the Swiss stole two more for a 7-1 lead. Gushue ended the game shooting just 69 per cent. It was his worst result at a world championship.
"The first few ends I thought I threw pretty good," said Gushue, "but they seemed to have a counter for every shot we made. The next few ends we didn't make many shots. We did throw some good rocks that we didn't get good results from either.
"It was just a bit of everything.
"A disappointing start to the week but maybe this will light a bit of a fire under us.
Nichols also shouldered some of the blame.
"It wasn't bad luck. I didn't play as well as I near need to," he said.
In other lid-lifters in Saturday's opening draw, two of the early favourites, along with Team Canada, slapped aside their opponents, as expected. Six-time world gold-medal winner and defending champion Edin skipped Team Sweden to an 8-2 win over skip Sixten Totzek's Team Germany, while skip Bruce Mouat and his lads from Team Scotland defeated Team Italy, skipped by Joel Retornaz, 7-4.
In the only other game, Team South Korea, skipped by Jeong Byeongjin, scored an 8-2 victory over skip Anton Hood's Team New Zealand.
The top six teams advance to the playoffs.
The final goes Sunday, April 9.
The 2023 BKT Tires & OK Tire World Men's Curling Championship continues Saturday with a draw at 7 p.m. (all times ET).
Live scoring, standings and statistics for the 2023 BKT Tires & OK Tire World Men's Curling Championship are available by CLICKING HERE.
TSN and RDS will provide coverage of the 2023 BKT Tires & OK Tire World Men's Curling Championship. CLICK HERE for the complete schedule.
For ticket information for the 2023 BKT Tires & OK Tire World Men's Curling Championship, go to www.curling.ca/2023worldmen/tickets/
This story will be available in French as soon as possible at www.curling.ca/2023worldmen/nouvelles/?lang=fr