Great start in Gangneung!
Jones and Laing sweep to pair of opening day wins at World Mixed Doubles
Team Canada couldn't have asked for much more out of their opening day at the 2023 World Mixed Doubles Curling Championship in Gangneung, South Korea.
Canada's entry of Jennifer Jones and Brent Laing (Horseshoe Valley, Ont.) rolled to a pair of impressive victories at the Gangneung Curling Centre, capping their first foray into the World Mixed Doubles with a 10-5 win over Vanessa Tonoli and Wouter Goesgens of the Netherlands.
In their opener, Jones and Laing doubled Scotland's Jen Dodds and Bruce Mouat 8-4.
All in all, an ideal way to start their first world championship as teammates.
"It settles you down a little bit," said Laing. "It's nice to get a big win to start for sure. And then you're excited about that and you regroup and you have to go out and do it again and then you just got to keep doing that every day. I felt nervous going into the week; I think it was more of an excitement than being nervous. Just grateful to be here. I mean, we're getting old so you don't know how many times you're gonna get to do this again. So yeah, it was a great start. We played really well. You know, there's always shots we want back but in general for a first day I mean, that's all you can ask for."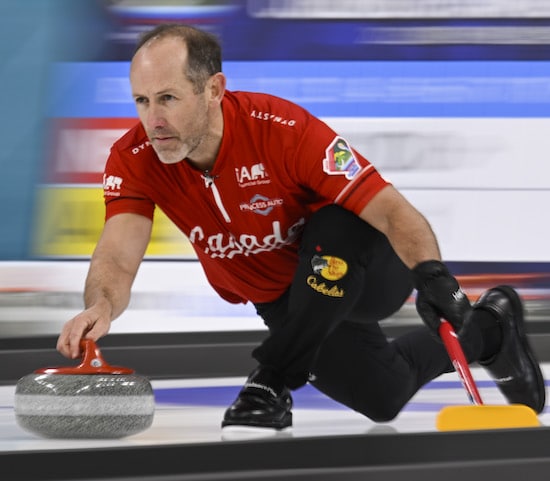 The Canadians, with team coach Glenn Howard and national coach Scott Pfeifer, never trailed against the Netherlands, using first-end hammer to score a pair and adding a steal in the third.
Jones's precise draw in the fifth end produced a score of three to take a 6-1 lead. A Netherlands power play in the sixth got the three right back, but after trading singles, Jones made an open hit in the eighth for three to complete the win.
In the opener, a much-anticipated showdown with the 2021 world champs (including the newly crowned world men's champ), Canada took the reins early and never let go.
A series of perfect Canadian shots left Mouat in chase mode, but he missed all of his runbacks and in the end it left Jones the opportunity to make a short raise for four and settle any Canadian nerves.
"It was massive," said Jones. "You have a little bit of nerves, and you want to have a good week, so it's nice to start the week off with a win, for sure.
Not that the win was secure — the Scots hung tough and put a scare in Team Canada during their fifth-end power play before Jones shut the door on her last shot with a precision hit-and-roll that left Dodds with only a hit to score two.
"It's virtually impossible (to defend a big early lead)," said Laing. " You know there's going to be a couple of ends where it's like, OK, we might be tied after this end, and that happened. I missed a couple bad ones when they had the power play, and it could have easily been a tie game. That's part of what makes mixed doubles great, though. It's never over, and you're never not nervous, which is cool."
Canada returns to action Sunday at 2 p.m. (1 a.m. ET) against Estonia's Marie Kaldvee and Harri Lill (1-1).
The World Curling Federation's live-streaming platform The Curling Channel will be the only to watch games from the World Mixed Doubles Championship, and all sheets will be shown. More information is available by CLICKING HERE.
For the latest scores, draw and list of teams, visit the event website.
The French version of this story will be posted as soon as possible at www.curling.ca/?lang=fr