First loss for Jones/Laing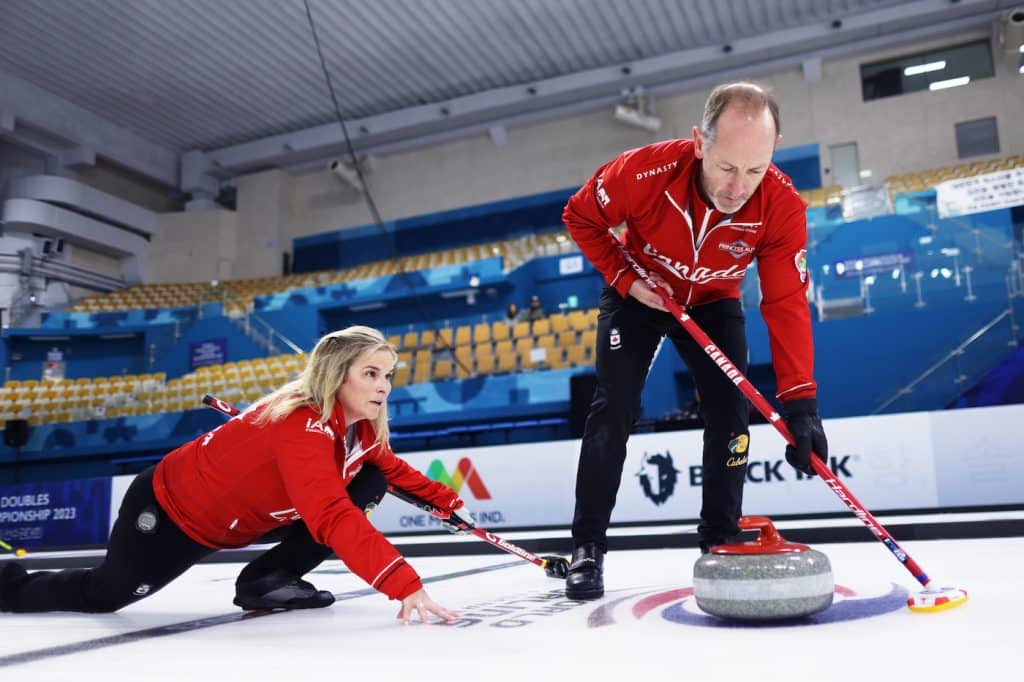 Canada comes up short to Estonia at World Mixed Doubles
Canada's Jennifer Jones and Brent Laing will look to get back on the winning track Monday at the 2023 World Mixed Doubles Curling Championship in Gangneung, South Korea.
The Canadian champs from Horseshoe Valley, Ont., suffered their first loss in round-robin play Sunday at the Gangneung Curling Centre, bowing 7-4 to Estonia's Marie Kaldvee and Harri Lill.
Down 5-4 with hammer in the eighth end, Jones was looking to tie it and get into an extra end, but was light were her last-rock draw to the four-foot and Estonia stole two to pad the victory.
"It was disappointing, but we know what we're capable of and we know there is room for improvement," said Jones. "We learned a lot about the ice and rocks and we're going to keep trying to get better as the week goes on."
Canada had the early momentum thanks to a first-end deuce, but Estonia hung tough, and managed to tie the game 3-3 with a stolen single in the fifth end.
"They're a good team," said Laing. "But we had that game kind of in control and we missed the bad one in the fifth and they got a steal that got it close. But that's not the story of the game. All the credit to them, they won, but we kind of let it get away a little bit."
Jones and Laing (2-1) were forced to a single in the sixth, and Estonia took its first lead in the seventh, utilizing its power play to manufacture two points.
And in the eighth, Canada used its own power play but never could outcount the stone delivered by Kaldvee with her first shot of the end.
"When my second one (a draw around the corner guard) stopped, I thought that was the game-winner when we froze, but we weren't shot rock, " said Laing. "And we had more chances to win the game and missed them. They were good, but we just missed too much."
It will be a two-game Monday for Team Canada. It begins with a 10 a.m. (9 p.m. Sunday ET) clash with Italy's Stefania Constantini and Sebastiano Arman (2-1); Constantini teamed with Amos Mosaner to win Olympic mixed doubles gold last year in Beijing.
Later Monday, Canada plays Australia's Tahli Gill and Dean Hewitt (2-1; coached by Edmontonians Laura Walker and Jessica Amundson) at 6 p.m. (5 a.m. ET).
The World Curling Federation's live-streaming platform The Curling Channel will be the only to watch games from the World Mixed Doubles Championship, and all sheets will be shown. More information is available by CLICKING HERE.
For the latest scores, draw and list of teams, visit the event website.
The French version of this story will be posted as soon as possible at www.curling.ca/?lang=fr