Split at the Seniors!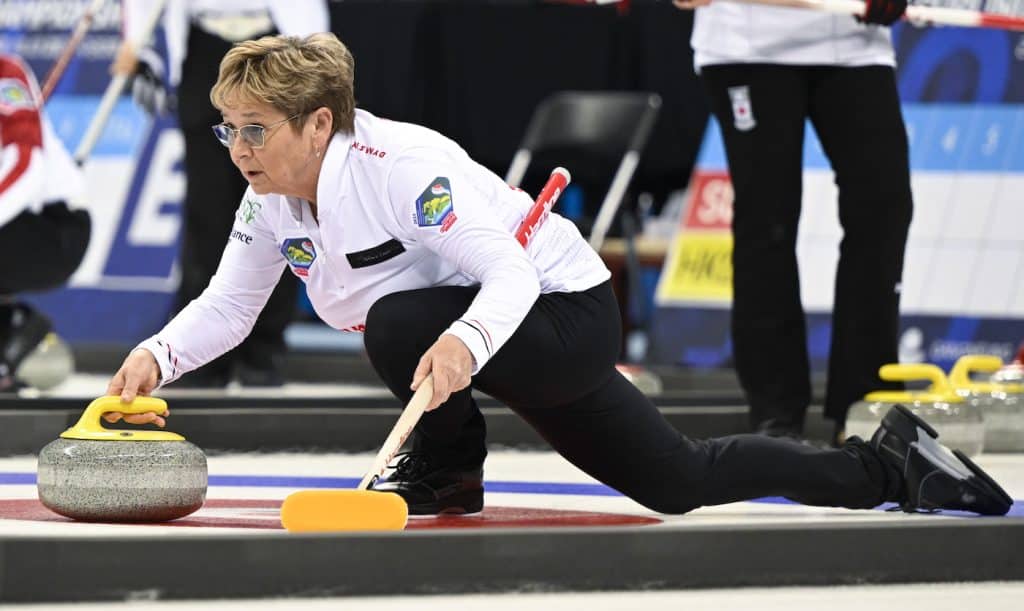 Canadian women grind out win, men fall short to Hungary at World Seniors
It was a day of grinding Sunday at the 2023 World Senior Curling Championships, and it only worked out for one Canadian team at the Gangneung Hockey Centre.
Saskatoon's Team Sherry Anderson took three in the seventh end and stole one more in the eighth to pull out a dramatic 7-4 win over Sweden, while four sheets over, in men's play, Ottawa's Team Howard Rajala suffered its first loss, bowing 8-6 to unbeaten Hungary.
Nothing came easily for Anderson, vice-skip Patty Hersikorn, second Brenda Goertzen and lead Anita Silvernagle against a Swedish team skipped by three-time World Mixed Doubles silver-medallist Camilla Noreen, which entered the game with a 2-0 record.
In a low-scoring affair, Canada managed the game's first deuce in the fifth end but almost gave the Swedes three back in the following end when Anderson missed on her last-rock takeout. Noreen had an open house to draw to for the three, but was heavy and settled for two to take a 4-3 lead.
Team Canada made them pay the following end, putting the Swedes in chase mode from lead rocks on, and Anderson finished it off with a draw for three to go up 6-4.
And in the eighth, Canada managed to get shot rock in the four-foot buried behind a cluster of guards, leaving Noreen with a difficult runback, which missed, leaving Team Anderson undefeated at 2-0.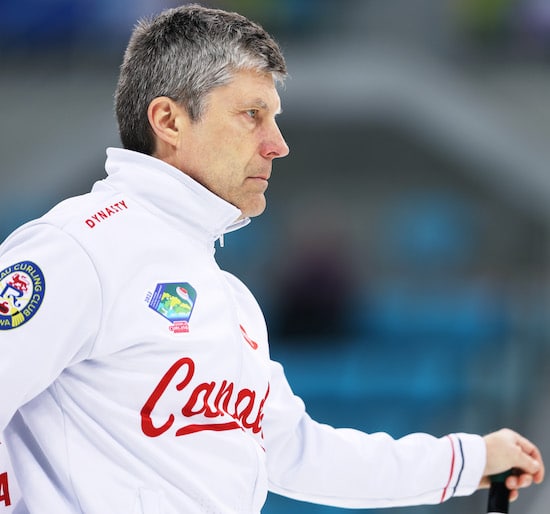 "It was back and forth; we'd get chances off a miss by them and then instead of stomping on them we'd maybe give a little edge back to them," said Hersikorn. "But we picked up our game in the last half, I felt, and maybe got a little bit more out of our shots."
Canada plays Team Margie Smith of the United States (2-0) Monday at 4 p.m. (3 a.m. ET) in a rematch of a 2022 playoff game when the same teams met in Geneva, Switzerland, and the U.S. eliminated Canada en route to a silver medal.
Hersikorn suggested there would be some value that goes beyond positioning in the standings from the tough win over Sweden.
'"It's way better for us to have to work at it and get a result, and maybe being not at our best yet and we beat a team that will be in contention for sure," she said. "So it's really nice to build off of that. We just we really picked our game up (in the last four ends). We played better the second half, for sure."
Rajala, vice-skip Rich Moffatt, second Chris Fulton, lead Paul Madden and alternate Phil Daniel, meanwhile, struggled to find its form against Hungary.
It was a grind throughout, even though Canada did have the early momentum thanks to a first-end deuce that could have been three if Rajala's last-rock draw attempt curled just a hair more.
But Hungary, which was off to a 2-0 start as well, immediately struck back in the second, taking advantage of a Rajala miss to score three, and it could have been four had Nagy's last-rock takeout not rolled out.
But Rajala would settle back down to draw for a deuce in the third, and then the teams swapped singles until the Hungarians retook the lead with two in the sixth.
Rajala was unable to blank the seventh and took a single, and Nagy then made a wonderful angle-raise takeout in the eighth end for the victory.
Canada struggled to get a grip on the ice and rocks in the early ends, but, said Fulton, Hungary was full value for the victory.
"They certainly played well," he said. "I mean, they throw a really good rock. So you know, from our standpoint, we were going to have some tough games. And you know, we were lying, the winning stealing point at the end and he made a great shot. There's definitely value in a game like that."
Canada's only game Monday is at noon (11 p.m. Sunday ET) against the Czech Republic's Team Radek Zdarsky (2-1)
For Team Canada updates, go to www.curling.ca. Follow us on Twitter, Instagram and Facebook.
For the list of teams, draw information and live scoring, visit the event website, worldcurling.org/events/wscc2023/
The French version of this story will be posted as soon as possible at www.curling.ca/?lang=fr