Three-win day!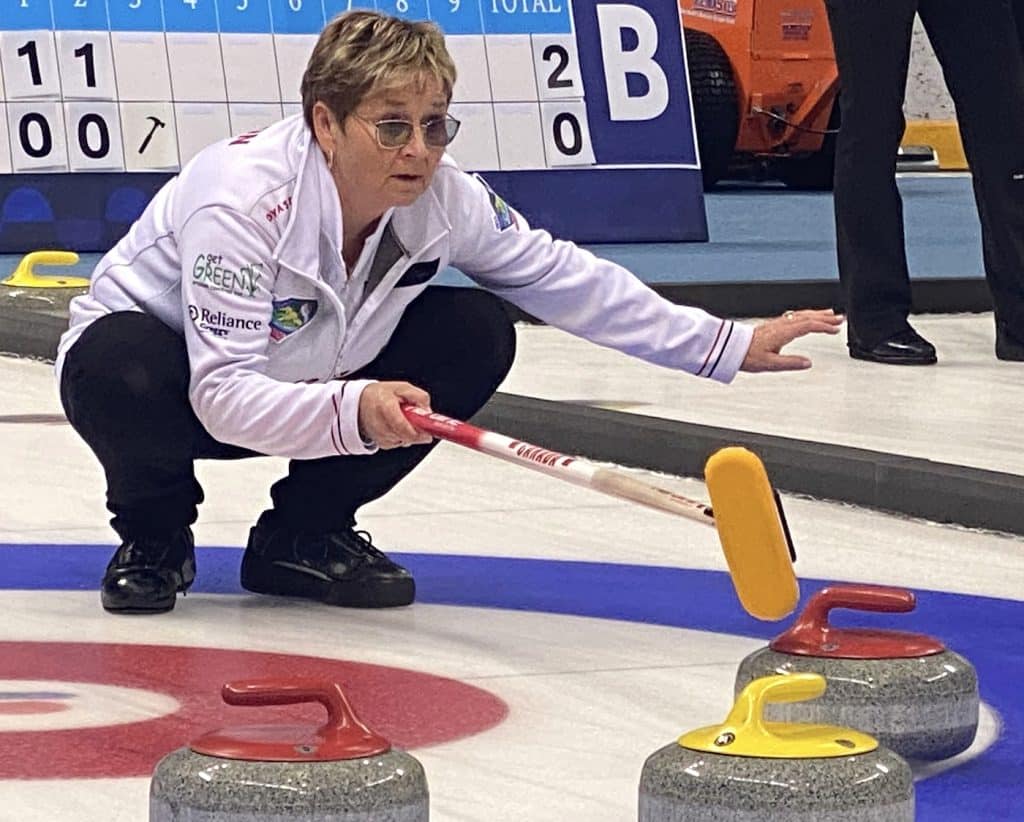 Canadian teams post three victories at World Senior Championships
Playoff berths are within the grasp of both Canadian entries at the 2023 World Senior Curling Championships in Gangneung, South Korea.
Saskatoon's Team Sherry Anderson won twice on Tuesday at the Gangneung Hockey Centre to extend its win streak to five, while Ottawa's Team Howard Rajala also picked up a win to improve to 4-1.
Anderson, backed up by vice-skip Patty Hersikorn, second Brenda Goertzen, lead Anita Silvernagle and national seniors coach Bill Tschirhart, completed a long day of curling late Tuesday night with an 8-4 win over New Zealand's Team Joanna Olszewksi. Earlier — much earlier (they played in the 8 a.m. and 8 p.m. draws on Tuesday) — the Canadian women downed Hong Kong's Team Ling-Yue Hung 8-3.
"We're in a good position," said Anderson, whose team is pursuing its unprecedented third World Senior Women's Championship gold medal. "That's all we want to do — just keep plugging along and keep getting better, and I think we are."
It was a challenge against the Kiwis, who entered the game with one win in three starts. Canada gave up a steal of two in the first end and the teams then traded singles before Team Anderson finally broke through with three in the fourth end and a steal of one in the fifth, and put the game on ice with a count of three in the seventh on Anderson's angle-raise takeout.
Two games 12 hours apart may have had something to do with the slow start against New Zealand, conceded Anderson.
"I mean, 8 a.m., 8 p.m. is never the greatest draw, but I didn't think we played badly tonight," she said. "There were a couple of shots I'd like to do over, but really, we made a lot of great shots and (Olszewski) made some great, great shots, and you can't guard against that. It was what it was, and we came out on top."
In the early game against Hong Kong, Canada gave up a surprising stolen point in the first end, but immediately responded with three in the second end and three more in the fourth. Hong Kong dropped to 0-4 with the loss.
"There's always work to do," said Silvernagle. "Every game is a little bit of a surprise. But we are right where we want to be. We just want to keep building on that."
Canada can lock up a playoff spot with a win in its only game on Wednesday, at 8 p.m. (7 a.m. ET) against Lithuania's Team Rasa Veronika Jasaitiene (0-4).
The top three teams from each of the two pools will advance to the playoffs. The first-place teams in each group receive a bye to the semifinals. The second- and third-place teams cross over for qualification games from which the winners advance to the semifinals. The winners of those games go to the gold-medal game, and the losing teams compete in the bronze-medal game.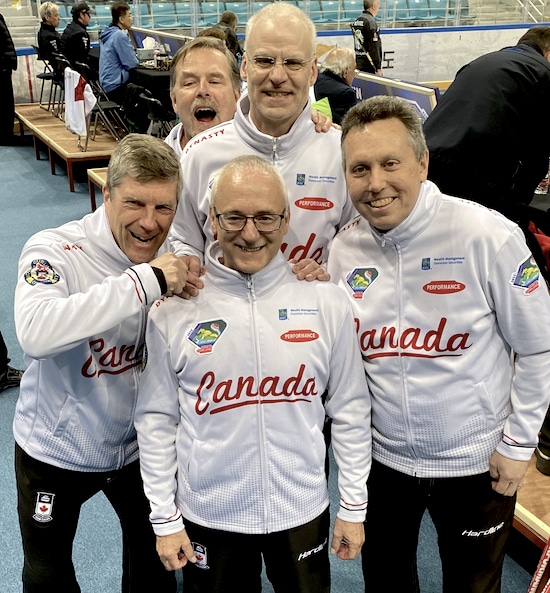 Rajala, vice-skip Rich Moffatt, second Chris Fulton, lead Paul Madden, alternate Phil Daniel and Coach Tschirhart, meanwhile, still have some work to do before they can clinch a spot in the final eight.
With Daniel drawing into the lineup for his first action (he replaced Madden in the starting four), Canada turned back Poland's Team Damian Herman (1-4) 11-2 on Tuesday afternoon to hold onto sole possession of second place in its round-robin pool behind undefeated Hungary's Team Gyorgy Nagy (5-0), who has a playoff berth already clinched.
There are three men's pools, and only the top two finishers are guaranteed spots, along with the two third-place teams with the best Last-Shot Draw totals (Canada currently has the second-best total, behind only Sweden's Team Mats Wranaa).
The good news is that Canada has its fate in its own hands after Tuesday's win, which was helped along by Canada getting a wonderful shot from Rajala to open the game, a precise split to raise a short guard and spill his shooter into the rings.
Canada would get another deuce in the third end, and nailed down the victory with a steal of five in the seventh end.
It was a particularly meaningful game for Daniel, whose wife and four daughters made the trip to South Korea to see him perform in a Team Canada uniform.
"I was just happy to help out," said Daniel. "That was really nice. I mean, to have my wife (Wendy) and my four daughters (Laura, who's expecting her first child in October, Melanie, Hannah and Abigail) and my son-in-law (Laura's husband Ben) here to share this was very special. I mean, I lost three men's provincials in Ontario, and my poor wife had to drive home from the location with four crying children. So when we managed to win the Canadian Seniors, she said we're going. This was very cool for them. I was so happy for them."
For Team Canada updates, go to www.curling.ca. Follow us on Twitter, Instagram and Facebook.
For the list of teams, draw information and live scoring, visit the event website, worldcurling.org/events/wscc2023/
The French version of this story will be posted as soon as possible at www.curling.ca/?lang=fr