Canadian women clinch first!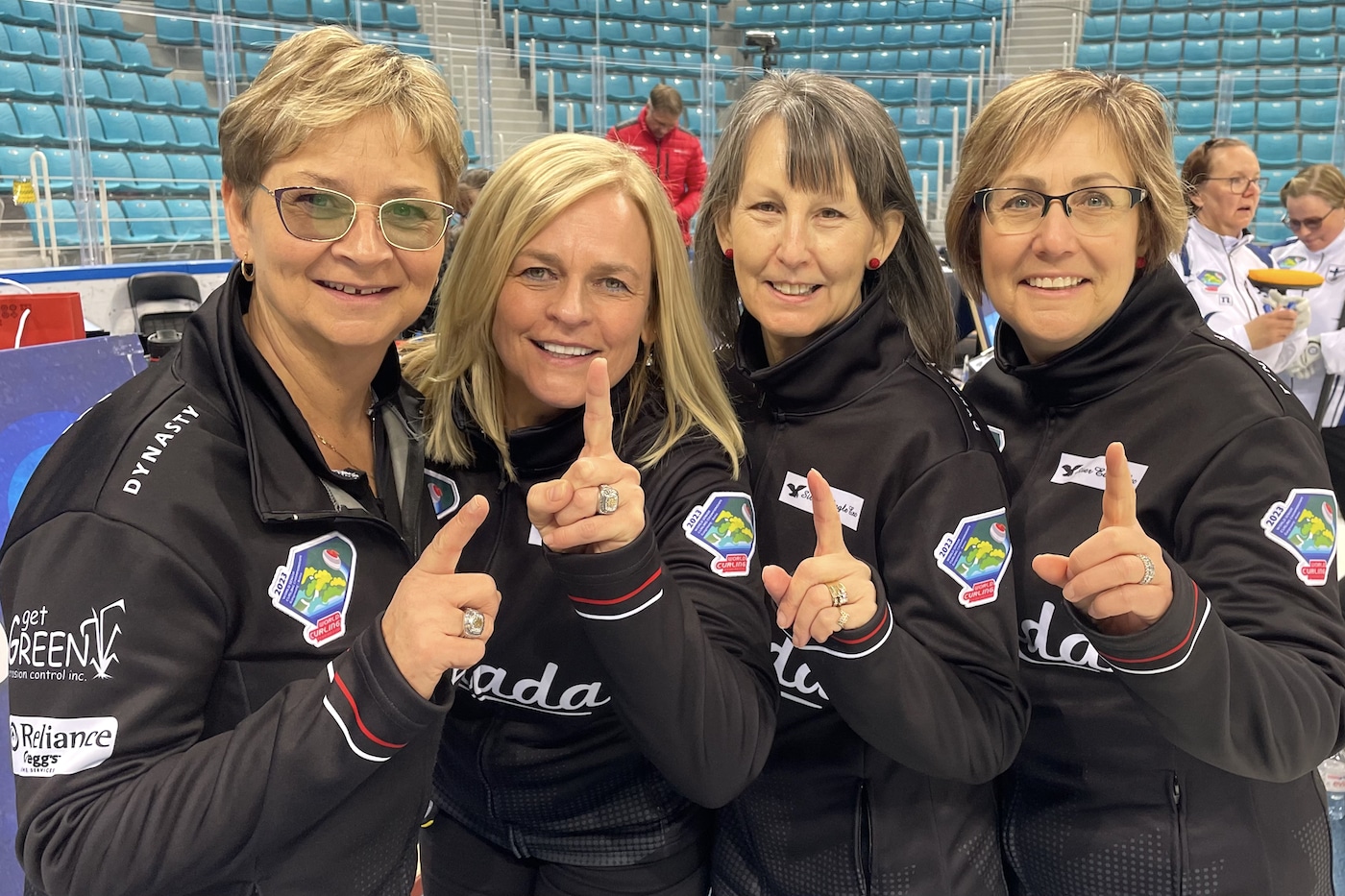 Team Anderson earns first-round playoff bye at World Seniors
There's a light at the end of the tunnel that got quite a bit brighter late Wednesday night in Gangneung, South Korea, for Canada's Team Sherry Anderson at the 2023 World Senior Curling Championships.
The Saskatoon team, which is chasing a record third World Senior Women's gold medal, locked up first place in its round-robin pool Wednesday at the Gangneung Hockey Centre, cruising to a 9-1 win over Lithuania's Team Rasa Veronika Jasaitiene. With the victory, Anderson, vice-skip Patty Hersikorn, second Brenda Goertzen, lead Anita Silvernagle and national senior coach Bill Tschirhart ran their win streak to six games and clinched top spot in Group A, and a bye to Friday night's semifinals.
In essence, two wins away from a gold medal, but the team is refusing to look at it that way, especially with one more game to play Thursday in the round robin that could secure last-rock advantage for the playoffs.
"No, no, we want one more win because we want to keep hammer," said Hersikorn, whose team is looking to add to its gold-medal victories in 2018 and 2019. "We just we just want to finish strong; each game we've kind of been building a little bit, and we just want to keep finishing off games."
The Canadian team, which struggled a bit to defeat New Zealand on Tuesday night, had no such trouble on Wednesday against the 1-5 Lithuanians. Canada would open with three in the first end, and added steals of one in the second, two in the third and one more in the fourth to go up 7-0 at the break.
Lithuania got onto the scoreboard with one in the fifth, but Anderson nose-hit a Lithuanian shot rock to score two in the sixth end and prompt handshakes.
Hersikorn said it was important to put together a strong performance on Wednesday after the grinding win against New Zealand.
"We didn't feel like we threw badly (Tuesday) night other than the first end when we missed a couple shots and their skip made absolutely everything," said Hersikorn. "It was good to get that win (Tuesday), but it was good to come out today and throw good shots and just get a good feel for our slides and the ice."
Team Anderson closes out round-robin play on Thursday at 4 p.m. (3 a.m. ET) against England's Team Manon Harsch (2-4).
The women's playoff bracket is now set. Canada will play the winner of the game between Sweden's Team Camilla Noreen and Switzerland's Team Monika Gafner. The other semi will feature Scotland's Team Jackie Lockhart against the winner of the game between Japan's Team Miyuki Kawamura and Ireland's Team Dale Sinclair.
The top three teams from each of the two round-robin pools will advance to the playoffs. The first-place teams in each group receive a bye to the semifinals. The second- and third-place teams cross over for qualification games from which the winners advance to the semifinals. The winners of those games go to the gold-medal game, and the losing teams compete in the bronze-medal game.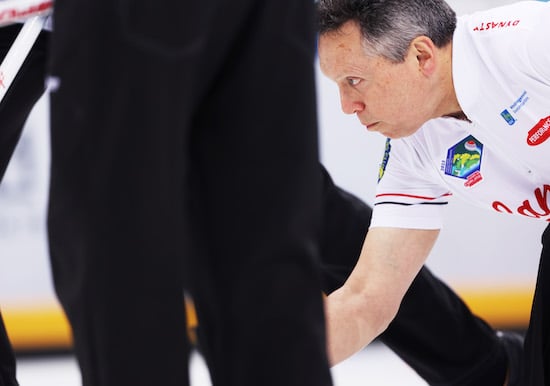 In men's action, meanwhile, Howard Rajala's Canadian team from Ottawa took a step closer to a playoff spot on Wednesday night, turning back Finland's Team Jussi Uusipaavalniemi 7-3.
With the victory, Rajala, vice-skip Rich Moffatt, second Chris Fulton, lead Paul Madden, alternate Phil Daniel and Coach Tschirhart improved to 5-1 while the Finns dropped to 2-4.
Canada is second in its pool behind unbeaten Team Gyorgy Nagy of Hungary, which is already playoff-bound at 6-0 and assured of first place.
With three round-robin pools in the men's competition, the top two teams in each group plus the two third-place teams with the best Draw Shot Challenge results will qualify for the playoffs, so Canada needs to beat Japan's Team Tamotsu Matsumura (3-2) Thursday at 8 p.m. (7 a.m. ET) in its round-robin finale. With Canada having the best Draw Shot Challenge total of the 24 teams competing in Gangneung through Wednesday night's games, a playoff spot still looks likely regardless of Thursday's outcome, but Rajala simply wants to take care of business with a win on Thursday.
"Yeah, we were certainly thinking about that," he said. "The last game is gonna be a big one, but if we had lost this one, it would have been even worse. So we still needed to focus on (the game against Finland). We played pretty well. So I was happy with that. Nice to get the 'W'."
Canada had a slow start against the Finns, who stole one in the first. But Team Rajala bounced back with a deuce in the second, and gained more control with a steal of one in the fifth to take a 4-2 lead.
The teams would trade singles before Canada closed it out in the eighth with a steal of two when Uusipaavalniemi couldn't pull off a Hail Mary shot with his last.
For Team Canada updates, go to www.curling.ca. Follow us on Twitter, Instagram and Facebook.
For the list of teams, draw information and live scoring, visit the event website, worldcurling.org/events/wscc2023/
The French version of this story will be posted as soon as possible at www.curling.ca/?lang=fr.