THREE FINALS, THREE CHAMPIONS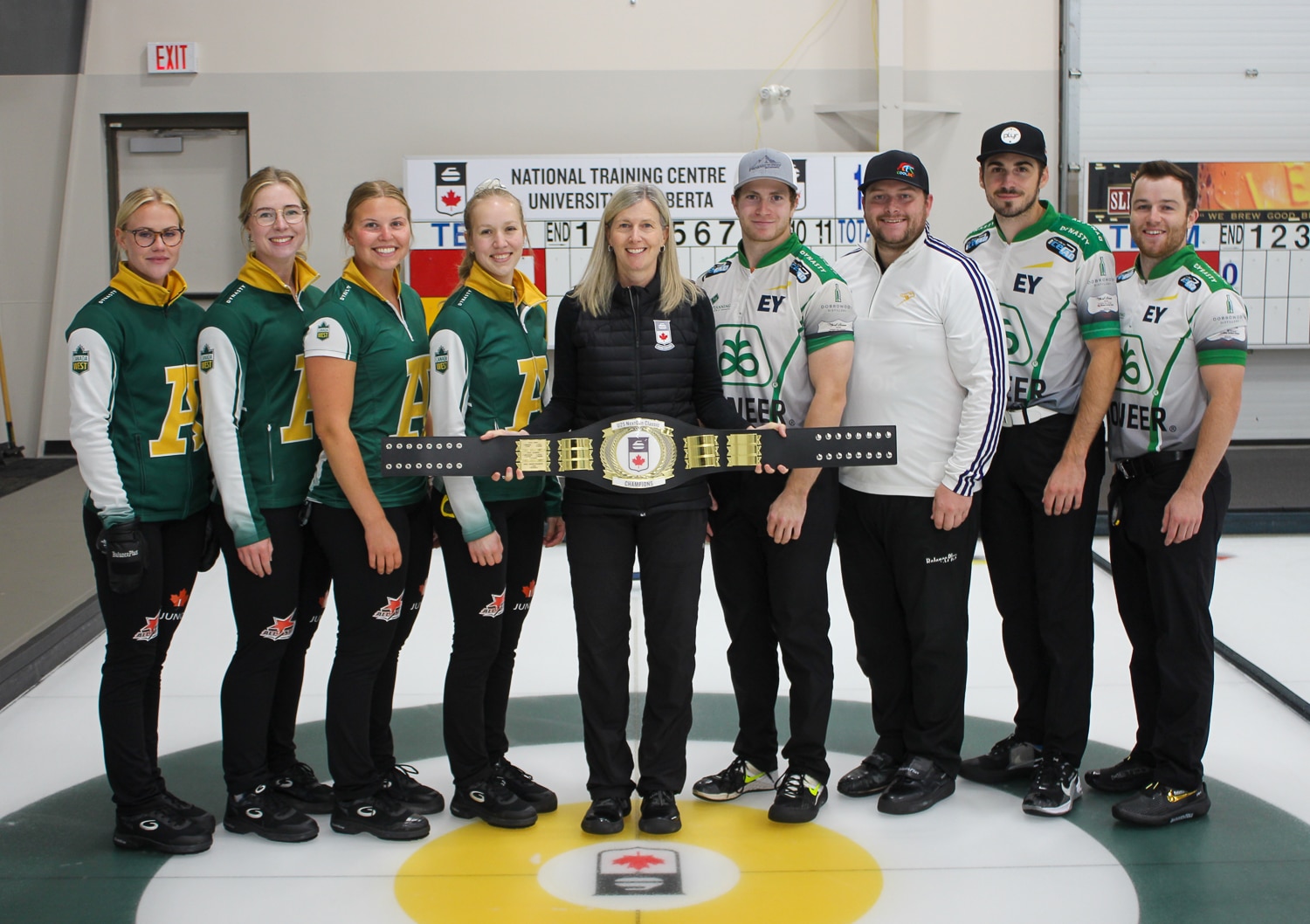 Edmonton Youth Events end with three exciting finals
hree separate events came to exciting conclusions Saturday in Edmonton, all within a few minutes of each other.
The first game to finish was the "Game 7" winner-take-all Mixed Doubles matchup between Cailey Locke/ Simon Perry (both out of Newfoundland and Labrador) and Lauren Evason (Manitoba)/Jaxon Hiebert (Alberta). On the line was the nomination to Canada's Youth Olympic team, which would take the winning pair to South Korea in January.
At one point, the Evason/Hiebert duo led the series 3-1, but tremendous shot-making by Locke (particularly in Game 6) kept their hopes alive, forcing the deciding match.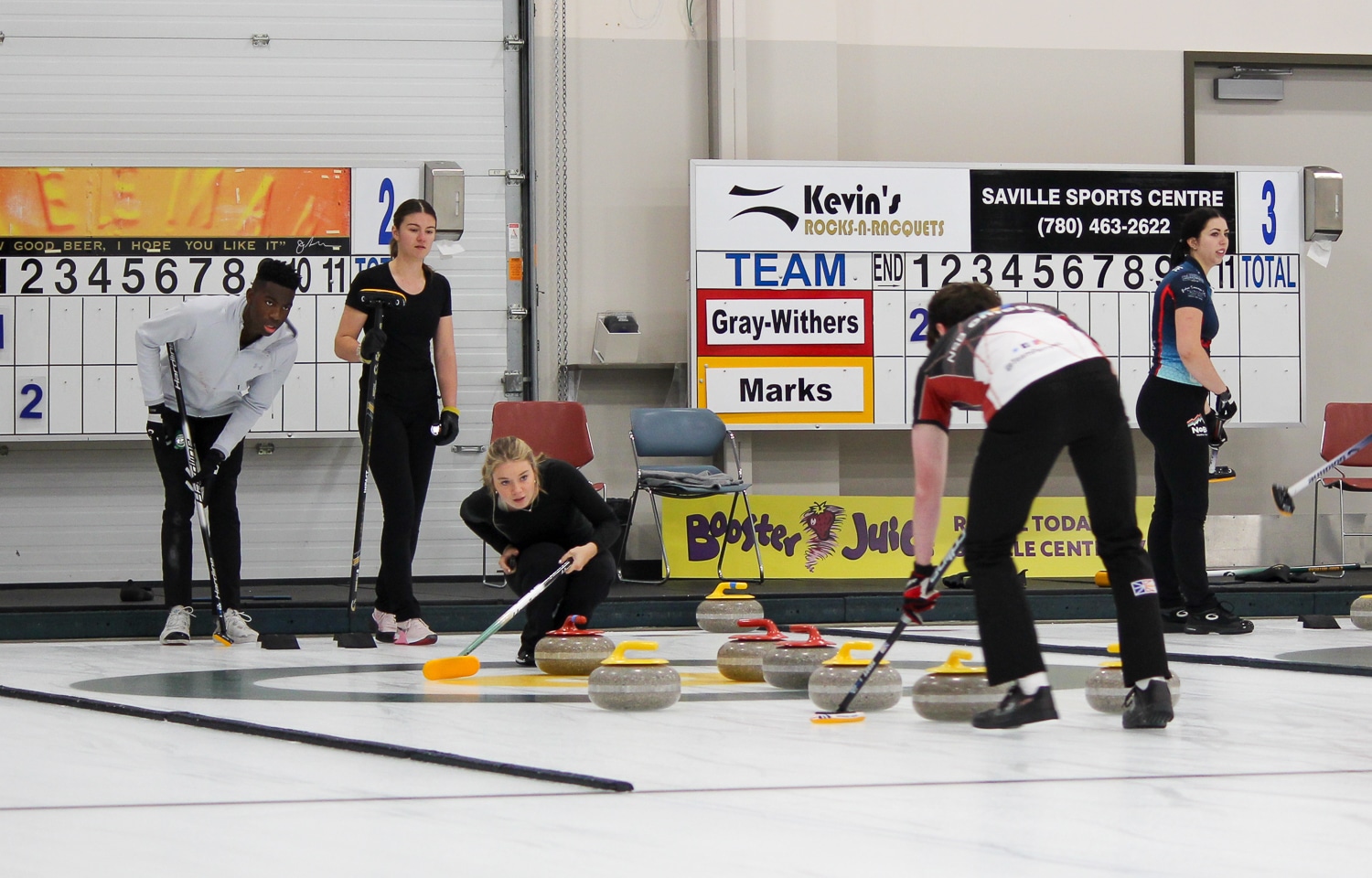 "We just told each other we had nothing to lose," said Perry. "This was our time to just go out, play our hearts out and see what happens. We knew we had everything to gain by giving it our all."
In a back-and-forth series, the final stayed true to form with both sides scoring at will with hammer. Evason/Hiebert had a one-point lead playing the 8th end, but Locke/Perry had the last rock, and made it count. After Evason's freeze attempt bounced just too far, Locke had a "make it go away" takeout for the win – and she made no mistake.
"I know once we were past the guard, we were okay," said Locke. "The line call had me a bit stressed, but we knew it was pretty good."
Both teams had been training together all week and spent quite a bit of time together. So, while the win was exciting, there were some bittersweet feelings.
"They were both very strong throwers, and they made us work really hard the whole time," said Locke. "I know how much that would hurt. I really empathize, mainly because how good they threw. It could have gone either way in every game, at every point."
While Locke and Perry both admitted the reality hasn't set in yet, they will be nominated to join the Youth Olympic Team which will change the look of their training and competition schedule next few months.
"We're both excited to get back home," said Locke, "Then, we'll have to look at our calendars and figure out what we can do so we're best prepared for January."
Next to finish was the men's final of the U25 NextGen Classic between Saskatchewan's Team Rylan Kleiter and the defending champions out of Ontario, Team Sam Mooibroek. After a couple of blank ends to start the game, Kleiter was forced to one, then the Mooibroek foursome got on the board with a single, then a steal of two.
Team Kleiter, however, didn't panic, and struck back with a score of four, turning the momentum of the game.
"Sometimes those big ends come up quick," said Kleiter. "There were one or two misses, and we were able to capitalize on it."
After forcing Mooibroek to a single in the seventh, the Saskatchewan foursome was forced to draw against three in the eighth to finish off the win.
"I've got to give credit to the guys in front of me," said Kleiter. "They kept us in it the whole time, and they stuck with it the whole time, right to the last shot."
The champions were presented with a championship belt – to be shared with the women's and mixed doubles winners as well. The prize also includes a berth in the Pointsbet Invitational, entry into Curling Canada's NextGen Futures program, and up to $6,000 in cash and funding.
"It's a great start for us. We're really going to take advantage of the training that will come from Curling Canada, and we're really excited to play in the Pointsbet. We'll just look to keep growing for the rest of the season."
As for the belt…
"It's awesome," said Kleiter. "We're going to take a few more photos with it, and it sounds like Matt [Hall] will have a new profile picture."
Only a few minutes later, the women's final ended, with defending champion Team Serena Gray-Withers (representing the University of Alberta) finishing off provincial rival Abby Marks to repeat as the NextGen Classic winner.
"We were having really good practices all week," said Gray-Withers. "We were all feeling pretty confident in our throws. We knew what we needed to do, and we performed well."
Although the Gray-Withers squad seemed to control most of the game, Marks still had a shot for three that would have tied the game in the eighth end. An unlucky jam proved that it was not to be, and Gray Withers' Pandas were presented with the championship belt.
"The ice was definitely changing so we got caught a couple times in the eighth end," said Gray-Withers. "We managed to pull through though."
Their names were already engraved as last year's winners, but another plaque will be added to reflect the back-to-back championships.
"The trophy was a surprise in itself," said Gray-Withers. "But we worked hard and we played well, so I think we deserved it!"
As if that wasn't enough action for one day, the U25 NextGen Classic continues Saturday, and runs through Monday with the Mixed Doubles portion of the event. Twenty teams will compete for the belt, money, and status in the NextGen Futures program.