NEXTGEN MIXED DOUBLES CHAMPS CROWNED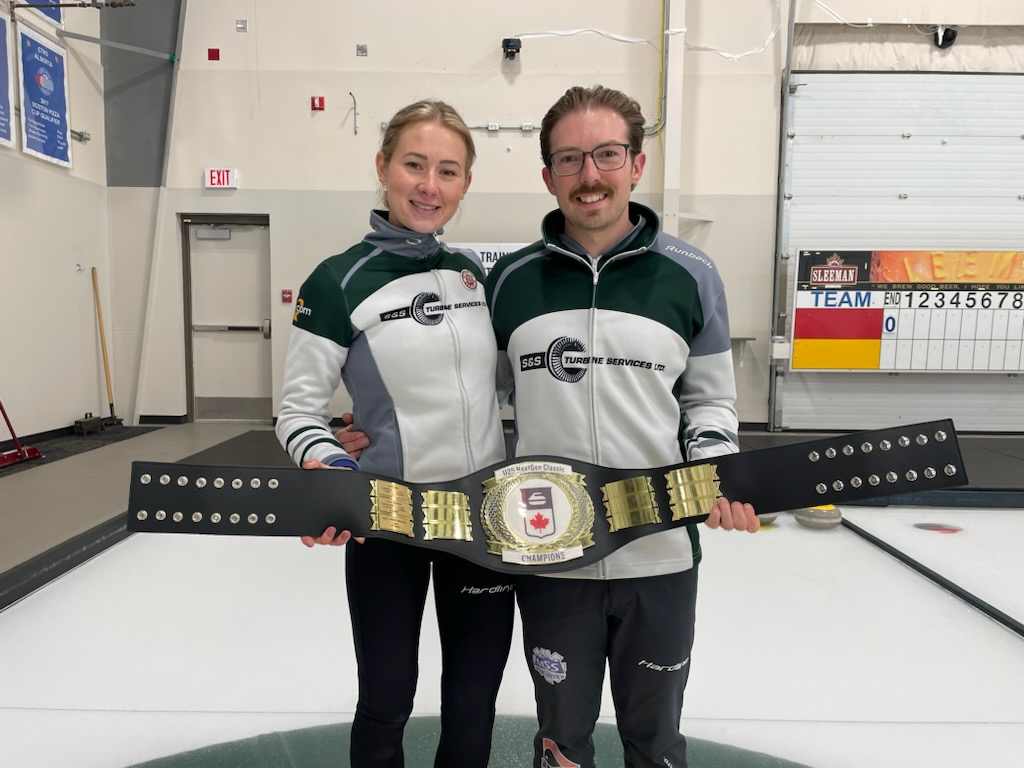 WEEK'S WORTH OF EVENTS FINISHED WITH MIXED DOUBLES FINAL IN EDMONTON 
After eight full days of activity, six different events, and hundreds of curlers and coaches coming and going, Curling Canada's week in Edmonton concluded this afternoon with the final of the U25 NextGen Curling Classic's Mixed Doubles event.
In a final that featured defending champions Jessica Zheng and Victor Petrangelo, it was the relatively inexperienced (in mixed doubles, anyway) duo of Kayla MacMillan and Sterling Middleton who took home the top prize with an 8-3 victory.
"We're both pretty new to mixed doubles," said MacMillan, who plays third on Clancy Grandy's four-player team out of British Columbia. "We felt in control based on the scoreboard, but it's still mixed doubles so threes and fours can happen pretty easily, so we still had to be sharp. We were really focused on the ice and making sure we didn't give away any extra points."
Middleton, a two-time Canadian Junior champ with Tyler Tardi, agreed that there was still some learning to do.
"This week we were really good on the shot-making side," he said. "But really had to figure out some of the tactics that worked for us over the week. We played the Summer Series in Quebec a few weeks ago so we had a bit of a foundation. We were able to build on what we learned there, and took it into this week."
The top finish comes with a $3,000 and entry into the NextGen Futures program that allows the team access to national coaches and resources.
"We're looking forward to working with some of the national coaches who have a lot of mixed doubles experience," said Middleton. "Hopefully they can help figure out what's going to work best for us is going to be key going to provincials and hopefully nationals."
"My women's team was working with these coaches for only three days and we learned a ton," said MacMillan of Team Grandy's involvement with Curling Canada's technical review earlier this week. " ,So I can only imagine what working with them for all this extra time will do for us."
On top of the cash and coaching, MacMillan and Middleton will become the second set of names etched into the U25 NextGen Classic championship belt, right next to Zhang and Petrangelo's plaque.
"I saw the belt come out after the men's and women's event," said Middleton. "I noticed there were three blank plaques each year, so I knew it was going to come out for the mixed doubles as well. It's a really cool idea, and a neat way to finish off a great event."
Earlier in the day, MacMillan and Middleton had bested Lauren and Greg Cheal (Sherbrooke, Que.) in the quarterfinals, and dispatched Edmonton's Paige Papley and Evan van Amsterdam in the semis. Zhang and Petrangelo beat Sarah Bailey and Dylan Sipura (Georgetown, Ont.) and Madison and Rylan Kleiter (Saskatoon) on their way to the final.