$1 million up for grabs!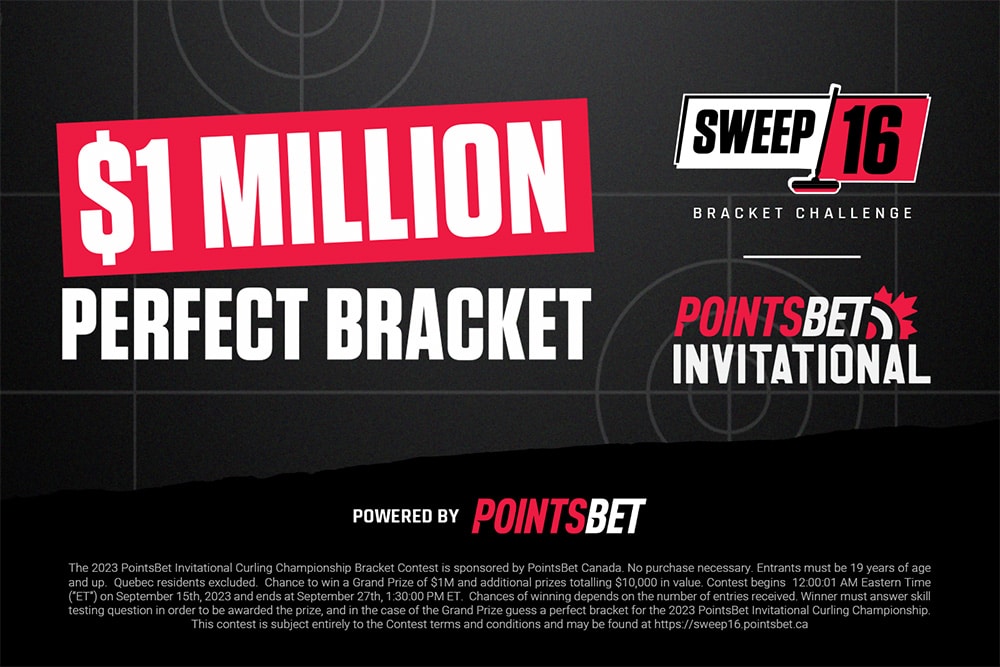 PointsBet brings back Sweep 16 Bracket Challenge with major prizes on the line at 2023 PointsBet Invitational
PointsBet is giving sports fans an opportunity to take home $1 million for predicting the perfect bracket at the 2023 PointsBet Invitational, Curling Canada's first major championship of the 2023-24 curling season.
The free-to-play Sweep 16 Bracket Challenge is now open and fans can venture their best guesses to predict the perfect men's and women's brackets for the event, running from Sept. 27-Oct. 1 at Sixteen Mile Sports Complex in Oakville, Ont.
"Our ultimate mission for our partnership with Curling Canada remains focused on growing this great game," said Nic Sulsky, Chief Commercial Officer of PointsBet Canada. "Following a successful inaugural PointsBet Invitational last year, we are excited to deliver innovative fan engagement opportunities yet again with an enhanced Sweep 16 bracket challenge, including new features like allowing users the ability to create private groups for added community connectivity, such as friendly competition among the many proud curling clubs across our great nation."
The grand prize of $1 million is available for any fan who correctly guesses the outcome of all 30 matches during the single-elimination format event.
In addition to the possible grand prize, the Sweep 16 Bracket Challenge winner will receive a VIP trip for two to the 2024 PointsBet Invitational (location and dates to be determined), including VIP passes, airfare and hotel accommodations. The runner-up will receive VIP passes for the 2024 event and the remaining top-10 finishers will receive PointsBet Invitational prize packages.
For full details and to enter, visit sweep16.ca.
The Sweep 16 Bracket Challenge can be filled out until the event begins on Sept. 27 at 2 p.m. ET. The contest is open to all residents of Canada, excluding Quebec, who are 19 years of age or older at the time of entry.
"The inaugural PointsBet Invitational was a huge success and we're excited to build on that momentum with our partners PointsBet by once again offering the opportunity for a fan to use their curling knowledge to win a major prize," said Curling Canada Executive Director of Marketing & Fan Experience Nolan Thiessen. "As we saw at last year's event, the PointsBet Invitational is difficult to predict and we're bound to see upsets on the ice again later this month. Make your picks today, share them with your friends on social media and see if anyone can take home the big-money prize this year."
The 2023 PointsBet Invitational features a field of Canada's best teams and some of the most promising University/College, U-25, U-21, and grassroots competitors. All are vying for their share of the purse, valued at more than $350,000, in the single-elimination tournament.
Want to get an edge on the competition? Stay tuned to the official event website and Curling Canada's social media channels in the days leading up to the event, where two-time Olympic gold-medallist John Morris will break down the first-round games at the PointsBet Invitational.
On Friday night, following the "Elite 8" round, there will be a Celebrity Invitational event featuring numerous Canadian celebrities participating in a draw-to-the-button challenge. Stay tuned for more details on who will compete.
Single-draw tickets start at just $25 and went on sale to the public last week. Be sure to follow your favourite teams' social media accounts for exclusive special promotions!
Advanced youth tickets are $10 and can be purchased online in advance.
All tickets are subject to standard ticket service fees. Fans can purchase tickets online via Ticketmaster. For more information and to buy tickets today, click here.
Customers needing assistance with purchasing can call 289-815-4575.
TSN and RDS will broadcast the 2023 PointsBet Invitational. Click here to view the draw schedule.