2023 Celebrity Invitational!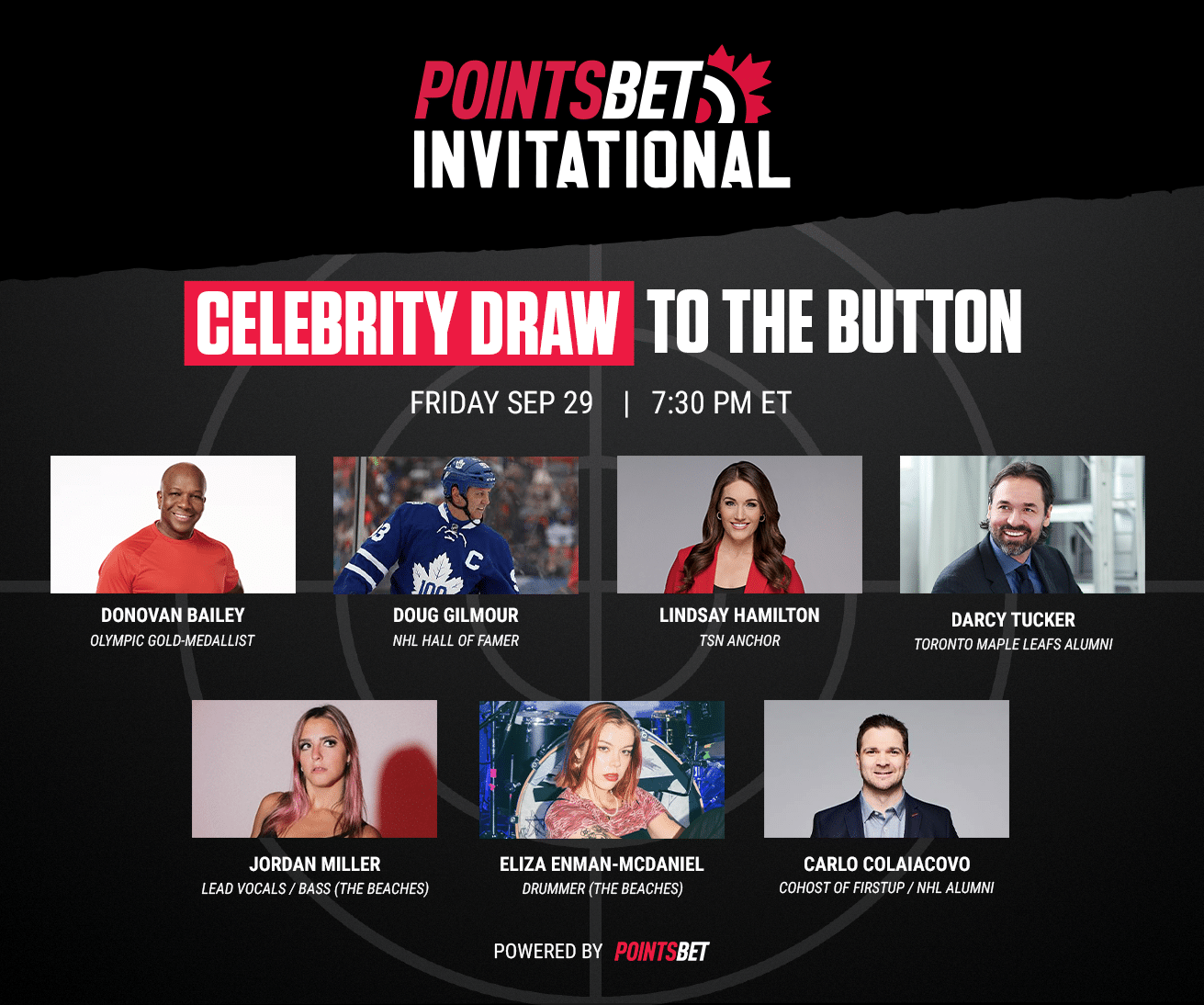 Olympic gold-medallist, NHLers, news anchor and indie rock band to try their hands at curling at 2023 PointsBet Invitational
Curling Canada and PointsBet are once again bringing the Celebrity Invitational to fans during the 2023 PointsBet Invitational in Oakville, Ont.
A slate of Canadian NHLers, an Olympian, a prominent newscaster and a hot indie rock act are taking to the ice on Friday night at Sixteen Mile Sports Complex for an exciting evening of curling and entertainment.
The 2023 Celebrity Invitational kicks off on Friday night approximately 30 minutes following the Elite 8 men's draw.
This year's collection of Canadian talent and acts are bound to create some buzz. Confirmed participants include:
Donovan Bailey, world champion sprinter and two-time 1996 Olympic gold-medallist
Carlo Colaiacovo, NHLer, Toronto Maple Leafs alumni, co-host of First Up on TSN 1050 Toronto
Doug Gilmour, NHL Hall of Famer, Toronto Maple Leafs alumni and Stanley Cup champion
Lindsay Hamilton, TSN anchor, Host of Curling Day in Canada broadcast special
Jordan Miller (lead vocals and bass) and Eliza Enman-McDaniel (drummer) of The Beaches, Canadian indie rock band, two-time Juno awards winner, new studio album Blame My Ex released earlier this month
Darcy Tucker, NHLer, Toronto Maple Leafs alumni
The celebrities will put their curling skills to the test in a draw-to-the-button contest for bragging rights at the Celebrity Invitational champion. The competitors will receive sweeping assistance and tutorials from some of the biggest names in curling to help in their goal of landing closest to the pin.
Stay tuned for more details about additional Canadian icons across sports and entertainment competing, along with the curlers who will be on hand.
The event at Sixteen Mile Sports Complex is free to the public with no ticketed entry.
Other fans across the nation can catch a glimpse of the action on Curling Canada's social media channels during the evening and throughout the remainder of the 2023 PointsBet Invitational.
There are still plenty of other ways for fans to be involved in the 2023 PointsBet Invitational and bring home a significant prize. Curling fans who can predict a perfect men's and women's bracket at the 2023 PointsBet Invitational can win a $1-million prize from PointsBet and some other big prizes through the Sweep 16 Bracket Challenge. For full details and to enter, visit sweep16.ca.
Single-draw tickets start at just $25! All youth tickets are $10.
All tickets are subject to standard ticket service fees. Fans can purchase tickets in advance online via Ticketmaster or at Sixteen Mile Sports Complex starting Wednesday. For more information and to buy tickets today, click here.
Customers needing assistance with purchasing can call 289-815-4575.
TSN and RDS will broadcast the 2023 PointsBet Invitational. Click here to view the broadcast schedule.