Team Gushue Elite as always!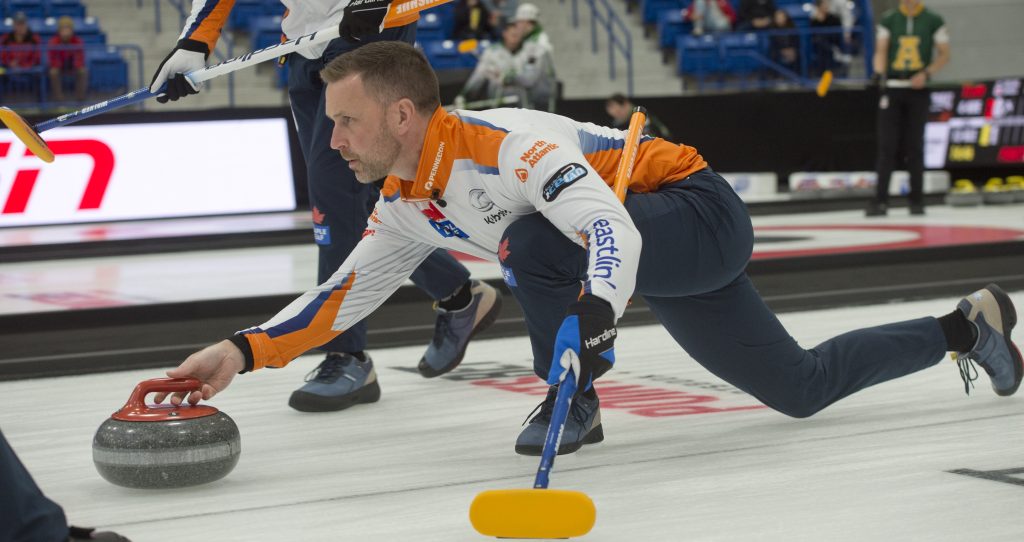 First-round win puts Team Gushue into PointsBet Invitational Elite 8
It's a rare night indeed when Brad Gushue walks onto a sheet of Canadian curling ice as anything but a crowd favourite. But it DOES happen, once in a very long while.
Wednesday night at the Sixteen Mile Sports Complex, for instance, where Gushue's reigning Brier champions from St. John's battled veteran Ontario campaigner Greg Balsdon and his 2022 Everest Canadian Curling Club Championship gold-medal men's team from 30 minutes up the road in Richmond Hill, Ont., in a Sweep 16 game at the 2023 PointsBet Invitational.
Balsdon has curling pals all over Southern Ontario, and many of them showed up Wednesday night to cheer on their buddy in one of the games that define the early portions of the PointsBet Invitational — one of the finest teams ever assembled in the history of the sport taking on a team that won its club championship and has no aspirations of Olympic glory — just the kind of glory that comes with enjoying a good night of curling with your friends.
So while the 9-4 win piled up by the top-seeded Gushue, vice-skip Mark Nichols, second E.J. Harnden, lead Geoff Walker and coach Caleb Flaxey over No. 16 Team Balsdon didn't surprise anyone, it was a unique experience for Gushue. 
"It was little odd when they announced the teams and we didn't get the loudest cheers," said a chuckling Gushue, whose team earned $3,000 for the first-round win to supplement the $5,000 all 16 men's and 16 women's teams earned by qualifying for the PointsBet Invitational. "But we were expecting that because we knew Greg had a lot of people from his club coming out to support them.
"We still got the second loudest cheers," added Gushue with a smile. "So that's a small positive for us."
Not that Gushue was expecting a tap-in putt from Balsdon, who actually defeated Gushue when the two were skipping mostly different lineups at the 2014 Brier in Kamloops — not that Balsdon was about to remind him of that game, having already delivered a couple of good-natured pre-game jabs on social media prior to the start of the event.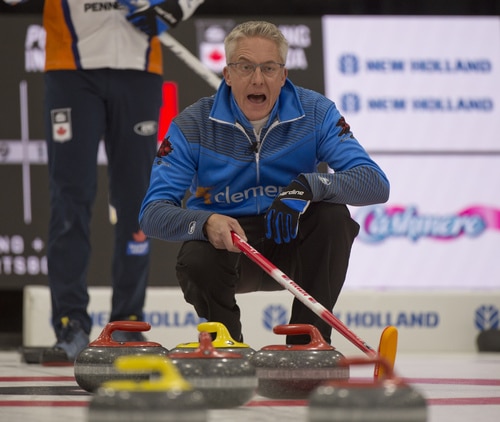 "You don't want to poke the bear, man," joked Balsdon, whose team was rounded out by Jordan Keon, Curtis Samoy and Trevor Talbott. "We had fun out there, it was a great showing. If I have my draw weight in the first four ends, it's a lot closer. But those guys make a lot of shots. Yeah, they're pretty good."
Team Gushue would take control early with deuces int he first and third ends and steals of one in the fourth and fifth ends, and never looked back, even though Team Balsdon was able to post a crowd-pleasing deuce of its own in the sixth.
It wasn't the cleanest performance from the Brier champs, but it was about what was expected from a team that had practised sparingly before arriving in Ontario.
"You know, it's early; we haven't had any regular practice at home, so I'm trying to keep things in perspective," said Gushue, who will take on Team Ryan Wiebe of Winnipeg in the Elite 8 on Friday. "We had some misses that are uncharacteristic, but there are a lot of teams that are playing their fifth and sixth event and like I said, we haven't had practice time I so just keeping the expectations a little a little lower than they normally are."
Expectations, meanwhile, are suddenly higher for Team Rylan Kleiter after the 13th-seeded team from Saskatoon pulled off a major upset, taking down No. 4 seed Team Kevin Koe of Calgary. A steal of two in the ninth end proved crucial in a 10-6 win.
"That was a blast, a fun game to play," said Kleiter. "Lots of shots back and forth; it was awesome. I think it makes a little bit of a statement about our team; playing a good opponent, and when you can come out on top in games like that, it's a good thing."
In other games, defending PointsBet Invitational champ and fifth-seeded Team Reid Carruthers of Winnipeg was a 10-3 victor over No. 12 seed and current New Holland Canadian Under-21 champs Team Johnson Tao of Edmonton; and No. 9 Team Wiebe scored six unanswered points over the final six ends for an 8-5 win over No. 8 Team John Epping of Toronto.
The 2023 PointsBet Invitational continues Thursday with eight more Sweep 16 games — four women's games at 2 p.m. and four men's games at 7 p.m. (all times ET).
Live scoring, standings and statistics for the 2023 PointsBet Invitational are available by CLICKING HERE.
TSN and RDS will provide coverage of the 2023 PointsBet Invitational. CLICK HERE for the complete schedule.
For ticket information for the 2023 PointsBet Invitational, go to www.curling.ca/2023pointsbetinvitational/tickets/
This story will be available in French as soon as possible at www.curling.ca/2023pointsbetinvitational/nouvelles/?lang=fr