Out of nowhere!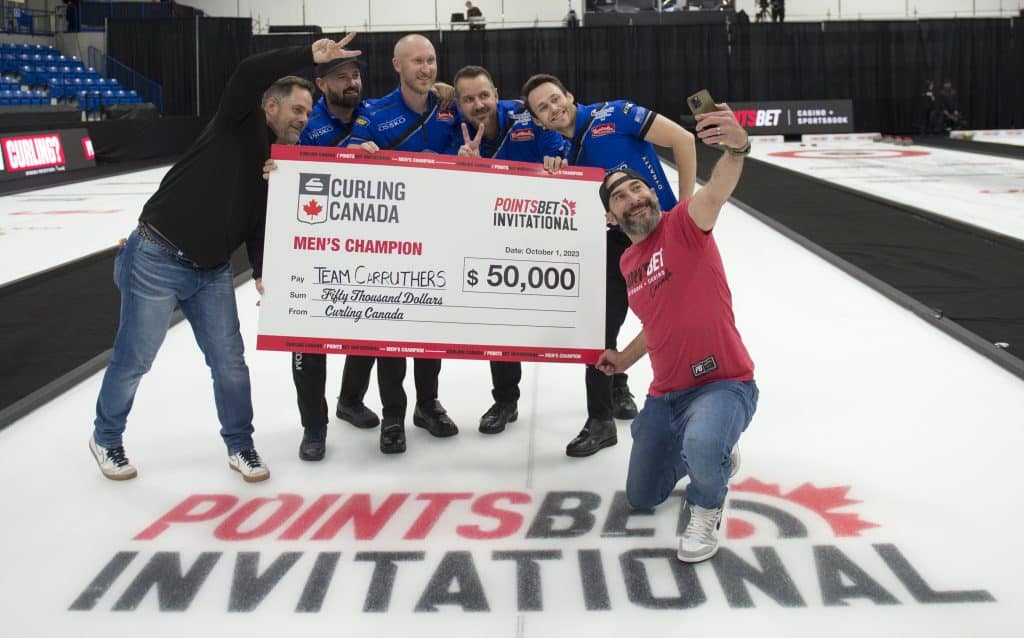 Team Carruthers stuns Team Dunstone in PointsBet Invitational men's final
Timing is everything, and the early part of the curling season seems to be a great time for Reid Carruthers.
For the second straight year, the veteran skip and his Winnipeg-based team claimed the $50,000 top prize by winning the men's title at the 2023 PointsBet Invitational.
And for the second straight year, he did it against another Winnipeg team, skipped by Matt Dunstone.
But that's where the similarities ended. It was a relatively stress-free 8-4 win in last year's final at Fredericton, N.B.
Sunday night at the Sixteen Mile Sports Complex in Oakville, Ont., on the other hand, was anything but stress-free for Carruthers, vice-skip Brad Jacobs, second Derek Samagalski, lead Connor Njegovan and coach Rob Meakin.
They walked a tight rope all night against Team Dunstone and, trailing by three, made a gutsy decision to blank the ninth end and attempt to score a minimum three points in the 10th to force a sudden-death draw to the button for the 9-8 win.
The plan worked to perfection as Carruthers made an open hit in the 10th to score that required three after Dunstone's last-rock freeze attempt bumped into the open, and then Carruthers outdrew Dunstone on a tricky patch of ice in the draw-off for the win, with neither scaring the button.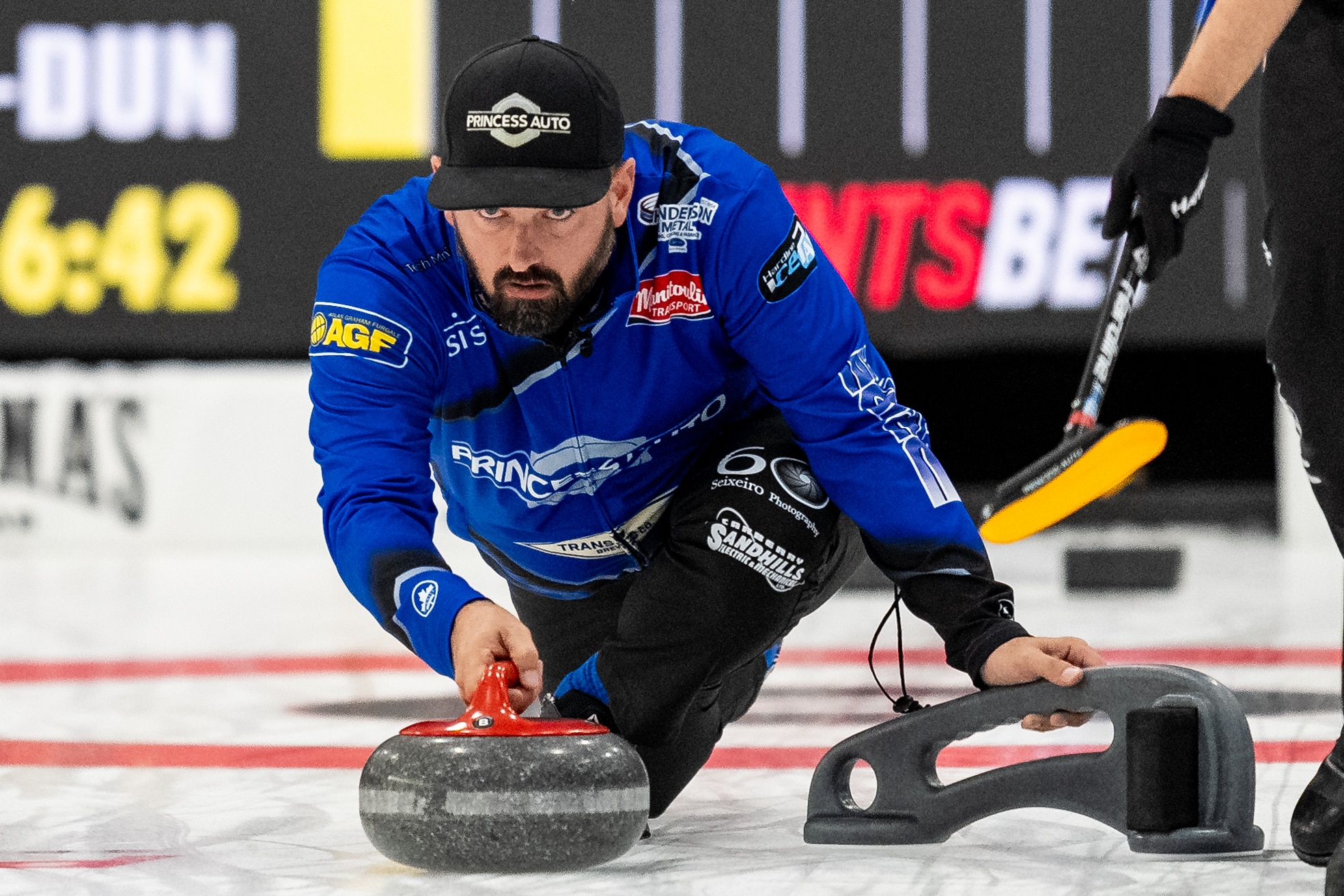 Carruthers, drawing first, just snuck into the four-foot with his outturn after a good scrub from Samagalski and Njegovan.
"I thought we were in trouble, for sure," said Carruthers. "Matt's a great drawer, he has an awesome team. I expected him to make it. I just think a lot of it had to do with the fact that my team had literally just swept like crazy in that spot and changed it for him, made it tricky."
Dunstone, also throwing the outturn, watched in agony as his draw failed to curl and came up barely heavy and wide.
"It's beyond me how that (curls only) two feet down the entire way down the sheet," he said afterward. "That ran nothing like any stone we had seen all game. I'm really not sure what happened."
It was a game that Team Dunstone controlled most of the way. Curling with vice-skip B.J. Neufeld, second Colton Lott, lead Ryan Harnden and coach Adam Kingsbury, Team Dunstone was leading 4-1 after four and threatening to steal in the fifth before a huge runback takeout to score a deuce for Carruthers.
"I think the big shot of the game for us was when Reid made the long runback for two to keep us in that game," said Jacobs. "It went from potentially being 5-1 to 4-3; that was big. I know for myself, I was on tilt at that point, and when he made that shot, it really calmed me down and snapped me back into it."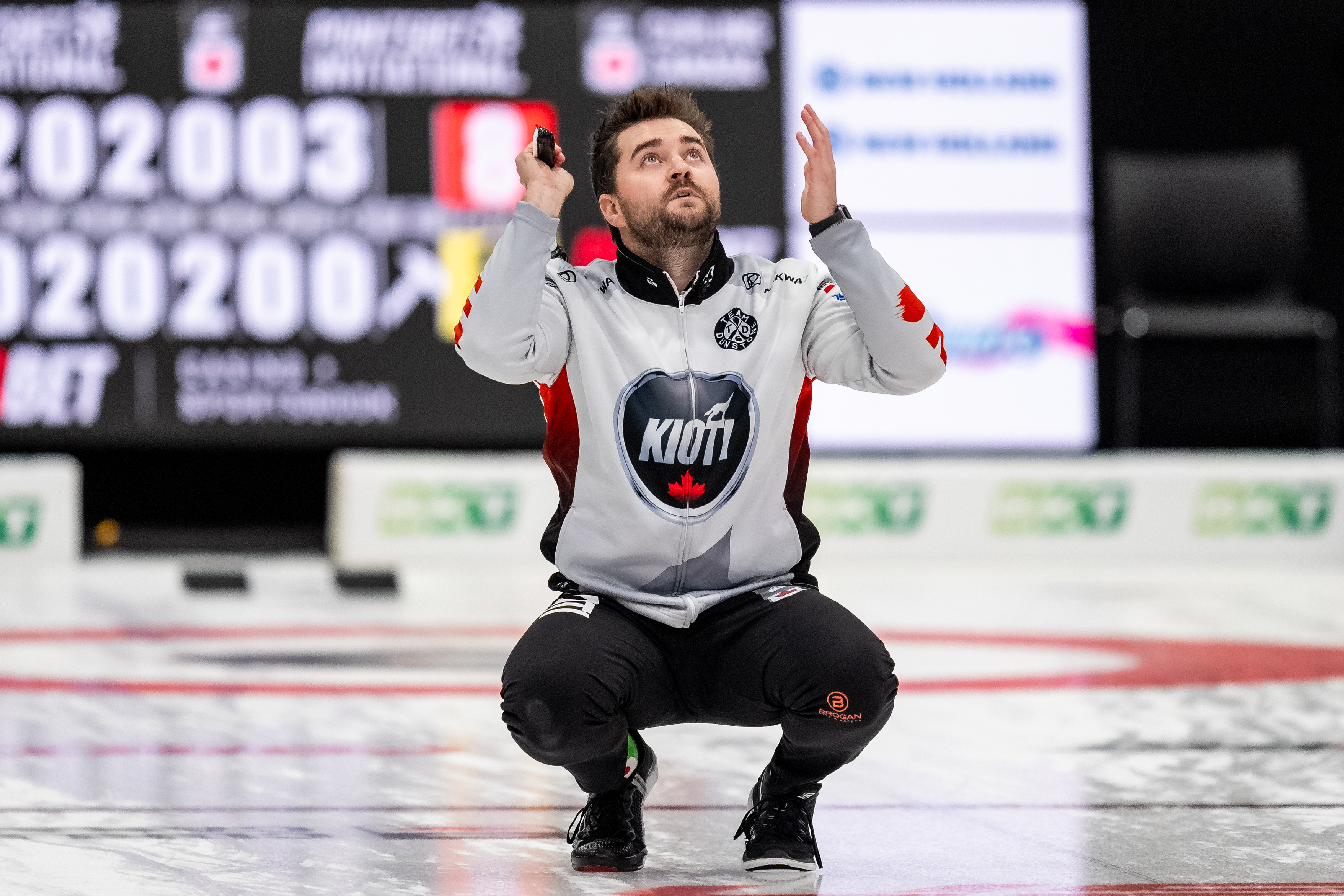 The teams would swap deuces the next three ends, leaving Team Dunstone, which earned $26,000 for the runner-up finish, with an 8-5 lead after eight ends and leaving Team Carruthers with a decision to make — try for a deuce in nine and steal the 10th, are go all in and blank the ninth to carry hammer into the 10th.
We know, of course, what they decided.
"Against a team like that, taking the deuce (in the ninth) and being down one coming home without (last rock), we'd have to steal one and then win the draw," said Carruthers. "I figured the best chance would be to put a good end together, which actually hadn't happened in that game, and go for the three. You get the three, you might get them a little bit rattled and get them in the draw-off.
"Fortunately for us we got a couple misses, and I think we went 8-for-8 in the last end, and that helped us, for sure."
For the record, that's eight straight wins at the PointsBet Invitational for Team Carruthers, and $100,000 in the bank account.
"Unbelievable," he marvelled. "I'm rattled right now. Super happy, the guys played great. And yeah, I love this event."
This story will be available in French as soon as possible at www.curling.ca/2023pointsbetinvitational/nouvelles/?lang=fr