Super-Homan effort!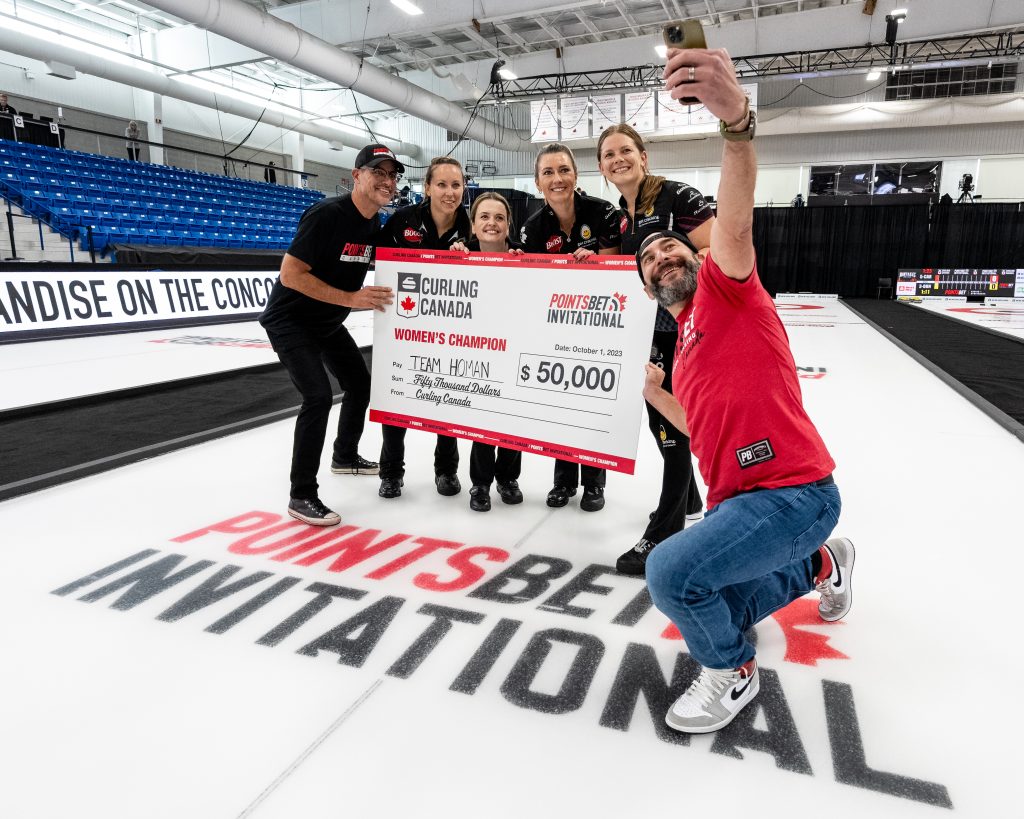 Team Homan claims women's crown at 2023 PointsBet Invitational
It's early times yet, but the start to Team Rachel Homan's 2023-24 season should certainly send a message to their rivals.
Two events have produced 12 straight victories, the latest coming Sunday afternoon at the Sixteen Mile Sports Complex in Oakville, Ont., in the women's final of the 2023 PointsBet Invitational.
Homan, backed up by vice-skip Tracy Fleury, second Emma Miskew, lead Sarah Wilkes and coach Don Bartlett, rebounded from a miserable start to the final to beat four-time defending Scotties Tournament of Hearts champs Team Kerri Einarson 9-7.
The win put $50,000 into the Team Homan bank account, and provided another early season jolt of confidence as it prepares for the 2024 Scotties in just over four months in Calgary.
"Calgary is a long way out," said Homan, moments after a cuddle with her five-week-old son Briggs immediately after the game. "We have a lot of tournaments between now and then to keep preparing and keep getting better."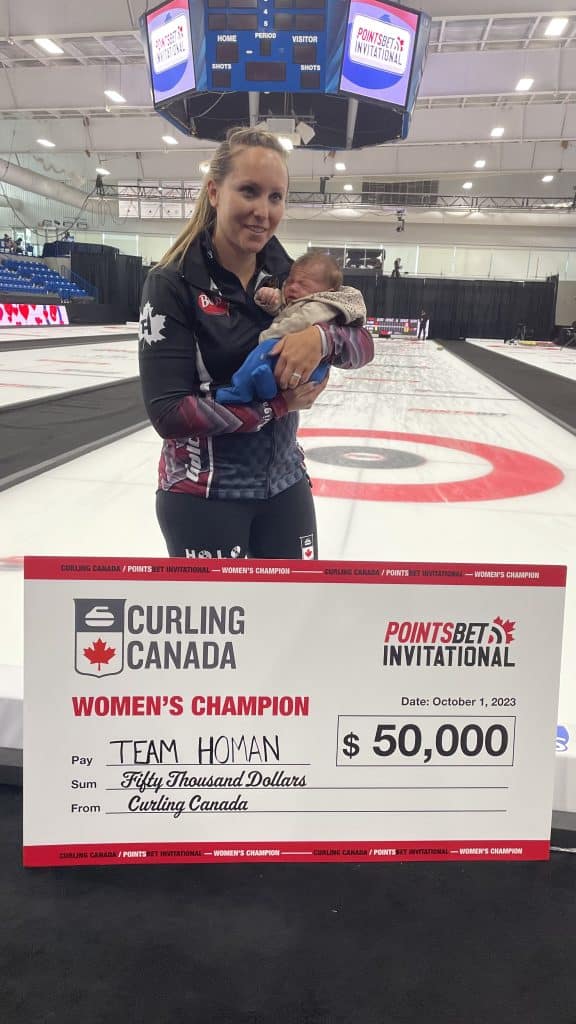 Ironically, the game couldn't have started any worse for Team Homan. After a blanked first end, Homan was looking to play a tap to score, facing at three Team Einarson counters. But her last rock overcurled and wrecked on a guard, gift-wrapping three points to Team Einarson. 
But Team Homan would respond with an important deuce in the third, followed by forcing Team Einarson to a single in the fourth.
The second end steal was a wake-up call, said Homan.
"It's 10 ends; we were still learning the ice and kind of got caught in a couple spots that were different from (Saturday)," she said. "It's tough to learn by giving up three, but we moved on, kept playing our game. You definitely can't give up another steal; we've done that before, but it's better getting two, learning the ice more and making those big shots in the end."
And an end later, that slow start was effectively neutralized thanks to a pair of Einarson misses that resulted in Homan drawing for a go-ahead three in the fifth, and then a stolen single in the seventh for Team Homan that stretched the lead to two.
"We came out firing early, and in the middle ends I had some unfortunate bad luck on a couple of mine," said Einarson, whose team, rounded out by vice-skip Val Sweeting, second Shannon Birchard, lead Briane Harris and coach Reid Carruthers, earned $26,000 as the runner-up in Oakville. "Not much you can do about that. We changed a lot of things about our deliveries and things like that, so we're still working on that, trying to manage those and getting the broom in the right spot with the new throws. So we're doing pretty well with that. We're always striving to become better and better and we'll keep working on that."
Team Einarson rallied to tie it with an eighth-end deuce but Team Homan effectively put the win away with a three in the ninth.
Homan actually didn't play in the season-opening victory, at the Saville Shootout in Edmonton, where Heather Nedohin spared at skip as Homan and husband Shawn Germain spent time with their newborn.
"I guess my team can win with any skip," joked Homan. "The team is firing, and we're just going to try to keep getting better with every game. Heather was an awesome super-spare for us, and we just continued that on.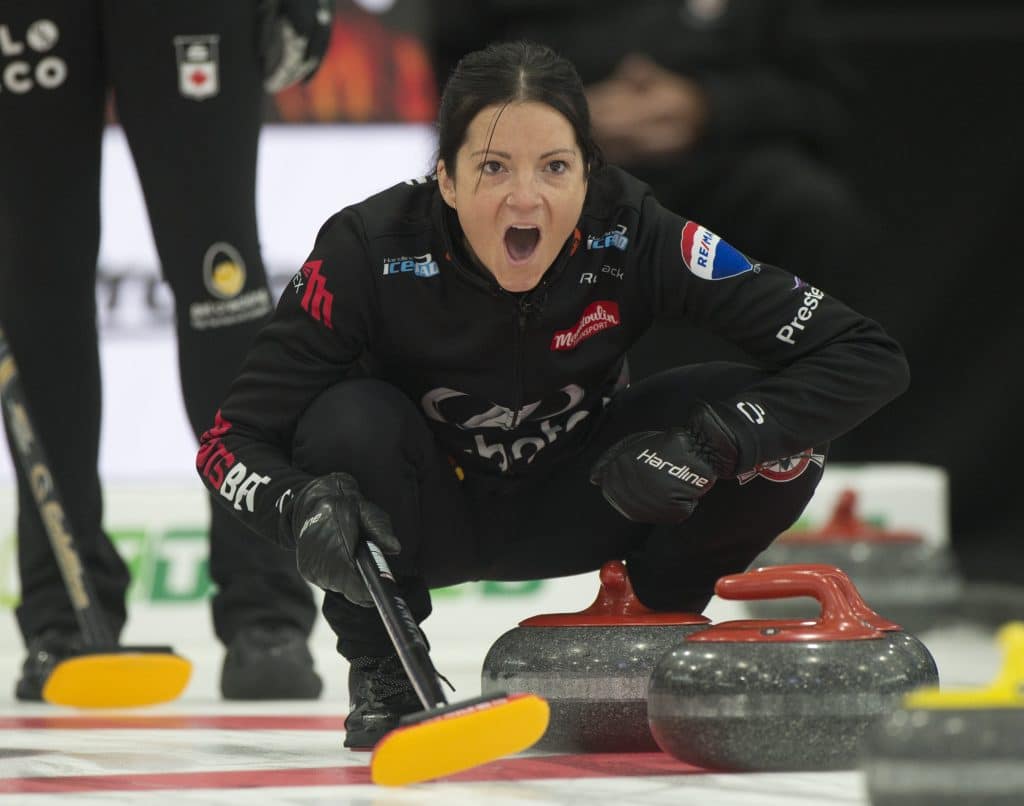 "Rachel is amazing — I'm continually in awe of her," added Miskew. "And the team played great; it was nice to have all of us back."
The 2023 PointsBet Invitational will conclude later Sunday with the all-Winnipeg men's final, a rematch of the 2022 title game, between defending champ Team Reid Carruthers and Team Matt Dunstone.
Live scoring, standings and statistics for the 2023 PointsBet Invitational are available by CLICKING HERE.
TSN and RDS will provide coverage of the 2023 PointsBet Invitational. CLICK HERE for the complete schedule.
For ticket information for the 2023 PointsBet Invitational, go to www.curling.ca/2023pointsbetinvitational/tickets/
This story will be available in French as soon as possible at www.curling.ca/2023pointsbetinvitational/nouvelles/?lang=fr