Pan Continental teams announced!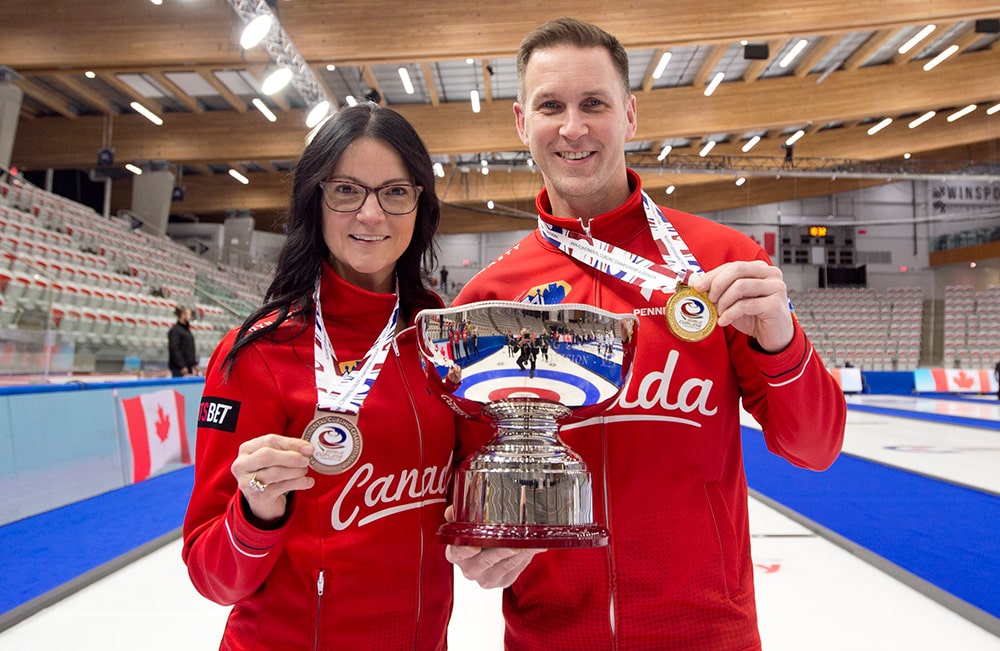 Teams Gushue and Einarson to represent Canada at the 2023 Pan Continental Curling Championships in Kelowna, B.C.
The 2023 Pan Continental Curling Championships commence later this month and some familiar teams will once again represent Canada at the event.
Reigning 2023 Brier and Scotties champions, Team Brad Gushue of St. John's, N.L., and Team Kerri Einarson of Gimli, Man., will wear the Maple Leaf at the second edition of the Pan Continentals, hosted at the Kelowna Curling Club in British Columbia from Oct. 29-Nov. 4.
The Pan Continental Curling Championships will decide which nations from the Americas, Asia and Pacific regions will compete at the upcoming 2024 world women's and men's curling championships this season. The top five finishers will secure their World Championship berths, although in the case of countries hosting a world championship, their berths are already secure.
That is the case for the Canadian women's team because the 2024 BKT Tires World Women's Curling Championship will be in Sydney, N.S. However, Team Einarson (skip Einarson, vice-skip Val Sweeting, second Shannon Birchard, lead Briane Harris and coach Reid Carruthers) must maintain its standing within the A Division of the event to provide Canada with a chance to earn its berth in the 2025 World Women's Championship held outside of Canada.
"It means so much to wear the red and white on home soil, especially in beautiful Kelowna. We're looking forward to competing at this event again and it's always an honour to represent Canada," Einarson said.
Team Gushue (skip Gushue, vice-skip Mark Nichols, second E.J. Harnden, lead Geoff Walker and coach Caleb Flaxey), on the other hand, must finish in the top five to qualify Canada for the 2024 World Men's Curling Championship in Schaffhausen, Switzerland.
"Yeah, that's a cool event. We're excited to play there, and we have Jim Cotter (of nearby Vernon) coming with us as our fifth man, which is going to be nice," said Gushue. "It'll be fun to spend a week with him. Kelowna is a beautiful city, and I would imagine the ice is going to be pretty good."
The Kelowna Curling Club will surely provide some nostalgia for Gushue and Nichols. The duo represented Newfoundland and Labrador during the 1999 Canadian Juniors in that venue. The eventual Olympic gold medallists earned bronze at that event, losing to Ontario's John Morris in the semifinal.
Teams Gushue and Einarson achieved their goals last season at the inaugural Pan Continental Curling Championships in Calgary. Team Gushue earned Canada an historic gold medal, while Team Einarson took home the bronze medal at the event and qualified Canada for the world women's event.
Both teams won their respective Canadian championships and went on to represent the nation at the 2023 world championships. Team Gushue earned silver in front of a home-nation crowd in Ottawa. Team Einarson captured bronze overseas in Sandviken, Sweden, at the world women's event.
While Teams Gushue and Einarson are competing to earn Canada's spot at the world events and maintain their standing in the A Division, they are not guaranteed to compete at the upcoming world championships. That honour must be earned by winning the 2024 Scotties Tournament of Hearts in Calgary and the 2024 Montana's Brier in Regina, where both teams are representing Canada as the reigning champions.
In Kelowna, men's teams from Australia, Chinese Taipei, Guyana, Japan, New Zealand, South Korea and the United States are competing. The women's event features Australia, Chinese Taipei, Japan, Mexico, New Zealand, South Korea and the United States.
For event details and ticket information, visit the host committee's website.
Broadcast details and information will be announced at a later date.