Men of Curling are back in town!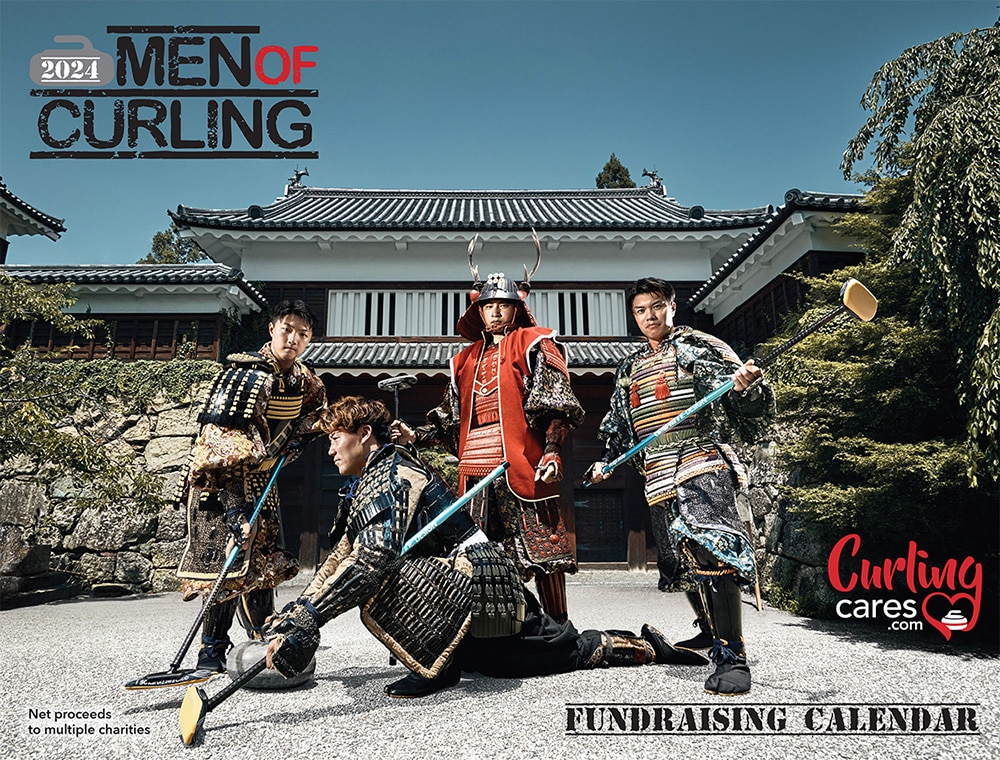 2024 Men of Curling Calendar now for sale in support of youth curling programs and initiatives
The men of curling are not only hitting the ice this season, but they're also hitting up the 2024 Curling Cares calendar to support several important charities across the globe, including a focus on supporting youth curling and philanthropic initiatives across Canada with two featured athletes.
The 2024 Men of Curling Calendar is now available for curling fans to purchase. Eighteen athletes are in the calendar across the 12 month-span of 2024. An Olympic gold medallist, world champions and Brier competitors decorate the pages to the nines.
Reigning 2023 New Holland Canadian Under-21 men's champion Johnson Tao will be one of the featured athletes raising funds for Curling Canada's For the Love of Curling programs and initiatives. Tao, who will skip Canada's Under-21 team at 2023-24 international world championship events this season, was born in Beijing and put together a stunning shoot to celebrate his culture and heritage.
"When I first got asked, I thought that as the first person of Chinese-Canadian heritage to be on this calendar, it would be really cool to find a way to connect my heritage to curling through my photo," Tao said.
Tao received a For the Love of Curling Scholarship, funded and supported by donors across Canada through Curling Canada's philanthropic initiatives, and it has played a role in helping him as a youth athlete competing for British Columbia, Alberta, the University of Alberta and now Canada.
"Curling Canada has been doing so much great work to support youth curling and teams, including myself. I was a 2021 recipient of the scholarship and over the past two years, I've been part of the selection panel of the scholarship," Tao said. "It felt really natural and right to give back to a program that has given me and some of my teammates so much. I'm really proud to be able to support that through this initiative."
Team Tao will wear the Maple Leaf for the first time later this season at the 2023 World Junior B Curling Championships, aiming to finish in the top three to advance to the 2024 world juniors event.
Yukon curling star Thomas Scoffin will also raise funds for Curling Canada's For the Love of Curling youth programs. Scoffin, a 2015 For the Love of Curling Scholarship recipient, has competed at four Briers for the Yukon, seven national Under-21 events with a silver-medal finish with Alberta, and earned a national university gold medal with the University of Alberta.
"It was quite a surprise when I was asked to be a part of the Curling Cares calendar. It definitely wasn't something that was on my radar, but I'm grateful for the chance to be a part of this project to raise funds for some really great initiatives," Scoffin said. "I was lucky enough to benefit from the For the Love of Curling scholarship while I was a student-athlete, and it made a huge difference for me. Curling was obviously a huge part of my life growing up, and I can honestly say I wouldn't be where I am today without those experiences. Any chance to help give a leg up to the next generation of youth curlers is really important to me."
As for what to expect from Scoffin's photo in the calendar? Curling fans will need to purchase it to find out.
"I'm really not sure what to say about the photo! I became a dad last year and I've been fighting off the inevitable dad bod ever since. Hopefully, the court of public opinion goes easy on me!" said Scoffin. He and his wife Kim welcomed daughter Malia into the family late in 2022.
Other Canadian athletes in the 2024 Men of Curling Calendar include:
Jacques Gauthier (Winnipeg)
Tyrel Griffith (Kelowna, B.C.)
Al Hackner (Thunder Bay, Ont.)
Jamie Korab (St. John's, N.L.)
The calendar also features these international curlers and teams:
Team Riku Yanagisawa (Japan)
Team Korey Dropkin (United States)
Each athlete supports a charitable initiative that has personal meaning and is essential in their community. Additionally, each calendar sold supports Curling Canada's youth development and philanthropic programs. Calendar sales and targeted athlete model efforts in support of Curling Canada's For the Love of Curling program have raised more than $140,055 since 2015.
Since 2014 the Curling Cares fundraising project has raised over CDN $800,000 for multiple charities in 10 different countries.
The high-quality printed wall calendars now sell for CDN $34.95 (including applicable taxes, shipping and handling).