Aspiring for gold!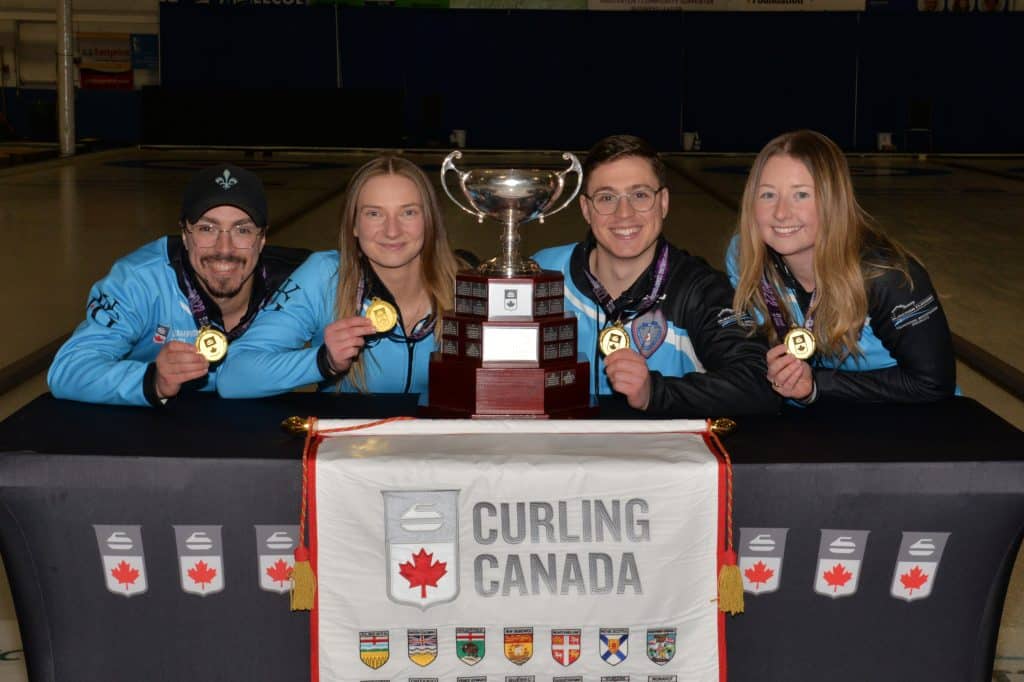 Team Canada begins its journey for gold at the 2023 World Mixed Curling Championship at Aberdeen, Scotland on Saturday
For Québec skip Felix Asselin, trading in the blue jackets of team Québec for the Maple Leaf was always part of the plan.
Asselin, alongside his Glenmore Curling Club fivesome of vice-skip Laurie St-Georges, second Émile Asselin, lead Emily Riley and coach Michel St-Georges, will be ready to don the red and white at the upcoming 2023 World Mixed Curling Championship, scheduled for Oct. 14-21 at Aberdeen, Scotland.
"That's always been the goal," said Asselin after winning the Canadian mixed crown in 2022 at Prince Albert, Sask., in commanding fashion. "As much as we love the baby blue, trading in for the Maple Leaf is always going to be good. We'll be ready for that."
Out of the four-pool 34 team field, Canada is set for robin play in Pool B, rounded out by Australia, Chinese Taipei, Finland, Hungary, Lithuania, New Zealand, Poland and Slovenia.
At the end of the round robin, all teams qualified for the playoffs are ranked one to 12 in a merged group ranking system. The four group winners advance directly to the quarterfinal games.
Teams who placed second and third in each group will play qualification games on Friday, Oct. 20 to determine the last four teams in the play-offs.
The quarterfinals will take place on Friday at 1 p.m. (all times Eastern).

The winners of the quarterfinals will play in the semifinals on Saturday at 4:30 a.m. The medal games will take place on Saturday at 9:30 a.m.
Since the event's inception in 2015, Canada has the winningest record of any nation, boasting three gold medals and one silver to its tally.
Past world mixed curling medallists for Canada include Québec's Jean-Michel Ménard, who won gold in 2022 at Aberdeen, Scotland. Manitoba's Colin Kurz took home gold in 2019 at Aberdeen, Scotland and Ontario's Michael Anderson secured the world mixed top prize in 2018 at Kelowna, B.C. Northern Ontario's Trevor Bonot earned silver in 2017 at Champéry, Switzerland.
Asselin and his Montréal squadron made history by winning the 2022 Canadian Mixed Curling Championship as it completed a unique three-peat for Québec at the Canadian mixed. No province or territory had won three straight Canadian championships with totally different lineups since Manitoba did it at the 1929, 1930 and 1931 Briers.
Team Jean-Sébastien Roy started the Québec win streak with its victory at the 2020 Canadian Mixed in Saguenay, Que., but saw their world championship event cancelled due to COVID-19 precautions. Team Jean-Michel Ménard represents the second prong of Québec's winning trident with a Canadian mixed gold medal in 2021 at Canmore, Alta.
The gold in medal win in 2023 for Asselin and his lineup was the second time the team competed at the Canadian mixed. In 2019, they won a bronze medal at Winnipeg.
Live streaming of select matches from the 2023 World Mixed Curling Championship will be available. For more information, click here.