Curling into Summer Camps!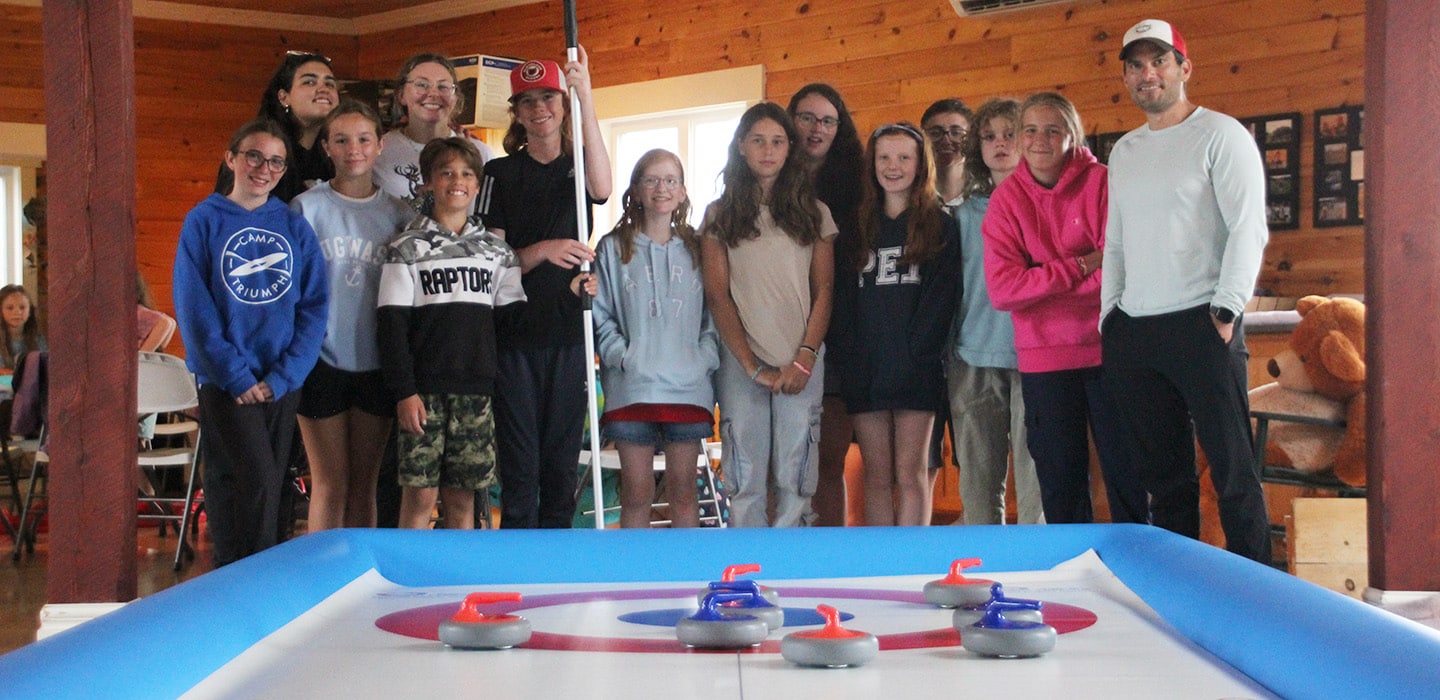 Curling Canada and Rock Solid Productions Inc. bring curling fun to summer camps across Canada
By Anneka Burghout, Rock Solid Productions Inc.
Over the years, Curling Canada and Rock Solid Productions Inc.'s partnership has brought numerous opportunities to youth across the country, and the start of this curling season was no exception.
Before the ice went in and teams were formed, hundreds of kids got to experience curling at summer camp. This summer, as part of a continued philanthropic project focused on fostering greater diversity, equity and inclusion, Curling Canada and Rock Solid Productions Inc. donated brand-new iceless curling equipment to two summer camps that offer programming to youth who may not have otherwise had the opportunity to be exposed to the sport of curling, in hopes of creating equal opportunities.
Recognizing opportunities to expose youth to curling year-round in non-traditional settings is one of the goals of this partnership. "Expanding our reach, and therefore, removing barriers to entry, is a key aspect of our work in creating meaningful opportunities through sport for a more diverse demographic of youth," stated Brodie Bazinet, Curling Canada's Philanthropic Program Manager.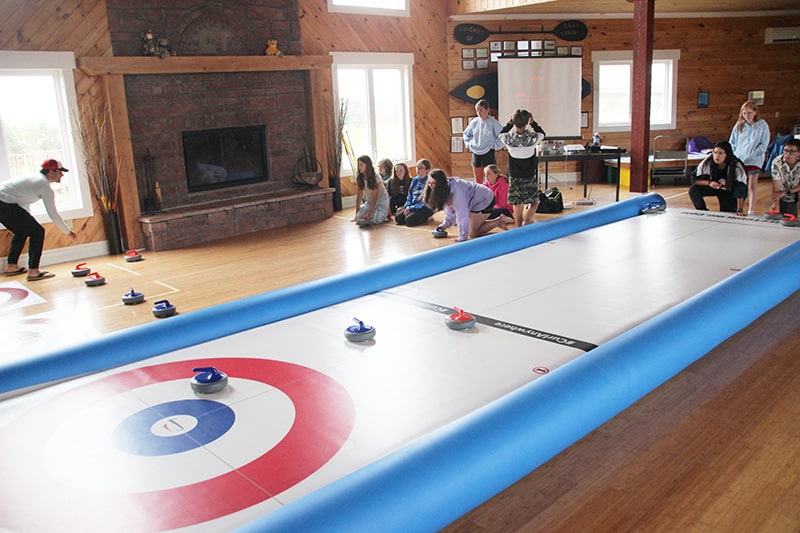 Curling Comes to Camp Triumph
Camp Triumph, an overnight summer camp in PEI, was one of the camps that received equipment and support resources. Their mission is to acknowledge, support, and provide an opportunity for children whose families are affected by chronic illness or disability. The goal of the camp is to build confidence and positive self-esteem while allowing kids to reach their full potential through nurturing qualities of perseverance, respect, and understanding.
"Our campers were thrilled to have a new activity added during their camp week and were keen to learn the basics of curling," stated Cassidy Gordon, Program Coordinator at Camp Triumph.
Throughout the summer, 220 Camp Triumph campers had the opportunity to try out curling with the Express Rink and the FloorCurl set. In addition, Camp Triumph also hosted the T1D Camp Phoenix, a SHAD Leadership group, and some school field trips. In total, close to 500 kids aged 6-17 got to enjoy the great sport of curling!
Cassidy added, "We also had many staff members that got to experience curling for the first time and were able to use the resources provided to lead sessions with kids! A core staff member of ours has curled before in school and had a blast getting to try a new version of the sport."
During one of the camp sessions, Camp Triumph was fortunate enough to have four-time world curling champion (two men's championships, two junior championships) and parent of two of the campers, Craig Savill, stop by for a day to teach a couple sessions. Savill brought some brooms and shoes for the kids to look at, learn, and try out, as well as shared a video of some top curling moments.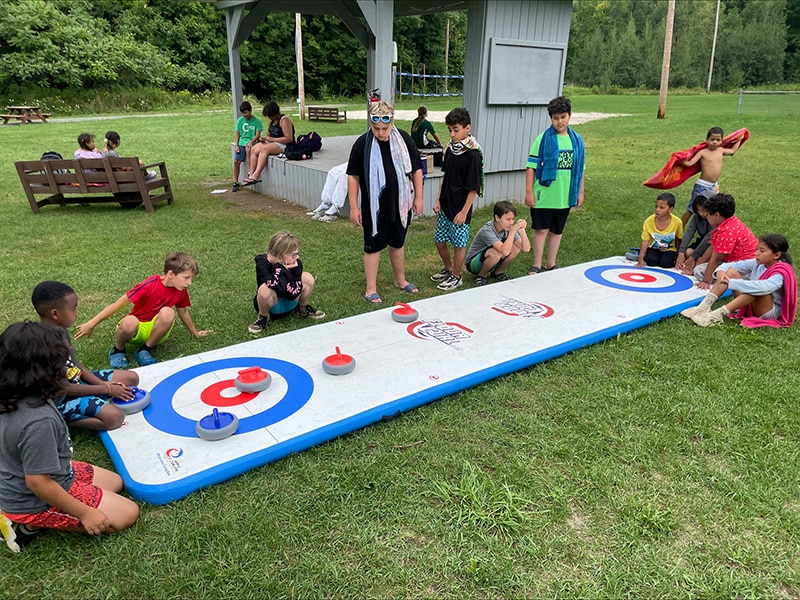 Christie Lake Kids Go Curling
The second camp that was gifted iceless curling equipment was Christie Lake Camp in Ottawa.
Christie Lake Camp has offered programming to Ottawa's most vulnerable children and youth for over 100 years. The summer camp gives low-income girls and boys in Ottawa the chance to learn physical, character, and social skills in a safe, encouraging, and inclusive environment.
"We had a really great experience bringing curling to our campers this summer. It piqued many of our participants' interest, being a brand-new activity that they had never experienced prior," stated Callie Graziadei, Camp Director at Christie Lake Kids.
The campers were able to take active breaks in small groups to focus on learning new skills and explore the equipment to see how it responds to different circumstances. They had the opportunity to have a mix of both facilitated activities and free play, allowing them to have fun throwing the rocks back and forth before jumping into a goal-based activity. Callie added, "Getting a feel for things seemed to keep them engaged and kept any pressure or discomfort at bay."
Impacting Youth Through Sport
Camp Triumph and Camp Christie Lakes Kids will continue to use their donated iceless curling equipment in other opportunities throughout the year to engage more youth in an activity they might not otherwise have been exposed to, in addition to bringing curling back to their camp next summer.
An underlying motivation of the joint work between Curling Canada and Rock Solid Productions Inc., is to create opportunities through sport for youth who may not be as readily presented with the chance to try or participate in curling. By providing these camps with support and equipment, hundreds of underprivileged kids were introduced to curling and engaged with the sport all summer; making the initiative a major success.
When kids are actively engaged in sports, they feel a sense of belonging, accomplishment, and hope for what could one day potentially turn into something bigger. Our philanthropic work together is an important step in empowering today's youth and tomorrow's champions.
Read more about the For the Love of Curling program.