Tough Start!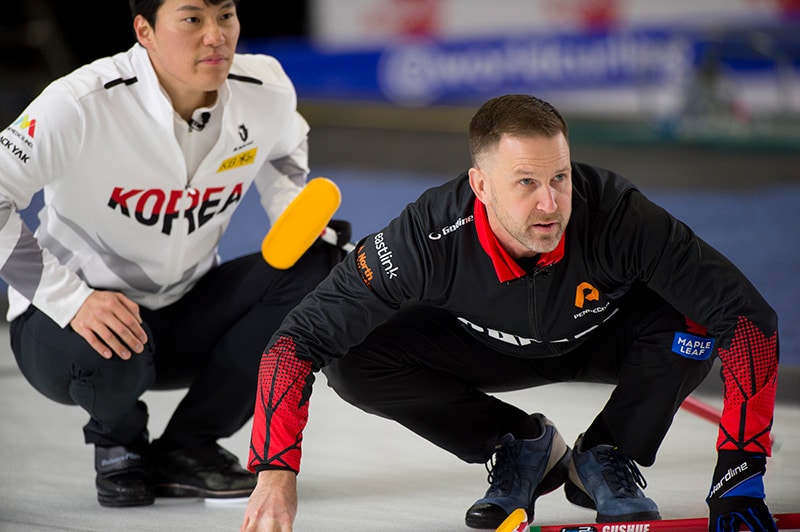 Stolen deuce derails Canada's opening men's game at 2023 Pan Continental Curling Championships
An opening round-robin loss isn't uncharted territory for Canada's Team Brad Gushue. In fact, the reigning Pan Continental champions started last season's event similarly. So, while the result on Sunday afternoon at the Kelowna Curling Club in British Columbia was disappointing, the team from St. John's, N.L., is not sounding the alarms.
South Korea's JongDuk Park bested Canada's Team Brad Gushue 8-5 in the opening men's draw at the 2023 Pan Continental Curling Championships. Canada outplayed South Korea through the majority of the lineup. Still, South Korea skip Park's 94 per cent shooting efficiency was nearly flawless and he continuously kept his team in the game and dictated the play.
Gushue, vice-skip Mark Nichols, second E.J. Harnden, lead Geoff Walker and coach Caleb Flaxey also started last season's Pan Continentals with a loss. In 2022, the United States won the opening round-robin victory against the Canadians.
This year, the Canadians are backed by alternate Jim Cotter from nearby Vernon, B.C., and national coach Jeff Stoughton.
Team Park, the reigning South Korean national men's curling champions, was relentless in its pursuit of upsetting Canada and kept up with its opponents throughout the game. Canada started with the hammer and the teams forced each other to singles for the first three ends. South Korea took its first lead in the fourth end by scoring a deuce on runback.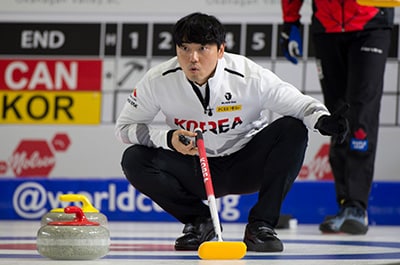 The fifth end was the key turning point in this game. Facing two, Canada's Team Gushue was light on a draw down a centre path and couldn't reach full eight-foot. The unintended result led to South Korea stealing two and taking a three-point lead.
"My draw in the fifth end was the turning point. I threw what I wanted and the ice was a little heavier in one direction than the other and we didn't catch onto it as early as we should have and it cost us," said Gushue. "It's a challenging environment to curl in; I'm not going to lie. I think there's enough here to work with where we can play a little bit better than we did today and just hopefully not miss any more draws against two."
Curling fans who have kept a close eye on tour events this season would not be surprised to know South Korea's Team Park has been a formidable opponent on the ice. Team Park has been in Canada competing at various events across the country since mid-September and has regularly qualified for playoffs amongst the best of the men's teams around the world. In recent weeks, Olympic silver-medallist Mike Harris joined the team as coach and is guiding the team from behind the bench.
"We had some chances and made six out of eight [shots in an end] instead of seven or eight out of eight. We let them off the hook when we had some pressure and missed that one shot in a few ends where we had a chance to get two or put some pressure on them and we just let them off the hook. To their credit, they played well. Their skip, I don't know if he missed a shot; he played very well," said Nichols.
The final frame saw plenty of granite in play and led to a plethora of angles and raises for both teams. Canada attempted numerous, albeit challenging, runbacks to try and set up a score of three for the win. However, everything was just off, and South Korea scored the opening-day victory over Canada.
The top five teams in the men's and women's competitions will earn berths into their respective world championships. While Team Gushue's opening-round loss puts the Canadians behind the 8-ball, there's still plenty of curling to go in Kelowna.
"I thought we drew pretty well today, which is a good sign. A little bit more communication about paths and we miscalled some hit and rolls, which is a little bit uncharacteristic for us…still a little bit of learning and a long event yet," said Nichols.
In other opening round-robin men's action, Japan's Team Riku Yanagisawa bested Team Randy Shen of Chinese Taipei by a score of 12-2; Team Andrew Stopera of the United States shutout Guyana's Team Rayad Husain 19-0; and New Zealand's Team Anton Hood secured an 8-6 victory against Pacific rivals Team Jay Merchant of Australia.
The 2023 Pan Continental Curling Championships continues with draw three at 7:30 p.m. (all times Pacific) when Canada's Team Kerri Einarson is seeking its second win of the day when it takes on reigning Pan Continental champions, Japan's Team Satsuki Fujisawa (1-0)
Meanwhile, Team Gushue returns to the Kelowna Curling Club on Monday morning with a game against New Zealand's Team Anton Hood (1-0) at 9 a.m.
Live scoring, standings and statistics for the 2023 Pan Continental Curling Championships is available by CLICKING HERE.
TSN will be carrying selected Canadian games from the 2023 Pan Continental Curling Championships. CLICK HERE for the full TSN schedule.
Other games are being streamed live on World Curling TV. CLICK HERE for details.
This story will be posted in French as soon as possible at www.curling.ca/category-all-posts-fr/?lang=fr