Back on track!
Team Gushue posts first win at 2023 Pan Continental Championships
After spending Sunday night reflecting on a disappointing loss to South Korea to open the 2023 Pan Continental Curling Championships, Team Brad Gushue arrived at the Kelowna (B.C.) Curling Club Monday morning with a few priorities.
Suffice it to say, those priorities, for the most part, were taken care of over the course of seven ends, with the Canadians, from St. John's, N.L., sailing to an 8-2 win over Team Anton Hood of New Zealand.
The result left both teams with 1-1 records, but also left Gushue, vice-skip Mark Nichols, second E.J. Harnden, lead Geoff Walker, alternate Jim Cotter, team coach Caleb Flaxey and national coach Jeff Stoughton with a more positive state of mind, albeit with the understanding that there's still work to be done.
"It still wasn't a great game, to be honest," said Gushue. "We got a few more misses out of those guys than we did from Korea (on Sunday). We still have to sharpen up and make a few more shots. But it is nice to get a win (after losing Sunday), and hopefully we can get another one tonight."
Team Gushue seemingly flipped a switch against the Kiwis after giving up a deuce in the second end to trail 2-1. Gushue would draw for a go-ahead pair in the third, and then started applying all-out pressure that resulted in a steal of one in the fourth end and two more in the fifth.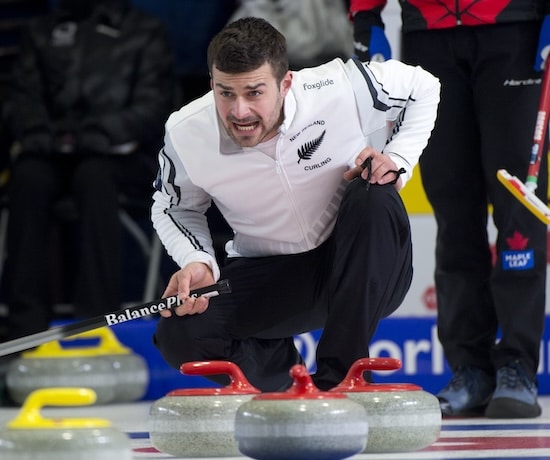 After a blanked sixth, Canada would again steal two and prompt the concession from New Zealand.
It was a good tonic to the frustrations of Sunday afternoon, but Gushue is still far from satisfied.
"We have to execute better," he said bluntly. "I think our expectations through the first two games probably haven't been met from a team standpoint in what we're trying to do. You can't really control the other team, but we can definitely make more shots."
"We came out, we got the win and that was the big thing, but there are still some things we can improve on," added Walker. "We're going to try to build as the week goes on and try to make sure we're in that final four, and go from there."
The Canadian men are back in action Monday at 7 p.m. (all times Pacific) against Team Andrew Stopera of the United States (2-0).
In other action Monday morning, South Korea's Team Jongduk Park (2-0) knocked off Australia's Team Jay Merchant (0-2) 9-6; the U.S. rolled to an 8-2 win over Chinese Taipei's Team Randy Shen (0-2); and Japan's Team Riku Yanagisawa (2-0) remained perfect by downing Guyana's Team Rayad Hussein (0-2) 9-2.
Canada's Team Kerri Einarson (1-1) is back in action in the women's competition Monday at 2 p.m. against Australia's Team Jennifer Westhagen (0-2).
Live scoring, standings and statistics for the 2023 Pan Continental Curling Championships is available by CLICKING HERE.
TSN will be carrying selected Canadian games from the 2023 Pan Continental Curling Championships. CLICK HERE for the full TSN schedule.
Other games are being streamed live on World Curling TV. CLICK HERE for details.
Ticket information for the 2023 Pan Continental Curling Championships is available by CLICKING HERE.
This story will be posted in French as soon as possible at www.curling.ca/category-all-posts-fr/?lang=fr