Moving on!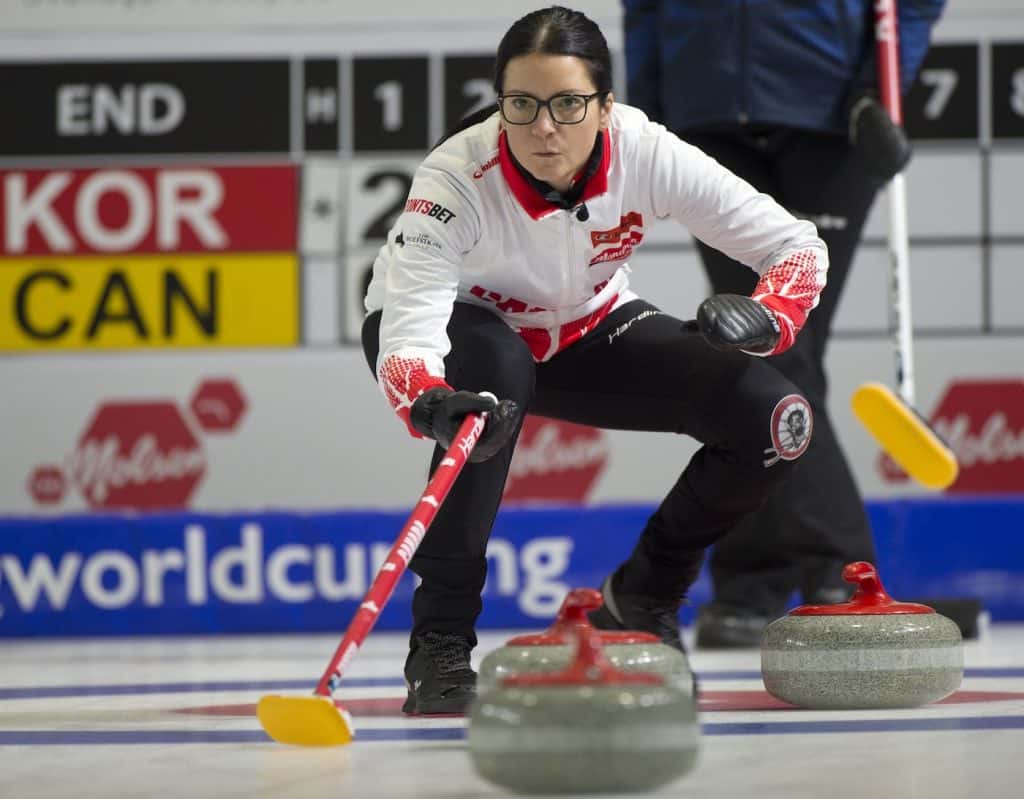 Canadian women clinch playoff spot despite loss at 2023 Pan Continentals
A late-game surge wasn't enough for Canada's Team Kerri Einarson at the 2023 Pan Continental Curling Championships. However, despite a loss to South Korea's Team Eunji Gim at the Kelowna Curling Club on Wednesday afternoon, Canada has still locked up a spot in the playoffs.
Canada's team from Gimli, Man., was down by three in the ninth end, and the outcomes looked bleak. But a miss by South Korea, combined with an exceptional shot from Canada – a double hit-and-roll to freeze – led to a chance to score four. Skip Einarson, vice-skip Val Sweeting, second Shannon Birchard, lead Briane Harris, alternate Dawn McEwen and national coaches Renée Sonnenberg and Viktor Kjell mustered their fourth point thanks to sweeping from the front end. Now leading 8-7, Canada was enjoying its first lead of the game, but not for long.
In the 10th, Canada played a guard on its last shot, but South Korea found a port and played a hit which rolled just enough inside to score two and win 9-8.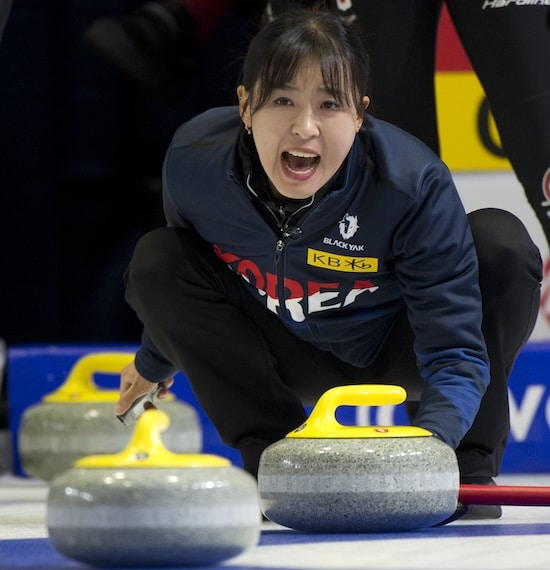 "We made some really great shots in the ninth end and we were set up really good in the 10th. We didn't think Korea's shot was there, and we thought it would spring off the other," Einarson said of the game's end.
That's been the week for Canada, with a series of ups and downs. While Canada lost, its 3-3 record was enough to qualify for the last playoff spot in the four-team playoffs. Canada will join three teams with 5-1 records: South Korea, Japan's Team Satsuki Fujisawa and Team Tabitha Peterson of the United States. 
Losses by New Zealand's Team Jessica Smith (2-4) and Mexico's Team Adriana Camarena (1-5) on Wednesday afternoon ensured neither team could tie or leapfrog Canada in the standings for the fourth playoff position.
"We just want to go out there and leave it all out there. It's such an honour wearing the Maple Leaf and we absolutely love it. Thank you, everyone for cheering for us and we're going to give it our all," Einarson said.
In other women's action, Team Cynthia Lu of Chinese Taipei (2-4) aided Canada by defeating Mexico 6-5. Australia's Team Jennifer Westhagen (1-5) also helped Canada in securing the playoff spot after earning its first win at the event, a 9-7 victory against New Zealand's Team Jessica Smith (2-4). Japan also served the United States its first loss of the week after an 8-3 win.
After clinching a playoff spot earlier today, Canada's Team Brad Gushue (4-1) is back on the ice Wednesday at 7 p.m. against Australia's Team Jay Merchant (1-4).
Live scoring, standings and statistics for the 2023 Pan Continental Curling Championships is available by CLICKING HERE.
TSN.ca and the TSN App will be carrying selected Canadian games from the 2023 Pan Continental Curling Championships. CLICK HERE for the full schedule.
Other games are being streamed live on World Curling TV. CLICK HERE for details.
Ticket information for the 2023 Pan Continental Curling Championships is available by CLICKING HERE.
This story will be posted in French as soon as possible at www.curling.ca/category-all-posts-fr/?lang=fr