Pan Continental Kings!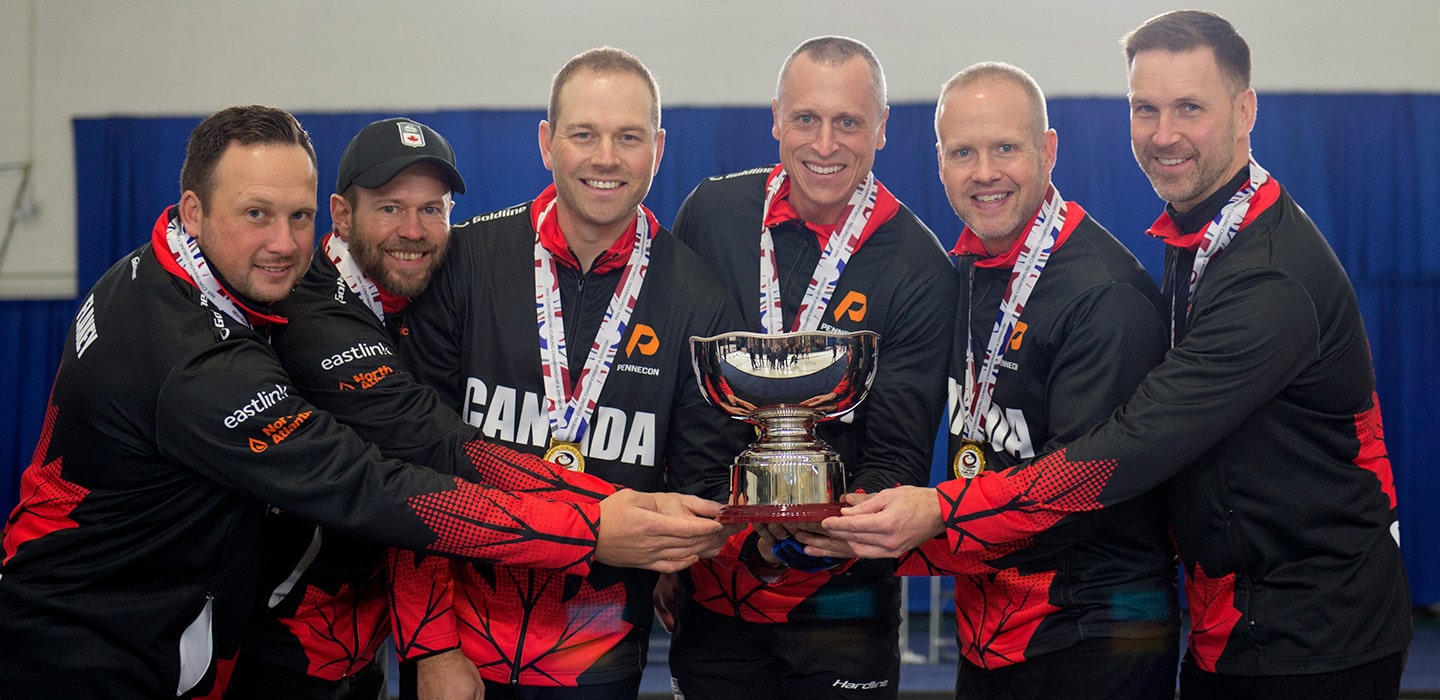 Canada's Team Brad Gushue earns back-to-back gold medals at Pan Continental Curling Championships
Canada's Team Brad Gushue remains king of the Pan Continentals. The team from St. John's, N.L., won its second straight gold medal at the 2023 Pan Continental Curling Championships on Saturday afternoon at the Kelowna Curling Club.
The 8-3 win against South Korea's Team Jongduk Park has put Team Gushue in elite standing in the event's youthful history. Canada's Team Gushue is the first to win back-to-back championships and remains the only team to adorn gold in the men's competition at this event.
"Representing Canada is always an honour, and to do it well and win a gold is something I'm proud of," Gushue said following the win.
Two steals of two elevated Gushue, vice-skip Mark Nichols, second E.J. Harnden, lead Geoff Walker, alternate Jim Cotter, coach Caleb Flaxey and national coach Jeff Stoughton to the gold-medal victory. With the game tied in the sixth, South Korea's Park had a short run and roll to score two. Instead, the South Koreans gave up two because they were inside and clipped a centre guard.
Canada added to that lead in the seventh with another two-steal. Team Park had a double to score but hit it too thin, leaving Canada to score more points and take control of what was otherwise a close game.
Gushue will be the first to admit that both teams had their fair share of mistakes during the game. But at the end of the day, it was about when those mistakes were made. For South Korea, those two last-rock misses were the Achilles heel.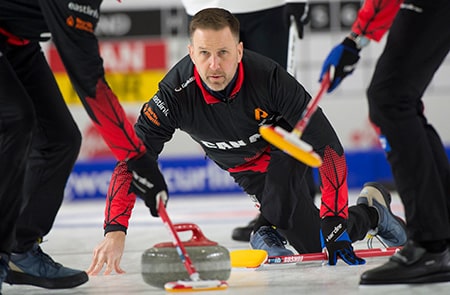 "Just timing. Knowing when to go for it and when not to go for it, and having a good feel for the game," Gushue said. "Mark and I have been at this now for 30 years. I think those guys will get that experience the more they play. That experience and playing in big games like that, you learn in those moments. Even if you don't have the best game, you can sometimes make it happen and get the win."
In the eighth, Team Gushue forced South Korea to a single and tacked on another two points in the ninth. South Korea conceded and there was no need for a 10th end.
Canada's only loss in the round robin was courtesy of the South Korean team. In that game, skip Park did not miss and made any shot needed to earn the win. The gold-medal rematch had all the makings of a back-and-forth affair until the sixth. Giving up the steal of two seemed to rattled South Korea and the team could not battle back against the veteran Canadian squad.
That costly mistake could have come from Canada at certain points earlier in the game. Canada had failed to convert with the hammer twice, in the second and fifth ends, and while it could have impacted Canada's gameplan, the reigning Brier champions didn't go too far out of their way to adjust and be more aggressive.
"I don't think we got too rattled. Certainly, there was some frustration in figuring out why we were missing so many shots and why we were missing them at the margins we were missing them. But we hung in there, and I think we managed the game well and never really let it get away from us," Gushue said. "When we were missing some shots, it could have been easy to be a little aggressive and make a silly call and give up a big end. But we kept it tight and allowed him to make mistakes and fortunately for us, we got two of them in the sixth and seventh."
Canada's spot at the 2024 LGT World Men's Curling Championship in Schaffhausen, Switzerland, is confirmed after Team Gushue's performance this week. The top five teams in the event qualified for the world championship later this season.
On Friday night, Japan's Team Riku Yanagisawa defeated Team Andrew Stopera of the United States 9-6 in the bronze-medal game.
This story will be posted in French as soon as possible at www.curling.ca/category-all-posts-fr/?lang=fr