Manitoba winners!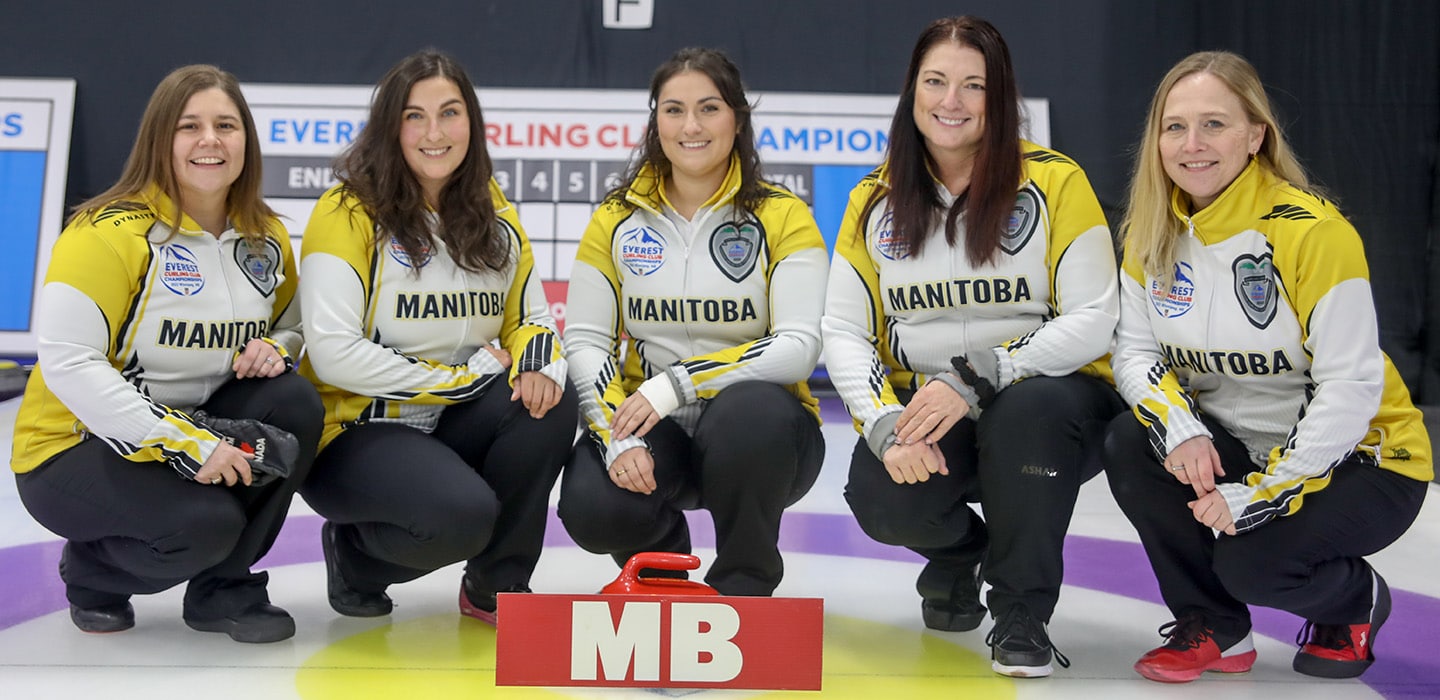 Manitoba's women's team opens with Grey Cup Sunday win at 2023 Everest Curling Club Championships
Manitoba's Kara Balshaw knew her team's opening match-up at the 2023 Everest Canadian Curling Club Championships wasn't going to be the most-watched sporting event in the province on Sunday night. However, that didn't deter her from feeling joyous after her team's first-ever win while wearing a Manitoba provincial jacket on the curling ice.
The Manitoba team from the Thistle/Fort Rouge Curling Club earned a 7-2 win against Newfoundland & Labardor's Team Jennifer Taylor on Grey Cup Sunday. Of course, the other big game in question was the CFL Final, featuring the Winnipeg Blue Bombers taking on the Montreal Alouettes. It's a game that many from the province are keen to watch as the Blue Bombers attempt to win its third Grey Cup title in four years, much to the pleasure of Manitobans and, naturally, one many want to watch – including Team Balshaw.
"I was a little bit worried that I would be distracted by what was going on behind the glass [on the TV], but I think we did a real fine job of keeping our focus on what needed to be done on the ice," Balshaw said, while holding onto her team's Winnipeg Blue Bombers sign that was placed behind the sheet in support of their CFL team.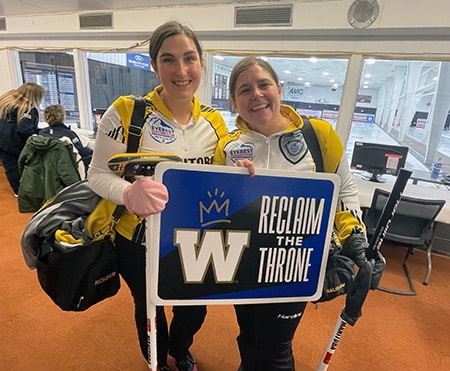 While skip Balshaw, vice-skip Heather Carson, second Sandra Carson, lead Cathy Gingera and alternate Kim Merasty did not start the game with the hammer, they forced Newfound & Labrador to a single in the first and got to work in the second. By the time Balshaw was in the hack to throw her last, she was looking at an opportunity to score three. They nearly pulled the string, but sweeping from Gingera and the Carson sisters helped the rock bite the outside of the 12-foot for a three-ender.
After exchanging some single points through the middle of the game, Manitoba regained control in the seventh with a steal of two and ran Newfoundland and Labrador out of stones in the eighth.
With the game done, the team didn't need to rely on Grey Cup updates from their fifth Merasty through the glass. They could get upstairs to the lounge for the opening reception and trade in their yellow and white for blue and gold while watching the fourth-quarter action.
The Manitoba unit has all been long-time competitors but are longer-time friends. Balshaw has known Heather and Sandra for their entire lives. As Balshaw was close to graduating from the junior curling ranks, an eight-year-old Heather joined a junior league and the Fort Rouge Curling Club and Kara was her first skip. Now, nearly three decades later, they're representing their province with an opportunity to win a Canadian championship.
"It's so nice and perfect, like the cherry on top. We've been working really hard over the last 10 years or so in our curling life, and I'm glad Heather kept it up with us after that first year together," Balshaw said.
Competing at the host province is also an added bonus for the team. While representing Manitoba this year did not involve a trip to a different location, it has come with a hometown feel and familiarity, including plenty of supporters with them this week.
"I was a little bummed when the year we win it's here, but it ended up being really nice to have so many people supporting us," vice-skip Heather Carson said. "We did a little bit of fundraising beforehand and we got to see the support from everyone, even people we didn't know, was really tremendous."
In other Draw 1 action on the women's side of the draw, Ontario's Team Lindsay Thorne of the Rideau Curling Club in Ottawa roared to a 15-2 win against Team Julie Mutch of the Montague Curling Club in Prince Edward Island and Saskatchewan's Team Allison McMillan of the Nutana Curling Club in Saskatoon bested Nunavut's Team Denise Hutchings of the Iqaluit Curling Club 14-1.
In men's action, Ontario's Team Noel Herron of the Royal Kingston Curling Club overcame New Brunswick's Team Dan Crouse of Curl Moncton with an 11-2 win, Alberta's Team Dan Sherrard of the Beaumont Curling Club defeated Team Chris Kelln of the Northwest Territories from the Yellowknife Curling Club 9-1 and Northern Ontario's Team Matthew Hunt from the YNCU Curling Centre in Sault Ste. Marie had an 11-5 win against Newfoundland & Labrador's Team Baz Buckel of the Corner Brook Curling Club.
Action at the 2023 Everest Canadian Curling Club Championships continues on Monday with draws at Noon, 4 p.m. and 8:30 p.m. (all times Central).
Fourteen men's teams and 14 women's teams are competing this week. The fields are divided into two pools of seven teams. After the round robin, the top three teams in each pool will qualify for modified double-knockout playoffs, which begin Thursday, Nov. 23, and conclude with the gold- and bronze-medal games on Saturday, Nov. 25.
Live-streaming coverage of selected games at the 2023 Everest Canadian Curling Club Championships will be available on Curling Canada's streaming platform, Curling Canada + as well as on TSN+.
Scores and standings from the event will be available at by CLICKING HERE.
For draw times, team lineups and other event info, CLICK HERE.