A win for the territory!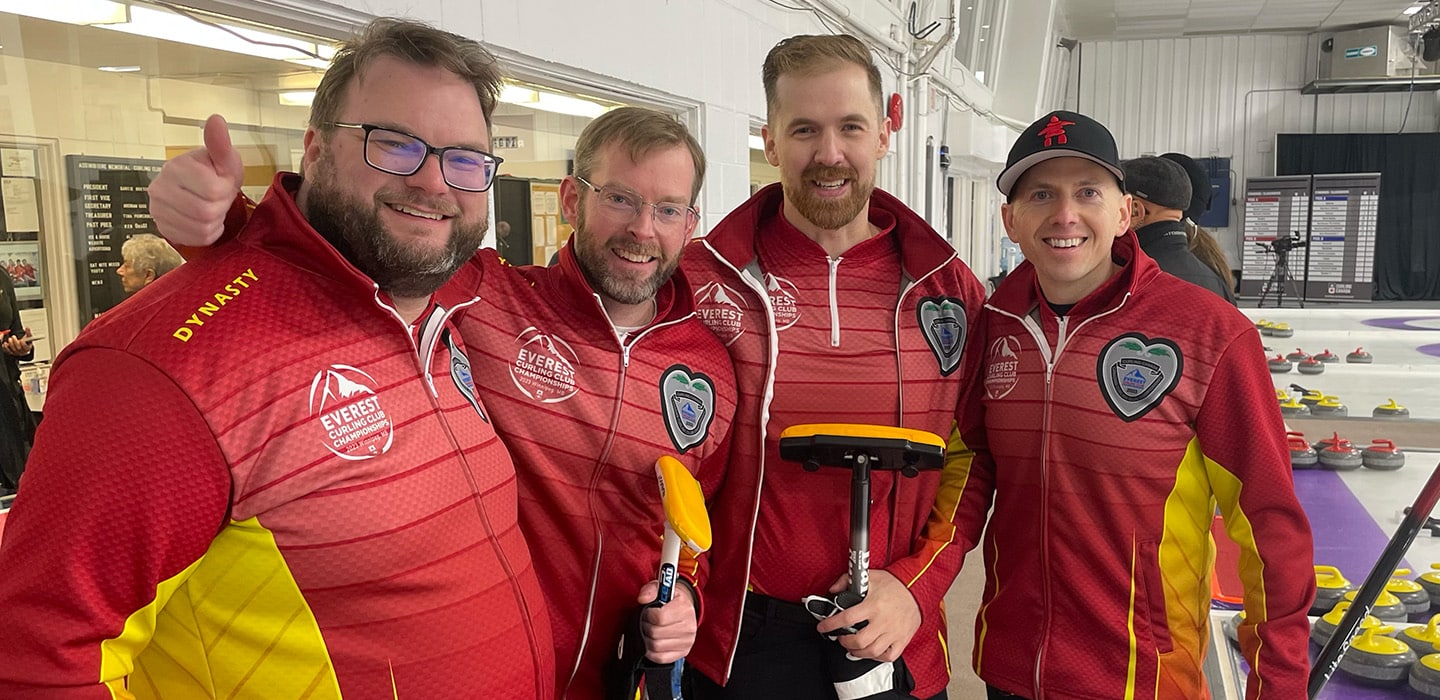 Nunavut men open 2023 Everest Club Championships with a win in Winnipeg
Nunavut's opening victory at the 2023 Everest Canadian Curling Club Championships is more than just a tally in the win column. It's also a win for the small volunteer base at the Iqaluit Curling Club, which works hard yearly to build the sport in Nunavut.
Team Peter Van Strien made a last-rock shot for the win on Monday afternoon at the Assiniboine Memorial Curling Club in Winnipeg. Van Strien, vice-skip Mark Pillsworth, second Justin McDonnell, and lead Adam Fisher scored three in the eighth for a 9-8 win against British Columbia's Team Tyler Orme of the Vernon Curling Club.
Down by two, Nunavut played a quiet nose hit on its last shot of the eighth end for an opening-event win. It was the kind of game with plenty of momentum shifts, starting with Nunavut. After three ends, the team sprinted out of the starting blocks to a 4-0 lead. However, British Columbia had big ends in the fourth and fifth, scoring seven cumulative points for the lead. In the sixth end, Nunavut drew against a pile of stones to take one and forced British Columbia to one in the seventh to set up the win in the eighth.
"We kind of surprised ourselves playing really sharp in the first three. We probably should have tried to keep it more open later, so we let them back into the game to the point where they took the lead on us. That's all you can ask for in the end; have a shot on your last one for the win," Van Strien said.
It is the first win for a Nunavut men's team at the Everest Club Championships since 2019. Now, with one game under their belts and five more to play, these curlers from Nunavut would like to earn a few more wins.
"We come in knowing we're underdogs in pretty much any game we're going to have, but now, getting a win under our belt like this, who knows? You just keep playing hard. I liked the way the team threw today," Van Strien said. "We took a couple of ends off, but it was a really good game for the most part. If we play like that, we can scare some other teams. That's what we can hope for and we know we'll play teams tough."
Iqaluit curlers undoubtedly have talent, and Nunavut's key to curling success is consistency and dedication. With the former, Van Strien is the first to admit they cannot continue giving up big scores or take any ends off during the games. The latter leads to a more significant topic of conversation about the challenges of curling in a Canadian territory and the day-to-day operations of the Iqaluit Curling Club. 
By day, the curlers representing Nunavut in men's and women's at this competition are finance officers, police officers, project managers, doctors and policy analysts. By night, they are curling club volunteers and work as coaches, ice makers and board members. It's a small volunteer base that keeps the Iqaluit Curling Club running, resulting in new people trying the sport and current curlers with ice to train for national championships.
"It gives our players something to strive for. We've had to restart our junior program and now I'm hoping it will be something that they see and realize playing at a national championship is something they can achieve," Van Strien said. "If we didn't have these spots at these events, I think motivating people to curl and keep the club going would be hard. We know people love to curl, but these events are the carrot at the end of the stick."
The volunteer dedication is never in doubt, but sometimes external circumstances hamper the curling season at the city-owned Iqaluit Curling Club. In 2021, the city faced a water crisis due to contamination. Local officials converted the curling club into a headquarters for the water shortage and prevented the volunteers from accessing the venue for curling. While nothing is confirmed, there is an ongoing discussion about a TV production using the curling club while filming a show highlighting and celebrating life in the north that could put a cap on the curling season.
They're projects and operations that Van Strien is grateful the club can assist with. However, with limited resources and infrastructure in Iqaluit, interruptions to the ongoing programming at the curling club can hamper progress by providing consistent leagues and clinics, impacting membership retention.
That makes a win like this one all the more important for Van Strien. When youth at the club can see their club members from Iqaluit succeeding and competing at national events, it can give them the extra drive to play hard, have fun, and win their own national games in the future. 
As of the 4 p.m. draw (all times Central), the Nunavut men are 1-0 and tied for first place in Pool B with Manitoba's Team Derek Anderson (Gimli Curling Club) and Quebec's Team David Maheux (Mont-Bruno Curling Club). In Pool A, Alberta's Team Dan Sherrard (Beaumont Curlong Club) is alone at the top with a 2-0 record. Nova Scotia's Team Shea Steele (Halifax Curling Club) is 1-0 and the only other undefeated team in the pool. The team has a bye this afternoon.
In the women's competition, British Columbia's Team Roselyn Craig (Duncan Curling Club), Northern Ontario's Team Robyn Despins (Fort William Curling Club) and Nova Scotia's Team Tanya Phillips (CFB Halifax Curling Club) are all 1-0. In Pool B, Ontario's Team Lindsay Thorne (Rideau Curling Club) is 2-0 and atop the pool. However, Saskatchewan's Team Allison McMillan (Nutana Curling Club) and Alberta's Team Nanette Dupont (Lethbridge Curling Club) are not far behind with a 1-0 record.
Fourteen men's teams and 14 women's teams are competing this week. The fields are divided into two pools of seven teams. After the round robin, the top three teams in each pool will qualify for modified double-knockout playoffs, which begin Thursday, Nov. 23, and conclude with the gold- and bronze-medal games on Saturday, Nov. 25.
Live-streaming coverage of selected games at the 2023 Everest Canadian Curling Club Championships will be available on Curling Canada's streaming platform, Curling Canada + as well as on TSN+.
Scores and standings from the event will be available at by CLICKING HERE.
For draw times, team lineups and other event info, CLICK HERE.