2010 M&M Meat Shops Canadian Juniors Begin Saturday in Sorel-Tracy
The M&M Meat Shops Canadian Junior Men's and Women's Curling Championships, presented by AMJ Campbell Van Lines, get underway Saturday in Sorel-Tracy, Quebec. It's the first time since 1993 in Trois-Rivières that these championships have been staged in the province.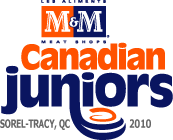 Thirteen men's and 13 women's teams (representing the 10 provinces plus Northern Ontario, Northwest Territories and Yukon) will compete. Round robin games will be played at both Colisée Cardin and Club de Curling Aurèle-Racine. At the conclusion of the round robin, the first place teams advance to their respective finals, while the second and third place finishers meet in semi-finals on Saturday. Both the women's and men's finals will be played on Sunday, January 24 at Colisée Cardin and will be televised live across Canada on TSN. The women's final takes place at 2:30 pm ET while the men's final begins at 7:30 pm ET. The winners will then represent Canada at the 2010 World Junior Curling Championships, March 6-14 in Flims, Switzerland. Canada has won a leading 16 world junior men's titles since 1975 and eight women's crowns since 1988. Topping the men's field is Prince Edward Island, skipped by Brett Gallant of Charlottetown, the reigning Canadian junior men's champion and 2009 world junior silver medallist. He'll be trying to join Alberta's Charley Thomas (2006-07) and Ontario's John Morris (1998-99) as the most recent male skips to win back-to-back titles. Last year in Salmon Arm, British Columbia, Gallant defeated Northern Ontario's Dylan Johnston in the national final, then lost the gold medal game to Denmark at the World Juniors in Vancouver. Gallant will be making his sixth appearance at the Juniors, equalling the record held by Brad Gushue of St. John's. He's also won 40 games (round robin and playoffs) during that stretch, and, with two victories, will eclipse the mark of 41, held by Quebec's Martin Crête. On the women's side, Ontario's Rachel Homan of Ottawa, runner-up in last year's M&M Meat Shops Canadian Juniors, and Manitoba's Breanne Meakin of Winnipeg, who played lead last season for Kaitlyn Lawes when winning the Canadian Juniors and a silver medal at the World Juniors, are the pre-event favourites. This marks the fifth year of event title sponsorship by M&M Meat Shops, Canada's leading retail chain of specialty frozen foods, in an agreement with the Canadian Curling Association extended through 2012. "Curling is a sport beloved by Canadians from coast to coast, with our staff, franchisees and customers being some of the biggest curling fans around. M&M Meat Shops is therefore thrilled to continue our support of Canadian curlers and curling fans," said Mac Voisin, Founder of M&M Meat Shops. "We'd like to wish everyone competing in the 2010 M&M Meat Shops Canadian Junior Men's and Women's Curling Championships the best of luck. We look forward to you rocking the house!" The Canadian Junior Men's Championship began in 1950 in Quebec City. Since then, Quebec has won three Canadian titles – in 1980 by skip Denis Marchand in Sault Ste. Marie, in 1992 in Vernon, B.C. by skip Michel Ferland and in 2008, also in Sault Ste. Marie, by skip William Dion. Dion went on to finish third at the 2008 World Juniors in Östersund, Sweden. Alberta leads all provinces with 15 victories. Quebec will be represented this year by skip Kevin Rivest and his Club de Curling Longue-Pointe team. The Canadian Junior Women's Championship was first played in Vancouver in 1971. Saskatchewan leads all provinces with 10 titles, while Quebec has just one win, that by skip Marie-France Larouche in 1999 in Kelowna, British Columbia. Skip Camille-Marie Lapierre and her Otterburn Curling Club team will carry the host province's colours this year. Quebec has hosted four previous Canadian Junior Men's (1950, 1960, 1970, 1993) and three Canadian Junior Women's (1973, 1986, 1993) championships. The men's and women's championships were conducted separately until being combined in 1987 in Prince Albert, Saskatchewan. The first draw is set for 12:30 pm on Saturday, January 16 at both Colisée Cardin and Club de Curling Aurèle-Racine, followed by the official Opening Ceremonies at 3:30 pm ET at Colisée Cardin. Draws #2 and #3 will be played at 5:00 pm and 9:30 pm. From Sunday through Thursday, draw times are 10:00 am, 2:30 pm and 7:00 pm, with the round robin concluding on Friday, January 22 with draws at 8:00 am and 12:30 pm, prior to any required tiebreakers. The semi-finals will then be played on Saturday, with the finals on Sunday. Draw results via CurlCast and draw summaries will be available on the Canadian Curling Association website www.curling.ca or www.seasonofchampions.ca/2010juniors.