A partnership between Rocks & Rings, Curl BC and the Canadian Curling Association has produced dramatic results in Northern BC. This story comes courtesy of Jill Mouzar at Rocks & Rings and Curl BC's Penny Bartel. Enjoy! (Danny Lamoureux)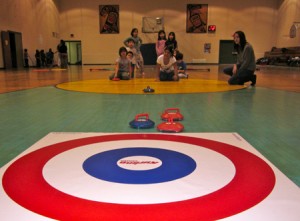 With a bit of equipment and a lot of enthusiasm the Capital One Rocks & Rings program is off and running in Northern BC. Everyone from the students to the instructors in training have been soaking up every moment of the excitement that the program has brought to their schools.
"It was awesome! Who knew you could play curling in the gym" said one of Nisga'a Elementary and Secondary School's students. "I like the strategy part of the game. It was really fun to knock the rocks out of the house!"
There are now multiple high school students and adults that have taken the next step of learning how to instruct the program. Communities including Greenville, Kincolith, Canyon and New Aiyansh will continue to teach each other the sport and have mini tournaments thanks to the support of Kidsport Aboriginal Youth Program, the Canadian Curling Association's Discover Curling program and Curl BC.
"I was very pleased to see how engaged all of our students were in learning new curling skills" said Alvin A. McKay Elementary School's principal. "Our students had never tried this activity before, but now they are eager to play again. The kindergarten class had as much fun as the Grade 7's. Even our caretaker had fun trying the indoor curling. Thank you to Curl BC for bringing your engaging sport to our remote corner of BC."
Nisga'a Elementary and Secondary School finished off their week of curling with a Rocks & Rings mini bonspiel. For the participants that couldn't get enough, they headed to the Terrace Curling Centre on January 22 for exciting on-ice instruction.
More Rocks & Rings success here