Sports Day and more….
True Sport, ParticiPaction and the CBC are staging the second Sports Day across Canada on September 17th. The event's intention is to showcase Canadian sports and to celebrate those sports at the community level.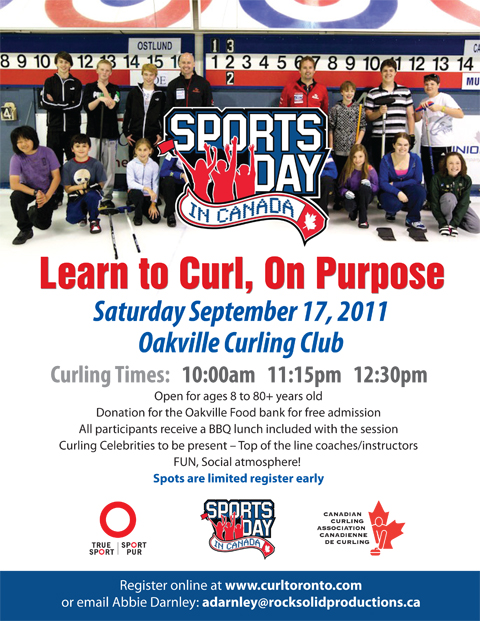 The CCA is working with
Rock Solid Productions
and the
Oakville
(ON) and
Vancouver
(BC) curling rinks in staging learn to curl sessions for Sports Day on that day. It's an interesting opportunity though it is something most of our buildings do in the fall anyway. Hopefully, there will be a great response to our first crack at this and we can roll out more curling opportunities next year.
Sports Day Vancouver
Sports Day Oakville
(
video
) ————————————————————————————————————————————————————– We have had a number of requests lately for round robin draws for curling leagues so I grabbed some of the basic draws and put them together in a PDF. By all means this is not complete as every club is unique in their way including how they build draws. But it is a good start and feel free to call and request a custom draw if you want!  We'd like to thank Jeff Keeler of Winnipeg for creating these for curling!
Click here for the file
. Finally, a bit of advice from the practices of successful curling clubs. Be wary of trying to build a year long round robin. It might be a nice option for a community league or a recreational league where everyone knows everyone and the results aren't really that important.  But for regular club play, you are asking for trouble down the road. Good teams will play bad teams and the result won't be pretty. That's not fun for either team. Successful operations generally operate some form of 'ladder' system where teams are in groups and play smaller round robins. For example, say you have 18 teams and 4 sheets of ice. Instead of an 18 team round robin, divide the league into three sections of 6 teams and play a five game round robin within each group. After the 6 weeks are up (you will need 6 weeks as two teams will have byes each week), the top two teams in 'C' move up to 'B', the top two teams in 'B' move up to 'A'. Subsequently, the bottom two teams in 'A' drop to 'B' and the bottom two teams in 'B' to 'C'.  What this does is create parity in your league and the level play is usually pretty close in each section. Which makes it much more enjoyable for everyone!