Playoffs set at Canadian Mixed
Alberta, skipped by Kurt Balderston of Grande Prairie, has advanced to Saturday afternoon's final (1:30 pm ET) of the Canadian Mixed Curling Championship, after completing the round robin in first place with an 11-2 mark.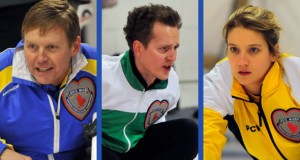 Losing only to Prince Edward Island and Saskatchewan during the week, Balderston, who won the 1992 Canadian Mixed in Grande Prairie, now awaits the winner of tonight's semi-final (7:00 pm) between Saskatchewan and New Brunswick. Alberta has won a leading nine Mixed titles since the championship began in 1964 in Toronto. The province's last win came at the 2008 Mixed, courtesy of Calgary's Dean Ross. The playoff schedule was actually determined by Thursday's evening results, rendering Friday morning's final round robin draw meaningless, save for pride amongst the competitors. All three playoff-bound teams were idle. Saskatchewan, with Jason Ackerman of Regina as skip, and New Brunswick, skipped by Sylvie Robichaud of Moncton, finished tied for second with 9-4 records, with Ackerman seeded second for his 8-2 defeat of Robichaud in Draw 16. Ackerman subsequently clinched a playoff berth with a tight 5-3 decision over Balderston in Draw 17, while Robichaud defeated Quebec's Martin Ferland, 8-6 in a do-or-die affair for both teams Thursday night, to secure the other playoff spot. Robichaud will be attempting to become just the second female skip to win the Canadian Mixed, joining Calgary's Shannon Kleibrink, who accomplished the feat in 2004 in Schumacher, Ontario. Two players on the winning team will also represent Canada at the 2012 World Mixed Doubles Championship, April 23-29 in Erzurum, Turkey. Right behind the three playoff teams were five others at 8-5: British Columbia (Doug Marshall of Chilliwack), Prince Edward Island (Brett Gallant of Charlottetown), Ontario (Mark Homan of Ottawa), Manitoba (Sean Grassie of Winnipeg) and Quebec (Martin Ferland of Trois-Rivières). Next came Northern Ontario (Mike Assad of Thunder Bay) at 7-6, followed by Northwest Territories (Steve Moss of Yellowknife) at 6-7. The bottom four teams were Newfoundland/Labrador (Gary Alcock of Stephenville) and Nova Scotia (Chris Sutherland of Halifax), both at 4-9, Nunavut (Ed Sattelberger of Iqaluit) at 1-12 and Yukon (Scott Hamilton of Whitehorse) at 0-13. The new format for The Mixed this year provided separate entries for Northwest Territories, Nunavut and Yukon in the 14-team round robin. However, for next year's Mixed, being held at the Town of Mount Royal Curling Club in Montreal, the bottom four teams will now compete in a one-day double knockout on November 15 at the club, to determine which two will go on to the national championship November 17-24, in what will thus become a 12-team round robin draw.