Round Robin Over, Semi Final Up Next!
While the final three games of the round robin at the 49th Canadian Mixed in Sudbury would not affect the playoff scenarios, play was spirited in Draw 19 this morning.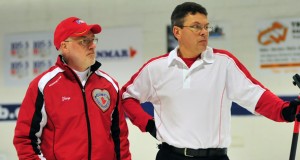 Nova Scotia's Chris Sutherland and Newfoundland & Labrador's Gary Alcock battled for nine ends and were tied at 6 coming home. Alcock made good with his final stone for an entertaining 8-6 win. Nunavut gave Manitoba all it could handle. Ed Sattelberger had a shot for three in the 7th end that would have tied it up, just missing only scoring only two. Manitoba's Grassie, the 2009 Mixed champ, blanked the 8th and then scored four points in the 9th to end the game 10-5. Finally, the Yukon's Scott Hamilton had one last chance to get his first win but couldn't solve PEI's Brett Gallant and lost 10-2.
Final Standings
2012 Canadian Mixed Curling Championship – Playoff schedule
Alberta (Kurt Balderston of Grande Prairie) finishes first with an 11-2 record and advances to Saturday's final at 1:30 pm ET. Saskatchewan (Jason Ackerman of Regina) and New Brunswick (Sylvie Robichaud of Moncton) finish tied for second with 9-4 marks.   Since Saskatchewan defeated New Brunswick during the round robin, it is placed second. New Brunswick is placed third and will meet Saskatchewan in the semi-final, Friday evening at 7:00 pm ET, with the winner advancing to the final to play Alberta.
Playoff Schedule
Friday, November 18 – (All times Eastern) 7:00 pm Semi-final – Saskatchewan (Jason Ackerman of Regina) vs New Brunswick (Sylvie Robichaud of Moncton) Winner advances to Saturday's final Saturday, November 19 1:30 pm Final – Alberta  (Kurt Balderston of Grande Prairie) vs Semi-final winner (Saskatchewan or New Brunswick)