Yukon skip all over the map this season
By Doug Graham – The Kingston Whig-Standard When curler Thomas Scoffin comes to Napanee for the M&M Meat Shops Canadian Juniors next month, he will be the only skip with international experience from this season.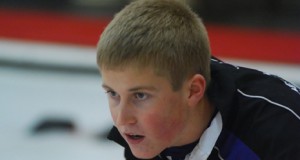 Scoffin, from Whitehorse, Yukon, is skipping the Canadian entry at the 2012 Youth Olympic Games this week in Innsbruck, Austria. Scoffin, who is skipping a mixed rink (second Derek Oryniak, from Manitoba, is on the Winnipeg rink skipped by Kyle Doering which is coming to Napanee), has Team Canada in first place in its pool heading into Wednesday play. Coached by his dad Wade, a two-time Brier participant, Scoffin isn't shy on experience at the national juniors. Now age 17, Scoffin first delivered skips rocks at the Canadian juniors in St. Catharines in 2007 when he was all of 12 years old. Napanee will represent Scoffin's sixth straight appearance at the nationals and his third in Ontario (2007 in St. Catharines and 2008 in Sault Ste. Marie). Hailing from Whitehorse, Scoffin is used to travelling. It is a 10-hour flight from the Yukon capital to Innsbruck (7,700 km). Scoffin will barely have any time at home before him and his rink of Mitch Young, David Aho and Will Mahoney depart for Napanee (the event runs from Feb. 4 to 12). That's about a 2 day 20 hour, 5,700 km trip via the Alaska Hwy., if they were driving. The Whitehorse rink finished 5-7 at last year's Canadian juniors in Calgary. Coming into a nationals with previous experience is an asset. Kingston's Noel Herron, when he won the 1990 Canadian junior with his rink of Rob Brewer, Steve Small and Richard Polk, benefited from the previous year when David Allan skipped the rink to a third-place finish at the nationals in Winnipeg. Herron was the second on that rink, Brewer the third and Polk the lead. Besides Scoffin, the other junior men's rink coming in with experience is Newfoundland's Colin Thomas, who figures to be a favourite. Thomas was 8-4 and 1-1 in the playoff round last year. The 13-rink junior women's field has five provinces returning with the same skip. Leading that group is Sarah Fullerton of Charlottetown and Jennifer Armstrong of New Brunswick. Both were 7-5, finishing in a three-way tie for fourth place in round-robin play. Sudbury's Kendra Lilly (6-6), Sara Koltun of Whitehorse (6-6) and Yellowknife's Taryn Williams (0-12) also are back. Both the Strathcona Paper Centre and the Napanee Curling Club will be used to handle the 26 rinks playing a round-robin format, which takes up the first seven days. There will be five sheets in use at the Strathcona centre. Only three of the four ices at the curling club will be used. Except for the opening day, all five sheets at Strathcona will be in use over the three draws per day. Ontario, represented by Jamie Sinclair of Manotick in the women's and Brett DeKoning of Omemee in the men's, both play against Quebec at the Strathcona centre during the opening 10 a.m. draw on Feb. 4.