Young Kingston curler is the Scotties' biggest fan
The Scotties Tournament of Hearts is coming to Kingston, and one of its biggest fans can't wait. He's a competitive curler, a fundraiser for the Sandra Schmirler Foundation, as well as the author of a blog devoted to this year's Scotties. He'll also be marching onto the ice at the K-Rock Centre as one of the event's Junior Stars. Meet Bilal Islam, age 13, and hooked on curling.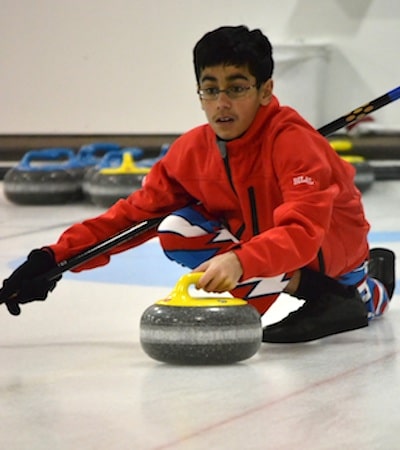 "What can I say about Bilal and curling," says Sabena Islam, Bilal's mom, a curler herself and also the coach of the competitive Bantam foursome made up of Bilal (second) and teammates Josh Henderson (skip), Babak Samifanni (third), and Kyle Walker (lead) who represent the Cataraqui Golf and Country Club. "As a really young child, he watched it with me. My husband and I couldn't believe how much he got into it, though! He started really paying attention to curling when he was about two or three. Those were Colleen Jones's team's dominant years. I remember having to videotape games for him so he could watch them later."
The toddler had his own "kiddie broom" from the dollar store, and there was trouble when the family installed hardwood in the basement, removing the carpet on which the young curling fanatic used to imprint his own rings. At age four, Bilal's passion for the game earned him a spot in Cataraqui's junior curling program, after his mother assured the organizers that she would accompany her under-age son on the ice.
He hasn't looked back. Towards the end of the 2011-2012 season, he teamed up with Henderson, Samifanni and Walker from Cataraqui's Bantam program and started working with a coach – Sabena, his mom. The boys have been practising weekly and even got permission to play in the Men's League at their club in preparation for Bantam competition. Their commitment is starting to show rewards: they won the Junior division of the 2012 City Championship in November, as well as taking the trophy at their club's Bantam spiel.
"All season was building towards the Ontario Curling Association (OCA) Bantam Boys," says Sabena. "In their first competition together they did very well coming in third of six teams in our zone, losing the A final then the B final in a heartbreaking extra-end loss."
But the team knows that's part of the game, and improvement will come with time and effort, so they look for every opportunity to work on their skills.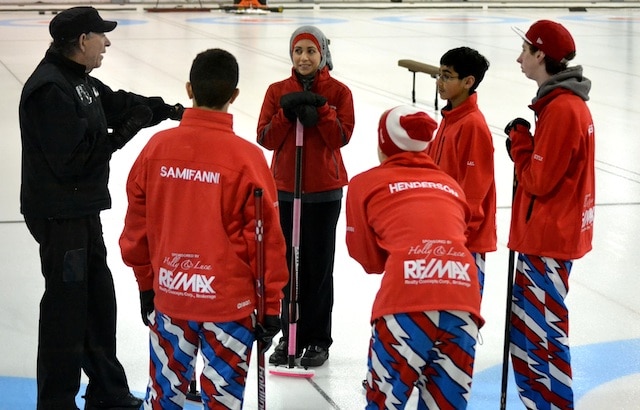 "I met them at Cataraqui in December as I was doing a clinic there. They had one hour with me on the ice as a team and one hour of strategy with a bigger group," says Earle Morris, coach of the Rachel Homan team that will represent Ontario at the Scotties Tournament of Hearts. "They have since been in touch with me and want to do more together. They are really hooked on the game."
Mark Strachan, Curling Co-ordinator at Cataraqui GCC, has been watching these curlers develop for years and thinks their attitude and commitment is remarkable for such young athletes.
"This team is unique because of how enthusiastic they are towards curling," says Strachan. "Three of the four members of this team started curling quite young. Bilal and Josh started at the age of five, Babak at nine, and Kyle is still a relatively new curler but is picking it up quite quickly."
"What I love about the game is the social part of it," says Henderson, the skip. "Getting together with friends and having a good time."
That's a goal the boys all share, but they also share the drive to win.
"We hope to continue to improve and look forward to perhaps representing Ontario in future provincial championships," says Walker, the lead.
And as well as the support of their committed coach – "She always has a smile on her face and she loves coaching us," says her son – they've got the Loudmouth pants and matching jackets to help them along.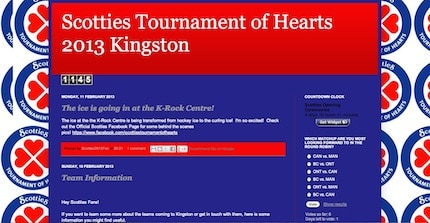 But it's Bilal's off-ice curling activity that has really caught the attention of Morris and Strachan, as well as his mother and teammates.
"He's the youngest out of all of us, and he has the biggest impact compared to the rest of us because of all the stuff he does for the curling community," says Samifanni.
That "stuff" includes Bilal's efforts to raise awareness and funds for the Sandra Schmirler Foundation. He convinced his King's Town School community to donate their regular "civvies day" contributions to the cause, and he also appealed to the membership at Cataraqui GCC to support the Foundation during Sandra Schmirler Day, on the first Sunday of the Scotties when the annual telethon and fundraising drive takes place.
"Since it's in Kingston this year, I'm challenging my fellow Cataraqui members to raise the highest amount of money out of all the curling clubs in Canada," wrote Bilal in the most recent club newsletter, where he also drew attention to another one of his off-ice curling endeavours – a blog devoted to sharing news and information about the 2013 Scotties.
Both initiatives – fundraising and blogging – are part of the Grade 8 student's Personal Enrichment Project, an expectation of his school program. In fact, the entire school will be there to see him march out on to the ice for his Junior Star moment. Clearly his efforts are a labour of love, but there is one thing the young blogger is a bit worried about, according to his mother.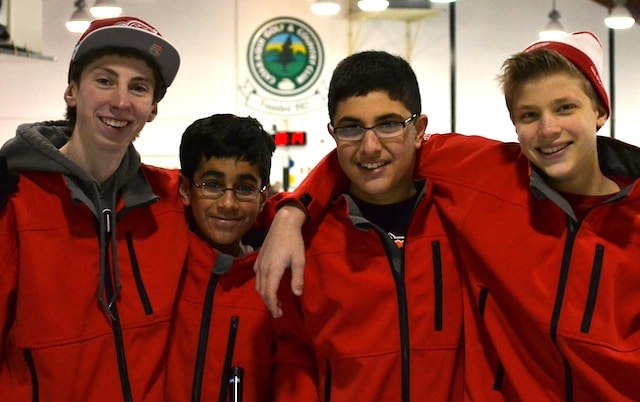 "He is so looking forward to the Scotties – he is a little nervous about interviewing the players but is psyching himself up for it," she says. "The Scotties coming to Kingston was a great opportunity for Bilal to tie in his passion of curling with a school project – what could be better?"
Next season, the team will be focused on Bantam competition again.
"We got close to making it to regional's this year," says Samifanni, "Next year it won't be close. We WILL get in."
"They are a great group of young men with wonderful families," says their coach. "We have spent a lot time together this season and have gone through some ups and downs on the ice. They work hard, care about each other, want to succeed and are all-round good kids."
Read Bilal Islam's 2013 Scotties Tournament of Hearts blog, here.