Youth Olympics Adventure
Our first competition
Since we left St. John's I had been waiting for the weekend of the Broker Link OVCA Superspiel and it finally arrived.
When I arrived at the airport first and it was cool to have Emily and her family waiting for me at the bottom of the escalator in the Ottawa International Airport. They took us to our hotel and we placed our stuff in our rooms, then went back to the airport to pick up our teammates Nathan and Lauren and coach Helen. They came down the escalator and Emily and I greeted them by wearing our bucket hats and held the Canada flag. One by one we all arrived in Ottawa and ready for the competition we had starting Friday.
But first we had a cool day on Thursday. We had practice scheduled at Emily's curling club (Manotick Curling Club) for noon and we got to use our very own Canada brooms that had our last names on it for the very first time. Man, was that a cool moment looking at my broom and seeing Canada with my last name. At practice we worked on releases, our slides and our weights.
To finish the practice off we had a one end mixed doubles game (Emily and I vs Nathan and Lauren) and Emily and I won again stealing our way to victory (we won also in St John's). After our practice we met the city councillor of Ward 20 (Emily's riding), George Darouze. We chatted about the Youth Olympics and curling in general. He was super supportive of us, which is always amazing because you feel extra pressure when you are representing your country.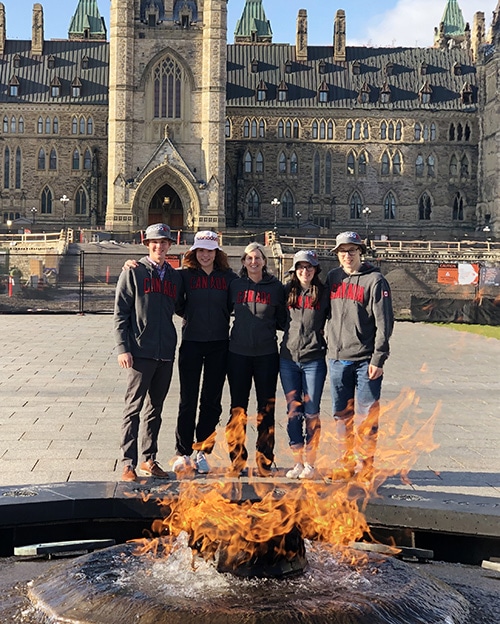 Then we visited around Ottawa and had a blast. We went to Parliament Hill first and saw where all of our national decisions are made. Sadly, for us there is a massive archaeological dig/construction project so we couldn't go inside Parliament Hill, but that didn't stop us from taking pictures in front of the caldron out front with all of the provinces' and territories' coat of arms and the year each entered Confederation. Helen challenged us to see who could match each coat of arms with its province/territory and, well, all I will say is I crushed that challenge.
We made the very short drive to the Royal Canadian Mint and looked around at all the special coins they had made. We also had a chance to get the new D-Day toonie that had just come out. The coin is super cool to look at and it has so much meaning behind it.
After the Mint, we took a drive over to Byward Market and did some shopping. We all bought a couple souvenirs and went to the location former President Barack Obama went to when he visited Ottawa to buy some Obama cookies (to commemorate his visit the store made cookies). We also visited the Ottawa sign that is up in the middle of the market. Then for supper we went to a diner in the market called Zak's and for dessert there was no other option than to have BeaverTails. That was my first time ever having beavertails and I can personally say they were SO GOOD.
Friday, we started competition in the BrokerLink OVCA Super Spiel. Our first game was against Sam Mooibroek (Ontario) and we learned so much about each other during that game. We learned how everyone was on the ice during competition, how they dealt with game scenarios, communication about rocks and ice.
After that game we had an interview with CTV News Ottawa and that went well. The interviewer asked us about how we could develop our chemistry between players with the amount of time we had. After the interview, we had the chance to talk with one of the most knowledgeable people in curling, Curling Canada's Director of High Performance Gerry Peckham. It was amazing to ask him questions about curling and how he got into the sport.
Our next game we built on what we learned from the first and applied it to the game against Jordan McNamara (Ontario). We had an even better game and felt like we built on all the important aspects of curling. Our last game of the day was against Ryan Hahn (Ontario). This game we switched around the lineup and the things we were working on got even better. Most importantly, we became closer as a team and that is what we are all looking for as we prepare for Lausanne, Switzerland.
Saturday, we had one game, and we played well, really focusing on improvements so we can get better at as a team. Since that was our only game of the day, we had a practice and worked on our individual goals and tactics that we were trying to improve in all our games.
In the evening evening we attended the banquet and got to dress a little fancier. We sat with the Newfoundlanders who were at the event and had a great time talking about our weekend so far and shared a couple laughs.
That evening we just stayed in the hotel room watching the semifinals of the Masters Grand Slam that was taking place in North Bay, Ont. We learned so much by just watching the top players and teams in the world play.
Sunday was our last day and we had one game to play, this time against Team Bruce (Newfoundland & Labrador). We tried and succeed to build on what we were learning from the week so far and had fun playing the sport we all love while getting ready to represent our country.
After our last game we went for one last bite to eat and went to the airport to fly back home, see our parents again and get back into our school schedule.
Ottawa was a blast and I cant wait for what adventures are waiting for us when we meet again in Leduc, Alta., when the Home Hardware Canada Cup is on.