Koe takes aim at third title!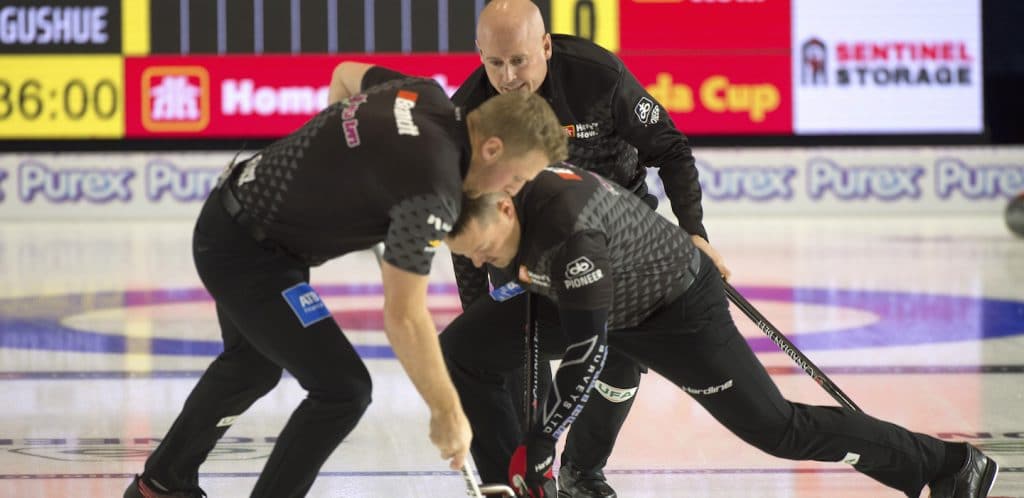 TEAM KEVIN KOE EARNS BYE INTO 2019 HOME HARDWARE CANADA CUP FINAL
LEDUC, Alta. – It's always a good idea to win the games you need to win.
Kevin Koe of Calgary has shown an uncanny ability to figure out how to beat his team's toughest competition during the preliminary round of the 2019 Home Hardware Canada Cup, presented by Pioneer.
A final-draw 10-4 win over Brad Gushue of St. John's, N.L. gave Koe a bye to Sunday's 5 p.m. (all times Mountain) men's final.
In other Draw 9 games Friday night at Sobeys Arena: Team Glenn Howard (2-4; Penetanguishine, Ont.) beat Matt Dunstone (0-6; Regina) 5-2; Rachel Homan (5-1; Ottawa) outlasted Jennifer Jones (2-4; Winnipeg) 7-5; Robyn Silvernagle (1-5; North Battleford, Sask.) defeated Casey Scheidegger (2-4; Lethbridge, Alta.) 9-4 and Brendan Bottcher (5-1; Edmonton) handled John Epping (4-2; Toronto) 7-3 .
Koe's win over semifinalists Bottcher and Epping earlier in the week puts him in a more comfortable spot.
All Koe has to do for the better part of the next 24 hours is get ready to face which team he'll have a chance to beat again. Koe is looking to win his third Home Hardware Canada Cup title, the most recent in 2015 following his first win in 2008 (when he played vice-skip for Blake MacDonald.
"I don't think people realize how tough it is," said Koe, supported by third B.J. Neufeld, second Colton Flasch, lead Ben Hebert and coach John Dunn.
"You get the games packed in. Sometimes two in a row, three days in a row and back-to-back. It'll be nice to get a break, get a couple of practices in and we'll be good to go on Sunday."
Koe made quick work of Gushue, following an opening-end three with a steal for an early 4-0 lead.
"We capitalized on him," said Koe. "We made all the big shots, put him under pressure. That was a big win for us. Things went good for us today and that's good. We haven't had the best year up to now. It's been a bit strange with different circumstances.
"For us to come here and have a great week so far … we're in the final now and have as good a chance as any to win it all."
Bottcher now meets Epping in Saturday's 2 p.m. semifinal, the next draw after Bottcher overcame hammer disadvantage in Friday night's win over Epping.
"It's tough to play the same team back-to-back," said Bottcher. "We get the hammer thing and to finish off (the round-robin) with a win was nice."
With her win over Jones, Homan earned a bye into Sunday's noon final, where her team will meet the winner of Saturday's 7 p.m. semifinal between Tracy Fleury (5-1; East St. Paul, Man.) and Chelsea Carey (4-2; Calgary).
"My team played unbelievable today," said Homan. "Both games, against (Kerri) Einarson and Jones, we had to fight hard for those wins to set us up to go to the final. We're really excited to have a day off after two-game days. It'll be nice to have some recovery time. We're excited for Sunday."
The 2019 Home Hardware Canada Cup continues with draws Saturday at 2 p.m. and 7 p.m. (all times MST).
TSN/TSN2 and RDS2 will provide complete coverage of the Hardware Canada Cup. CLICK HERE for the complete schedule
The Home Hardware Canada Cup format calls for the men's and women's teams to play a three-day round robin, with the first-place teams advancing to their respective finals on Sunday, while the second- and third-place teams meet in semifinals on Saturday, after any required tiebreakers, to determine the other finalists.
For ticket information, as well as team lineups and the full event draw for the 2019 Home Hardware Canada Cup, go to www.curling.ca/2019canadacup/
The French version of this story will be posted as soon as possible at www.curling.ca/2019canadacup/?lang=fr