Fleury's November to remember
Team Fleury advances to women's final at 2019 Home Hardware Canada Cup
LEDUC, Alta. – After finding a way into the lineup of the 2019 Home Hardware Canada Cup, presented by Pioneer, Tracy Fleury's team from East St. Paul, Man., has found its way into the event final.
Riding a three-ender in the opening frame to a 9-4 women's semifinal win over Calgary's Chelsea Carey, Team Fleury earned the right to face Ottawa's Rachel Homan in Sunday's noon (all times MT) final at Sobeys Arena.
Fleury's team of vice-skip Selena Njegovan, second Liz Fyfe and lead Kristin MacCuish were the last team to qualify for the event after a strong start to the World Curling Tour season. The team only qualified for this event on Nov. 11, when its status as the top-ranked team in the Canadian Teams Ranking System (CTRS) other than the six teams that had already qualified was confirmed.
"It's really exciting," said Fleury. "We've been having a really good season, so we knew we would be a contender here. I'm really happy to have made it this far."
Part of that CTRS record was achieved in Fleury's dominance over Carey, running her record against Carey to 4-0 this season in Saturday's semifinal. Win or lose on Sunday, Fleury will leave Leduc as the top-ranked women's team in Canada.
Once her team jumped out in front, it was a question of being able to protect the lead.
"It's easy for teams to come back, especially teams of their calibre," said Fleury. "We had to stay tough out there and make all our shots."
Fleury will be facing an experienced Homan team, which won three Scotties Tournament of Hearts titles (2013, 2014 and 2017) and the world championship in 2017.
"Just like playing any team in this field, you have to bring your best game but we've been doing that so hopefully it will be a good battle tomorrow," said Fleury.
This playoffs appearance is Fleury's first during a Season of Champions women's event. Both Fleury and Homan finished with 5-1 round-robin records this week, Fleury's only loss this week was a 10-7 setback to Homan. In two previous Canada Cup appearances, Fleury could muster just three wins combined.
"We've grown a lot as a team," Fleury said. "Last season was a lot of learning and developing as a team. In year two, we've really found our groove."
Carey's 2019 Scotties Tournament of Hearts champion lineup of vice-skip Sarah Wilkes, second Dana Ferguson, lead Rachel Brown and coach Dan Carey take home $15,000 for their playoff appearance.
"I was just a little full on the draw weight," said Carey. "It's been really fast and really good sweeping ice and it just wasn't there. It was a bit heavier and you had to be there on your own. Unfortunately, I didn't know that on my first two draws. That's what happens. It's just one of those days."
The men's final with Calgary's Kevin Koe squaring off against Toronto's John Epping wraps up the 2019 Home Hardware Canada Cup, with game time scheduled for 5 p.m.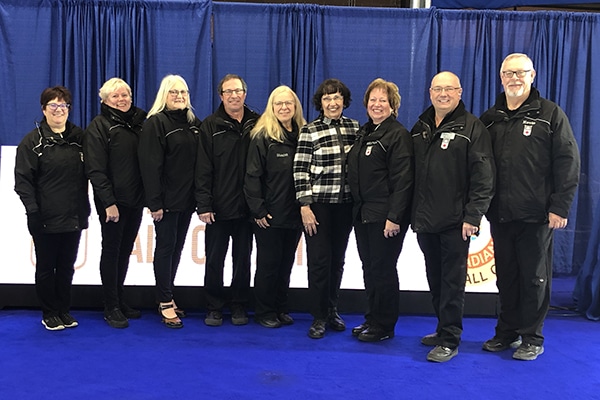 TSN/TSN2 and RDS2 will provide complete coverage of the Hardware Canada Cup. CLICK HERE for the complete schedule
The Home Hardware Canada Cup format calls for the men's and women's teams to play a three-day round robin, with the first-place teams advancing to their respective finals on Sunday, while the second- and third-place teams meet in semifinals on Saturday, after any required tiebreakers, to determine the other finalists.
For ticket information, as well as team lineups and the full event draw for the 2019 Home Hardware Canada Cup, go to www.curling.ca/2019canadacup/
The French version of this story will be posted as soon as possible at www.curling.ca/2019canadacup/?lang=fr