Wheelchair athletes shine!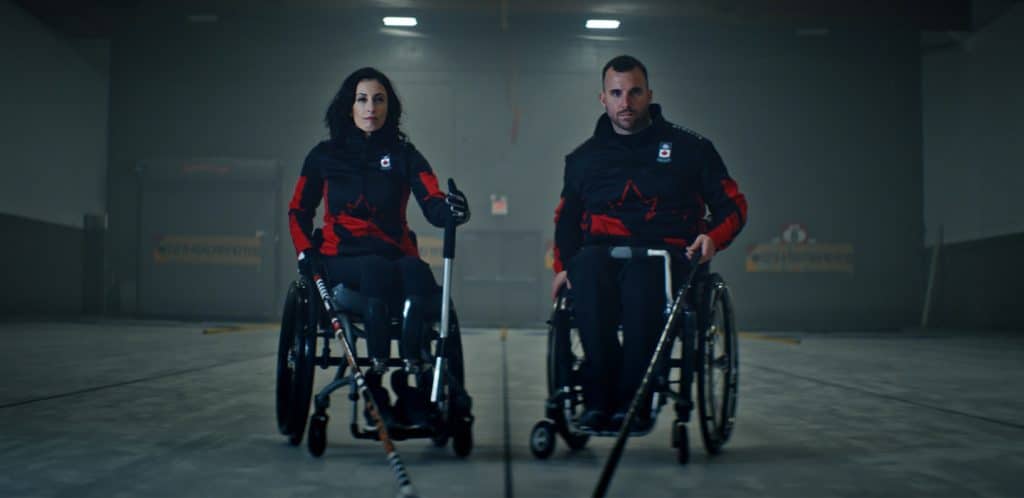 New video shines spotlight on Canadian wheelchair curling
Canada's wheelchair curling athletes are among the best in the world, and a new video being released this week by Curling Canada is showcasing them.
The video, which was produced by Curling Canada's marketing agency Cossette, features two members of Curling Canada's national wheelchair curling talent pool — Jon Thurston of Dunsford, Ont., who is a current member of the national team, as well as Next Gen athlete Carolyn Lindner of Winnipeg.
You can view the video in English by CLICKING HERE. The French version can be viewed by CLICKING HERE.
The video was produced not only to pay tribute to Canada's wheelchair curlers, and the hard work they've put in to reach their goals, but also as a recruitment tool to bring more athletes into the discipline.
"We have wonderful athletes in our country who've overcome all sorts of adversity but remain focused firmly on the opportunities that lay before them, and they keep working hard to reach those goals," said Katherine Henderson, Chief Executive Officer of Curling Canada. "This video will tell the story about the skills of our athletes, but also the discipline that goes into making them high-performance athletes."
"We have a solid pool of athletes striving to represent Canada on the international stage, and there's nothing like healthy competition to add motivation for those athletes," added Gerry Peckham, Curling Canada's Director of High Performance. "There are so many stories of athletes, such as Jon and Carolyn, who've found their way to wheelchair curling and have thrived through hard work and focus. They have an amazing story, and we want to tell more stories like theirs."
Thurston recently helped Canada qualify for the 2020 World Wheelchair Curling Championship later this year in Wetzikon, Switzerland, as he was part of the team that won the World B pool qualifying event in Finland.
Last year, Thurston competed in both the World Wheelchair Curling Championship as well as the World Disabled Waterski Championships in Norway.
Thurston was paralyzed from the waist down after a construction accident in 2008; he took up wheelchair curling in 2012, and was soon competing at the national level thanks to his hard work in practice sessions.
"This really has been an amazing opportunity for me, and while it's taken countless hours of hard work, the benefits go beyond medals and championships," said Thurston, 35. "We have an amazing wheelchair curling community, with some truly awe-inspiring people doing truly awe-inspiring things, in our country, and we want to make that community bigger."
Like Thurston, Lindner is a two-sport athlete who could, down the road, be the rare athlete who competes in both the Summer and Winter Paralympic Games.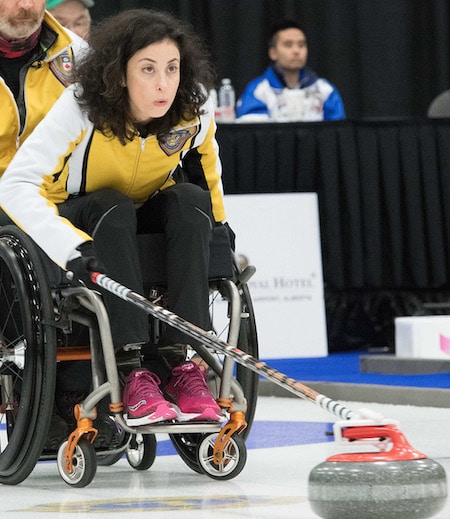 Lindner also competes in archery and is a Canadian record-holder in the Senior Para women's recurve class.
Active in various sports from a young age Lindner's life was turned upside down in 2013 when an agressive illness resulted in her having both legs amputated below the knee.
She got into wheelchair curling not long after a chance meeting with Canadian Curling Hall of Fame member Dennis Thiessen at a Costco.
Her athletic skills translated nicely to the pebbled ice, and in 2017, she teamed with Thiessen to help Manitoba win the Canadian Wheelchair Curling Championship.
"Instead of being seen as an inspiration because of what I have had to overcome, I would rather be seen as an inspiration for the strength I have developed and my determination to work towards the goals I have set for myself," said Lindner, who also won silver at the 2018 and 2019 wheelchair nationals, and plays in various wheelchair curling events throughout the season. "I want people to see how strong and able we are, our strength, and our determination. I'm constantly training, on and off the ice, and wheelchair curling has provided a marvellous outlet for my drive and passion to compete."
The video will be shown during Curling Canada broadcasts, and will be available in both languages on Curling Canada's Youtube channel.
Athletes looking to get involved with wheelchair curling can get more information by CLICKING HERE.