Canada vs. Europe
2020 OK Tire & BKT Tires Continental Cup begins on Thursday
For the second time in three years, the OK Tire & BKT Tires Continental Cup, presented by Service Experts Heating, Air Conditioning and Plumbing, returns to London, Ont., and it promises to be one of the most fiercely contested events in years when Team Canada takes on Team Europe in the Sports Centre at Western Fair District.
Starting this Thursday, six curling teams from Canada will take on six teams from Europe during the four-day event, which emulates golf's Ryder Cup in a variety of traditional play, mixed doubles, skins and scrambled games.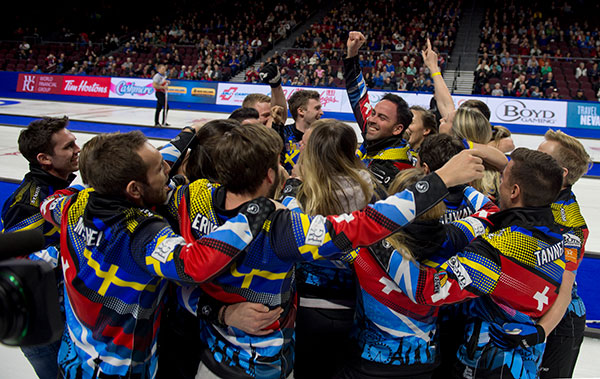 Team Canada finds itself in unfamiliar territory after losing last year's event 34-26 in Las Vegas and is poised to put together a solid effort in front of a hometown crowd. For Team Europe, last season's victory was cherished as it was the first one in six years and the team will surely want more of the same this season. In fact, another victory by Team Europe this week would would provide the overseas team with its first-ever back-to-back wins at the event, which has been running for 16 seasons.
2019 Tim Hortons Brier champion and world silver-medallist Kevin Koe (Calgary) returns to the event for the fifth year in a row. On the men's side, he's joined by back-to-back Tim Hortons Brier finalist Brendan Bottcher (Edmonton) and Toronto's John Epping, who qualified for the final spot by winning the 2019 Home Hardware Canada Cup in Leduc, Alta.
It will be the first time Bottcher's team will appear at the event and the first for Epping and second Mat Camm (vice-skip Ryan Fry and lead Brent Laing have competed previously at the event).
The Canadian women's side is headlined by defending 2019 Scotties Tournament of Hearts champion Chelsea Carey (Calgary) and runner-up Rachel Homan (Ottawa). Team Tracy Fleury (East St. Paul, Man.) is making its debut at the event after a hot start to the season and collected the most Canadian Team Ranking System points, thanks largely to a runner-up finish at the 2019 Home Hardware Canada Cup and a win on the Grand Slam of Curling circuit.
Winnipeg's Jeff Stoughton returns as coach for the second season in a row, while wife-and-husband duo Heather and David Nedohin (Sherwood Park, Alta.) take on assistant coach and captain duties respectively.
But Team Canada will have a tough task as Team Europe returns to the OK Tire & BKT Tires Continental Cup with the same lineup as last season.
2019 Pioneer Hi-Bred World Men's Curling Championship gold-medallist Niklas Edin of Sweden is joined by 2019 world men's bronze-medallist Peter de Cruz of Switzerland and 2019 European Curling Championship bronze-medallist Bruce Mouat of Scotland.
The women are led by a formidable roster fronted by 2019 world women's curling championship gold-medallist Silvana Tirinzoni of Switzerland, 2019 European Curling Championship gold-medallist Anna Hasselborg of Sweden and silver-medallists Eve Muirhead of Scotland (Muirhead's lineup is slightly altered from last season with the introduction of vice-skip Lauren Gray and lead Vicky Wright).
Team Europe returns with the same coaching staff as last season, albeit in slightly different roles. Scotland's David Murdoch moves to coach, while Sweden's Fredrik Lindberg slides over to the captain position. Norway's Christoffer Svae returns to the team as assistant coach.
The teams will battle for a total of 60 points, with the first to 30 being named the winner. The event will feature two draws of traditional team play and three mixed doubles draws. Scrambles, a new format introduced at last year's event, will return and account for four draws total in men's, women's and mixed action. Teams earn one point for a win, or a half-point for a tie. The event concludes with two draws of skins games (men's, women's and mixed) worth more points than ever before. Up to five points will be up for grabs during the first skins draw of the day and it will increase to six points for the final draw of the event to determine the winner.
Spectators will notice that players won't be wearing last names on their jerseys, as is traditionally done at curling events. All players have selected nicknames for display on their backs that show off their personality or pay homage to someone special in their lives. All nicknames will be on display over the three sheets of ice used at the event.
But there is also a fourth sheet, the Start.Ca Sheet, that will be in action all week long. The exhibition sheet will host a variety of wheelchair curling, stick curling, college/university/high school games, and a celebrity game – featuring three-time Olympic gold-medallist figure skater Scott Moir, who hails from the area.
All games at the OK Tire & BKT Tires Continental Cup are eight ends with no extra ends.
The winning side receives $135,000 CDN and the losing side earns $67,500. The money is split evenly between the 24 players, coaches and captain.
Both teams practise on Wednesday, with Team Canada on the ice from 2:30-3:30 p.m. and Team Europe on the ice from 4:30-5:30 p.m. All team members will be available for interviews following their practices.
TSN, the exclusive television network for Curling Canada's Season of Champions, will provide complete coverage of the OK Tire & BKT Tires Continental Cup.
Download the event event media guide by clicking here.
For more information about the event, click here.
Tickets for the 2020 OK Tire & BKT Tires Continental Cup can be purchased by clicking here.