Back-to-back!
Europe defends OK Tire & BKT Tires Continental Cup title
LONDON, Ont. — There was no question of what would happen at the OK Tire & BKT Tires Continental Cup, presented by Service Experts Heating, Air Conditioning and Plumbing. Team Europe had the mathematical advantage to win its first-ever back-to-back title at The Sports Centre at Western Fair District.
Needing just four of 18 available points heading into the final draw of the event, it was more a matter of how soon the Europeans would successfully defend their title.
On the last shot of the fourth end, Sweden's Oskar Eriksson, skipping the evening's mixed team, delivered the winning blow.
Throwing a high hard out-turn raise, Eriksson's rock eliminated Calgary's Kevin Koe's shot stone sitting on the top four-foot for a two skin payoff and enough points to repeat as event champions.
All games concluded after six ends, with Eirksson's team of vice-skip Anna Hasselborg, second Rasmus Wranaa and lead Sofia Mabergs defeating Koe, vice-skip Tracy Fleury, second Colton Flasch and lead Kristin MacCuish 5-1; Switzerland's Peter de Cruz besting Edmonton's Brendan Bottcher 4-2 and Ottawa's Rachel Homan doubled Scotland's Eve Muirhead 4-2. Six points were not played for during the draw and split evenly between teams for a 37.5-22.5 result.
Normally the skip of a team is honoured with throwing the game-winning shot, but Eriksson – Niklas Edin's vice-skip – had the honour of clinching the victory.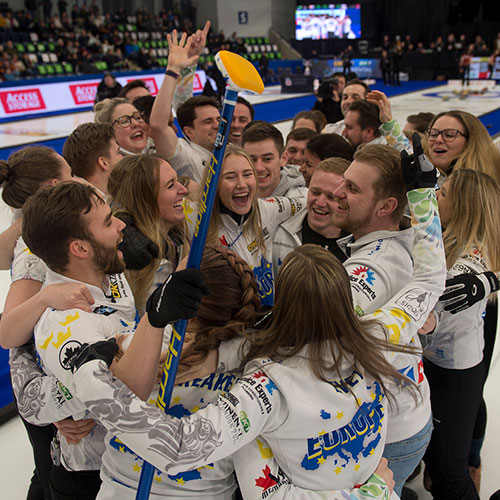 "I was actually a little bit nervous there for the first time in a long time," said Eriksson. "I knew I was going to be close and trusted all the practise from hitting a runback from the centre line, I know I'm always close.
"Amazing," said Eriksson. "We're the same six teams as last year. We absolutely outplayed them all week and we deserved this."
Team Europe takes home the winning prize of $135,000, with each player, the two coaches and captain earning $5,000 each.
"We're six really good teams," said Eriksson. "It makes it easier that we're from three countries. The chemistry was just amazing."
Just competing in a OK Tire & BKT Tires Continental Cup has a different feel for the close-knit European curling community. It may not be viewed with the same seriousness as other international events, but for Eriksson, there's no comparison on the enjoyment scale.
"This whole event is about having fun," said Eriksson. "We had a lot of fun. This is the most fun event all year. I would rank it as the funnest event, but not as competitive as worlds or Olympics."
Team Canada splits its runner-up money of $67,500 shared with 24 team members, who receive $2,500 each.
Canada coach Jeff Stoughton gave full credit to Team Europe's performance.
"They made all the right shots and hats off to them, they've had a wonderful four days," said Stoughton.
With a solid lineup that's been hard to beat for several years now, it was hard for Team Canada to match Team Europe's chemistry.
"A little bit of team chemistry, a few nerves, first taste for our rookies," said Stoughton. "At the end of the day, you've got to bring it and we just didn't bring it. No excuse for not playing well. It's just one of those things. Maybe they didn't quite get comfortable enough. A couple of bad shots early and maybe it got on their nerves a bit and that's all we could do."
For certain, there will be some soul-searching about how Canada can match the team bonding Europe has demonstrated this week.
"I'm sure we'll put our thinking caps on and see if we can come up with something better," Stoughton said. "This European team has really started to gel and they're going to be tough to beat."