Playoff Bound!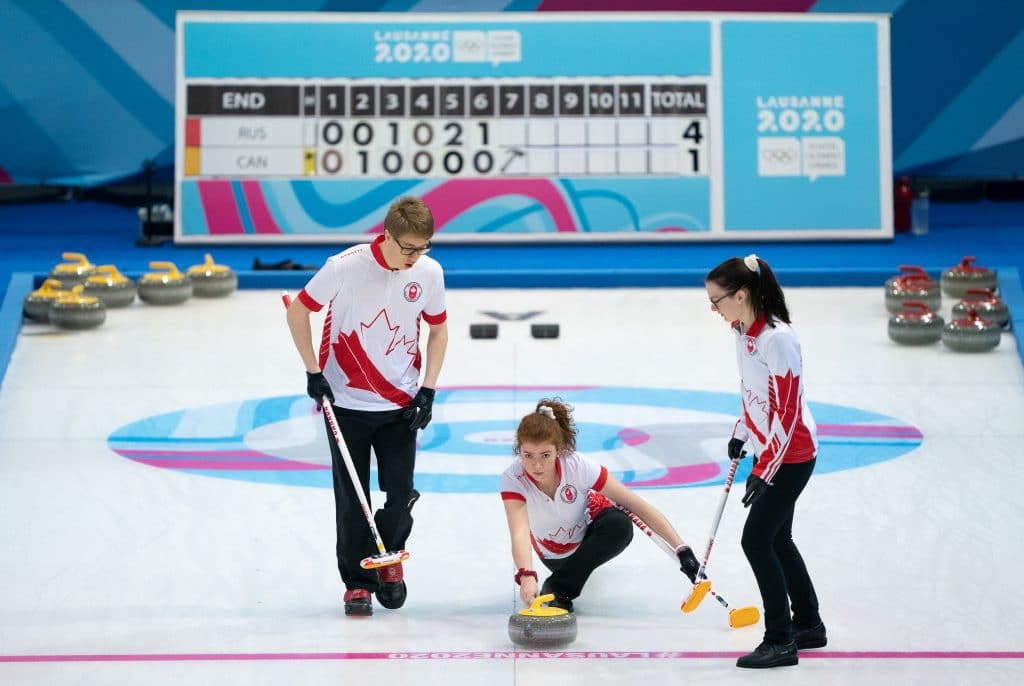 canada clinches quarter final berth at 2020 winter Youth olympic Games
With a dominant 9-3 win over Spain in Draw 11 action on Monday, Canada has secured a quarter final berth at the 2020 Winter Youth Olympic Games.

Currently sitting at 4-0, Canada cannot be bested in Group A as two teams from each pool grouping will qualify for the playoff portion of these Youth Olympic Games. The Russian Federation sit behind Canada at 3-1 with Poland and the Republic of Korea sharing 2-2 records. Spain sports a record of 1-3 while Estonia remains winless at 0-4.

Canadian Skip Nathan Young was pleased with the solid team performance versus Spain: "Each game we're getting more and more comfortable with the ice and the draws are getting more precise, our releases are getting better and our weights are improving."

With a single game remaining in the round robin portion of the event versus Estonia on January 14th at 4:00 AM (all times eastern), Canada will look to finish the round robin with a perfect 5-0 record.

"We want to keep getting more comfortable with the ice. Arena ice is different – for us we don't get to play on arena ice so it is pretty cool. We want to take it all in, it's not every day you get to play in front of a crowd like this." Young remarked when asked about the team's experience so far.

Team Canada, comprised of Skip Nathan Young, Third Emily Deschenes, Second Jaedon Neuert and Lead Lauren Rajala, are not the first Canadian Team to taste the playoffs in the Curling event at the Youth Olympics. In 2016, Team Canada won the gold medal in the mixed play portion of the event defeating the USA in the finals.

Young doesn't feel the theoretical squeeze representing the defending gold medalist Canadians in this event: "Canada did win last time, but I don't think there's a lot of added pressure from that."

Young continued: "We are a different team and we know our skills and we know what we can do ourselves. But no, it is just amazing to be here representing Canada at an international event like the Youth Olympic Games. We're just trying to take it all in and play a bit of curling on the side."

Curling finds itself in a particularly unique situation for these games as they're the only athletes who will be competing for the entire duration of the games in two separate events: Mixed followed by single knockout Mixed Doubles. The Mixed format will feature its finals on January 16th at 6:00am with the Mixed Doubles beginning January 18th at 4:00am.

The Canadians hardly missed a beat versus the Spaniards quickly applying pressure in the 1st end stealing 3 points. After surrendering a single to Spain in the 2nd, Canada would blank the 3rd and convert the hammer in to two points in the 4th end.
Canada, who have an unprecedented steal rate at these Youth Olympics Games, stuck to their game plan in the 5th end opening up a 7-1 lead with an additional steal of two. Canada would then control the scoreboard for the remaining ends, with Spain conceding in the 7th end for a 9-3 victory.

Young knows the real challenge begins now for the young Canadians: "I'm pleased we qualified and we still have one game to play, so we're going to go out and fight hard but it is nice to know that we've qualified for the play-offs."

Quarter final action begins January 15th at 4:00 AM. Canada's opponent is yet to be determined.

Scores, standings and draw details are available here.