On to the final!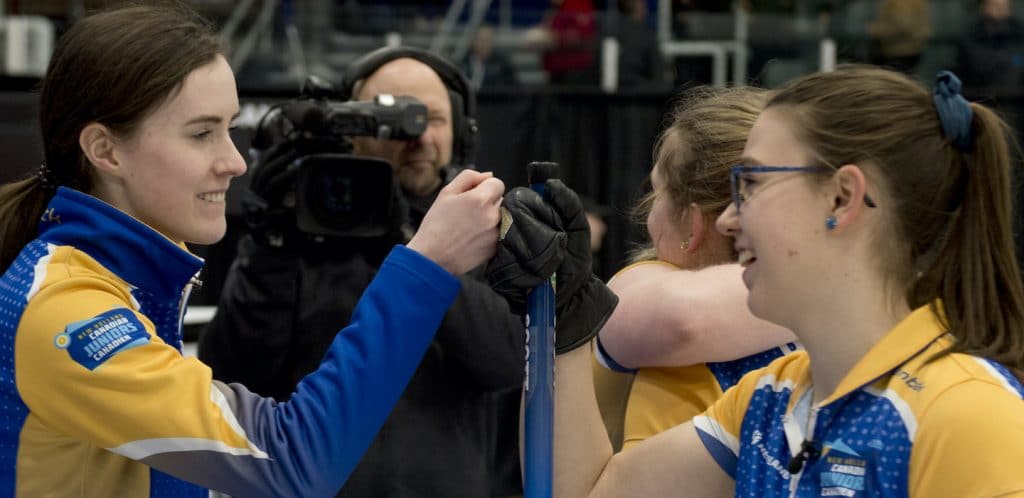 Alberta to play for women's gold at New Holland Canadian Juniors
TOWNSHIP OF LANGLEY, B.C. — Late in a tight playoff game, any skip who lets a relatively easy shot for two get away from them knows the feeling that it could cost them the game.
Just ask Abby Marks; the 20-year-old skip for Team Alberta at the 2020 New Holland Canadian Junior Curling Championships had a reasonably open tap to score what should have been a game-turning deuce in the ninth end of Saturday's women's semifinal against Nova Scotia's Taylour Stevens (Halifax) at the George Preston Recreation Centre.
But her shooter would roll too far and Alberta would settle for a single and a 5-4 lead, giving last-rock advantage to Nova Scotia.
Fortunately for Marks, she would shake off that miss, and rally the troops to hold Nova Scotia to a single point in the 10th, and then score the winning point in the extra end without having to throw her final stone in a 6-5 victory.
With the win, Marks and her team from the Saville Community Sports Centre in Edmonton —vice-skip Catherine Clifford, second Paige Papley, lead Jamie Scott and coach/dad Doug Marks — advance to Sunday's 9 a.m. (all times Pacific; TSN) women's gold-medal game against undefeated MacKenzie Zacharias of Manitoba (Winnipeg).
It will be a chance for Abby Marks and Papley to win back-to-back gold medals after they played vice-skip and lead respectively for the Selena Sturmay-skipped Alberta team that prevailed last year in Prince Albert, Sask.
The relief on Marks' face after the game was obvious.
"It was hard," said Marks of the ninth-end miscue. "We just had to put that end behind us and move on, and take it shot by shot. It may have taken me a shot or two to get over it, but my teammates were super supportive; I couldn't ask for better teammates."
From Papley's perspective, there was never a question that her skip would come back strong.
"She's a pretty self-sufficient individual, and I think she knows that we don't need to say anything to her because we know she's making the next one," said Papley.
After all, the Alberta team had already overcome some adversity. Facing a Nova Scotia team to whom they had bowed 12-3 in round-robin play, the Albertans found themselves down 2-0 early. But a third-end three, followed by a stolen single in the fourth, turned the game around. Alberta would never trail again.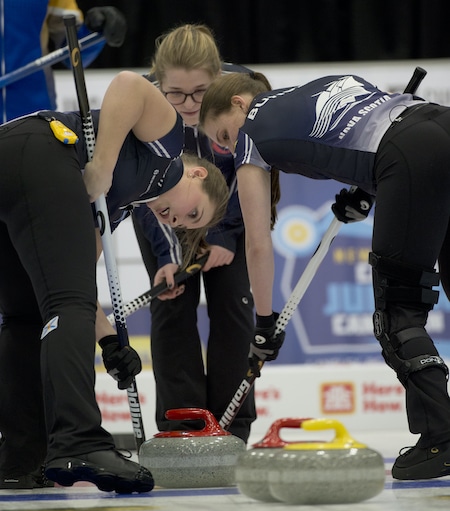 "It felt really nice to get that three," said Papley. "We had a really rough game against them in the round robin, so it was nice to know that we could generate points against them."
"We just tried our best to stick to our game plan, keep it rolling," added Marks of the rally from the early deficit. "I don't know that there was any kind of a shift (in game plan) — just keep trying our best."
The Nova Scotians — Stevens was backed up by vice-skip Lindsey Burgess, second Kate Callaghan, lead Cate Fitzgerald and coach Mary Mattatall — will go home with a bronze medal.
Alberta, meanwhile, will play for gold against a Manitoba team that has a 10-0 record (including an 8-7 win over Alberta) — ironically, the same record that Team Sturmay took into last year's gold-medal game in Prince Albert.
"I tried not to think about (winning gold back to back)," said Marks. "Obviously it's the goal, but like my mom (Sheilagh Armitage) says all the time, one game at a time, one at a time, one shot at a time. I'm always thinking about that."
And while Marks and Papley already have Canadian championship gold, the chance for their teammates to have the same experience provides plenty of motivation.
"I would love for them to be able to go to the world championship," said Papley. "We've all worked really hard for this; I'm just so happy for Catherine and Jamie to be able to have this experience."
And what will it take?
"Just play well," said a smiling Papley. "Make shots."
While Alberta is going for back-to-back gold medals, Manitoba will be seeking its first Canadian junior women's title since Kaitlyn Lawes won consecutive championships in 2008 and 2009.
The men's final, set for 2 p.m., will feature Manitoba #2, skipped by Jacques Gauthier, taking on Newfoundland/Labrador's Daniel Bruce. Newfoundland/Labrador turned back Saskatchewan's Rylan Kleiter 9-8 in the semifinal earlier on Saturday.
The winners of Sunday's gold-medal games will represent Canada at the 2020 World Junior Curling Championships, beginning Feb. 15 in Krasnoyarsk, Russia.
For event information, visit www.curling.ca/2020juniors.
This story will be posted in French as soon as possible at www.curling.ca/2020juniors/?lang=fr.