2020 Scotties starts Saturday!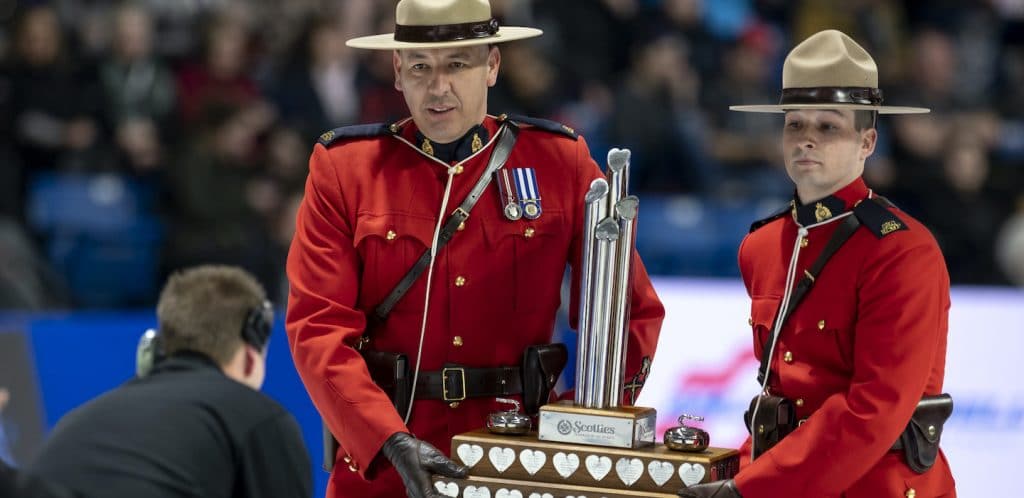 2020 Scotties Tournament of Hearts gets underway Saturday in Moose Jaw, Sask.
A chance to represent Canada on the world stage, and a significant step toward the 2022 Winter Olympics, will be on the line when the 2020 Scotties Tournament of Hearts gets underway Saturday at Mosaic Place in Moose Jaw, Sask.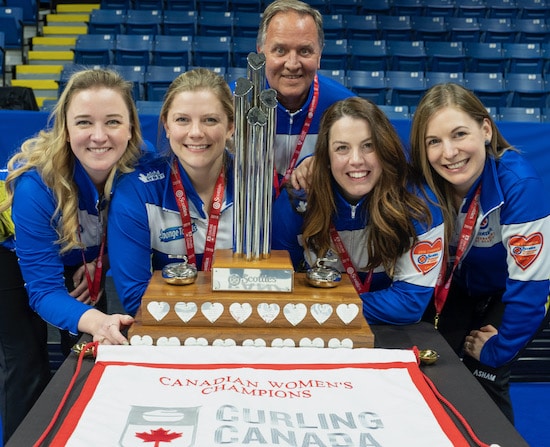 The winning team, which will be decided on Feb. 23, will represent Canada at the 2020 World Women's Curling Championship, presented by Nature's Bounty Vitamins, next month in Prince George, B.C.
As well, the Scotties champ will gain a direct-entry berth into the 2021 Tim Hortons Roar of the Rings in Saskatoon — the event that will decide Canada's four-player curling teams for the 2022 Winter Games in Beijing.
So, the stakes will be high when the Scotties kicks off with the first draw Saturday at 1:30 p.m. (all times Central); the opening ceremony is Saturday at noon (Draw 1 ticket required for entry).
Defending champion Chelsea Carey, who's aiming to become just the seventh skip ever to win three Canadian women's curling titles (the others are Jennifer Jones and Colleen Jones with six apiece, and Rachel Homan, Connie Laliberte, Vera Pezer and Sandra Schmirler with three apiece), is in action in the opening draw against Northern Ontario's Krista McCarville — a rematch of the 2016 Scotties final at Grande Prairie, Alta. Carey's Calgary team will be Team Canada as the defending champion.
Also in that opening draw, 2019 Scotties bronze-medallist Robyn Silvernagle and her North Battleford-based Saskatchewan team takes on New Brunswick's Andrea Crawford.
2017 Scotties and world champ Rachel Homan — who lost to Carey's Alberta team in the 2019 final in Sydney, N.S. — makes her 2020 Scotties debut on Saturday night (6:30 p.m.) against the winner of Friday's all-Manitoba Wild Card Game between Team Jennifer Jones from Winnipeg and Team Tracy Fleury (East. St. Paul). The winner of that game will move into the main Scotties field, and for Jones, it would give her a shot at becoming the all-time winningest skip at the Scotties; her six titles tie her with Colleen Jones.
The Wild Card game (7:30 p.m., TSN/RDS2) at Mosaic Place features the top two teams on the Canadian Team Ranking System that didn't win their provincial or territorial championship. Admission to the Wild Card Game is free, with donations to the Curling Canada Foundation, helping youth curling across Canada, are being accepted at the door.
The winner will become Team Wild Card and will join Pool B in the two-pool, 16-team competition.
The 16 teams are split into two pools of eight, based on their Canadian Team Ranking System standing as of Dec. 31; the Wild Card winner will be the No. 3 seed.
They will play seven round-robin games within their pool, with the top four teams in each pool moving into the Championship Pool. The four teams from Pool A will play the four teams from Pool B Thursday and Friday, and then the top four win-loss records (including the preliminary round) will move into the traditional Page playoffs beginning Saturday.
The gold-medal game is scheduled for 6 p.m. on Sunday, Feb. 23; in addition to the World Championship and Tim Hortons Roar of the Rings berths, the winner also will return as Team Canada to the 2021 Scotties Tournament of Hearts in Thunder Bay, Ont.
Here's a look at how the two pools set up:
(teams listed according to seeding, and listed in order of skip, vice-skip, second, lead, alternate, coach/High Performance Consultant)
Pool A
1. Manitoba, Kerri Einarson (Val Sweeting, Shannon Birchard, Briane Meilleur, Jennifer Clarke-Rouire, Patti Wuthrich; Gimli)
4. Team Canada, Chelsea Carey (Sarah Wilkes, Dana Ferguson, Rachel Brown, Dan Carey; Calgary)
5. Alberta, Laura Walker (Kate Cameron, Taylor McDonald, Nadine Scotland, Kelsey Rocque, Brian Chick; Edmonton)
8. Saskatchewan, Robyn Silvernagle (Stefanie Lawton, Jessie Hunkin, Kara Thevenot, Stephanie Schmidt, Lesley McEwan; North Battleford)
9. Northern Ontario, Krista McCarville (Kendra Lilly, Ashley Sippala, Jen Gates, Rick Lang; Thunder Bay)
12. New Brunswick, Andrea Crawford (Jennifer Armstrong, Jillian Babin, Katie Forward, Daryell Nowlan; Oromocto)
13. Nunavut, Lori Eddy (Sadie Pinksen, Alison Griffin, Kaitlin MacDonald, Donalda Mattie; Iqaluit)
16. Quebec, Noémie Verreault (Alana Routledge, Marie-Pier Côté, Jill Routledge, Joëlle St-Hilaire, Michel Blais; Chicoutimi/Glenmore/Trois-Rivieres)
Pool B
2. Ontario, Rachel Homan (Emma Miskew, Joanne Courtney, Lisa Weagle, Cheryl Kreviazuk, Marcel Rocque; Ottawa)
3. Wild Card
6. British Columbia, Corryn Brown (Erin Pincott, Dez Hawes, Ashley Klymchuk, Dailene Pewarchuk, Allison MacInnes; Kamloops)
7. Prince Edward Island, Suzanne Birt (Marie Christianson, Meaghan Hughes, Michelle McQuaid, Mitch O'Shea; Montague)
10. Northwest Territories, Kerry Galusha (Sarah Koltun, Jo-Ann Rizzo, Shona Barbour, Stacey Stabel, Amanda Gates; Yellowknife)
11. Nova Scotia, Mary-Anne Arsenault (Christina Black, Jennifer Baxter, Emma Logan, Kristin Clarke, Stuart MacLean)
14. Yukon, Hailey Birnie (Chelsea Duncan, Gabrielle Plonka, Kimberly Tuor, Rhonda Horte, Lindsay Moldowan; Whitehorse)
15. Newfoundland/Labrador, Erica Curtis (Erin Porter, Julie Devereaux, Beth Hamilton, Eugene Trickett)
You can download a copy of the 2020 Scotties Tournament of Hearts Media Guide by CLICKING HERE.
Teams in the Wild Card game will practise on Thursday, and the other teams will practise on Friday; players from all teams will be available to the media following their assigned practice times. CLICK HERE to view the full practice schedule.
CLICK HEREto check the schedule for the 2020 Scotties Tournament of Hearts.
You can purchase tickets online at curling.ca/tickets, at the Mosaic Place box office, or by calling 306-624-2050. All prices are per ticket and are subject to standard facility and ticket service fees.
TSN/RDS2 will provide complete coverage of every draw at the 2020 Scotties Tournament of Hearts. CLICK HERE for the complete broadcast schedule.