Thievery!
HOMAN STEALS THREE ON JONES IN OPENING DAY SCOTTIES WIN
MOOSE JAW, Sask. — Given her penchant for light-fingered larceny, Ontario's Rachel Homan should've ideally been wearing a ski mask to hide her identity, wearing crepe-souled shoes to avoid detection and toting a bag marked SWAG.
What she did during the fifth end on Sheet A at Mosaic Place on Saturday's late draw?
Now that was a steal.
A three-spot of pure thievery, nestling her final stone through tight quarters to tap back a Jennifer Jones red rock and put the six-time Scotties champ under the gun.
When Jones – skipping the Wild Card team – was a tad heavy with the final shot of the end, drifting out of range on a soft carom, and, presto!, a nervy one-point Ontario lead had swelled to 7-3.
"For sure, that was a big point. Absolutely,'' agreed Homan. "Just a lot of really great shots in that end. We were able to capitalize on the one that she slipped in deep and (we) put the pressure on.
"Just got a little bit of a mistake out of her.
"A really close game. Two's to the open the game. Obviously we were in for a good game."
In a top-of-the-marquee, main-event-worthy match-up anytime, anywhere, on Day one of the 2020 Scotties Tournament of Hearts, Homan was, quite simply, at the peak of her powers throughout the nine-end 9-6 triumph.
Curling at 89 per cent efficiency and making virtually all the must-have shots that needed attending, she and her Ottawa Curling Club ensemble of third Emma Miskew, second Joanne Courtney, lead Lisa Weagle, alternate Cheryl Kreviazuk and coach Marcel Roque are off to solid start, knocking off one of the other pre-tournament favourites.
On the end prior to the swipe of three, for example, Homan had executed a wondrous bit of wizardry, chipping out a Jones stone lingering on the back of the 12-foot, apparently protected by cover.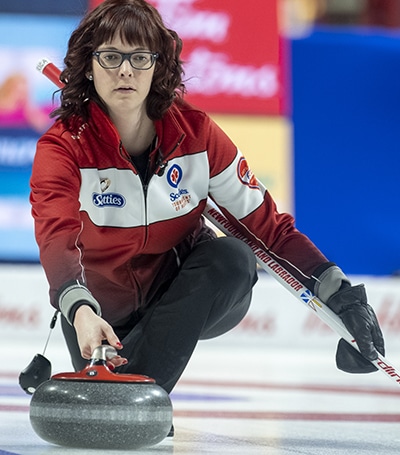 But not only did she eliminate the threat, Homan's rock hung around, hugging the edge of the rings to count two.
Then arrived the decisive fifth and the steal of three. From 3-2 down to 7-3 up in the space of 32 throws.
Jones, of course, arrived feeling pretty good herself, having subdued Tracy Fleury 8-7 in Friday's all-Manitoba Wild Card Game to reach the dance proper.
"A big game, coming out and playing Wild Card, knowing they're coming off a win, a high, so we knew we had to bring our A-game,'' admitted Homan.
"They'd already had a go at the ice already and this was our first crack at it. So we watched closely and got ready for this game.
"To come out opening game and play as well as we did – we're happy with that. But they're a great team and they're going to be there at the end the week, that's for sure."
Jones and her Winnipeg-based team from the St. Vital Curling Club consisting of third Kaitlyn Lawes, second Jocelyn Peterman, lead Dawn McEwen and coach Victor Kjell will be looking to even their record with a win in Sunday's 6:30 p.m. draw versus British Columbia's Corryn Brown of Kamloops.
In other late-draw Day one clashes, Erica Curtis and her Newfoundland & Labrador team (St. John's) topped Hailey Birnie's Yukon (Whitehorse) 6-3, Kerri Einarson and Manitoba (Gimli) toppled Noémie Verreault's Quebec (Chicoutimi/Glenmore/Trois-Rivieres) foursome 9-4, and Laura Walker's Alberta entry (Edmonton) got off to a solid start by subduing skip Lori Eddy and Nunavut 8-3.
The 2020 Scotties Tournament of Hearts continues with draws Sunday at 8:30 a.m., 1:30 p.m. and 6:30 p.m. (all times CST).
Live scoring, standings and statistics for the 2020 Scotties Tournament of Hearts are available at www.curling.ca/scoreboard/
TSN and RDS2 (streamed on ESPN3 in the United States) will provide complete coverage of the 2020 Scotties Tournament of Hearts. CLICK HERE for the complete schedule.
For ticket information for the 2020 Scotties Tournament of Hearts, go to www.curling.ca/2020scotties/tickets/
This story will be available in French as soon as possible at www.curling.ca/2020scotties/nouvelles/?lang=fr