Back on track!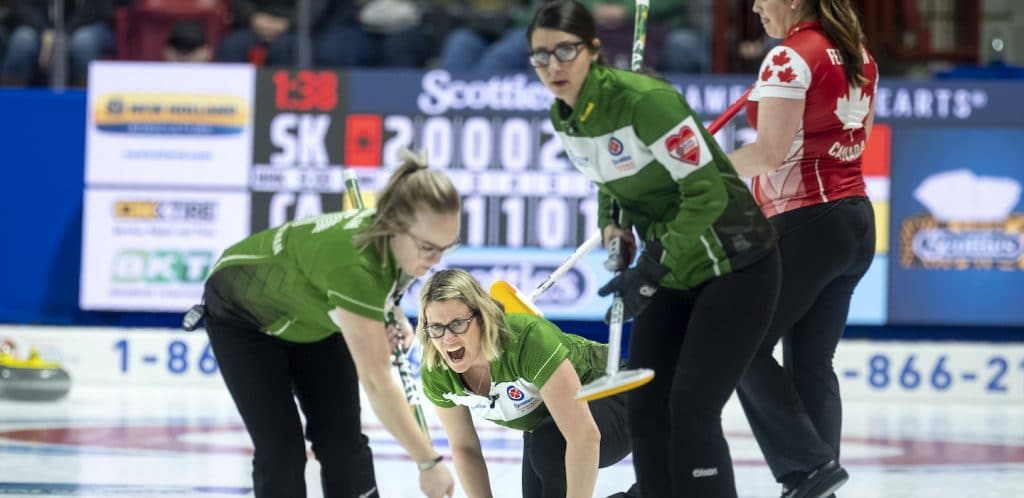 SASKATCHEWAN BOUNCES BACK AT SCOTTIES WITH COMEBACK WIN OVER NUNAVUT
MOOSE JAW, Sask. – A emotionally wrenching day of remembrance of a legend as well as a farewell to a friend and mentor.
A difficult loss to a formidable opponent.
No turnaround time to group. Then finding themselves 4-0 in arrears after only two ends.
Talk about piling on.
Too much too overcome?
Nope. We're good. Got this.
"A testing day in a lot of respects,'' agreed Saskatchewan coach Pat Simmons, in the wake of an equilibrium-regaining comeback victory for skip Robyn Silvernagle and the host provincial reps at the 2020 Scotties Tournament of Hearts. "And in every respect they passed.
"Really proud."
Sunday was fund-raising day for the Sandra Schmirler Foundation and also featured a poignant pre-afternoon-draw goodbye salute to curler Aly Jenkins, who died at 30 last October from complications arising during the birth of her third child.
After all of that, the Saskatchewan champs from North Battleford were obliged to summon themselves and take to the ice to confront defending champ Chelsea Carey, suffering a 9-8 loss.
But propelled forward by Saskatchewan-proud crowd perched inside Mosaic Place, they shrugged off surrendering one in the first end, then a steal of three in the second in the evening draw, rallying to count three in the third, fourth and eighth ends and beat back the still- winless Nunavut team (Iqaluit) of skip Lori Eddy, Sadie Pinksen, Alison Griffin, Kaitlin MacDonald and coach Donalda Mattie, 11-8.
"We struggled a little bit at the beginning,'' acknowledged Silvernagle, "but we need to be patient, 10 ends is long. So we waited for some chances and took them when we got them.
"We just weren't quite as precise (at the start). The ice was tricking us a little bit. Once we got ahold of it, we were fine."
Simmons, who is filling in for regular coach Lesley McEwan (who was competing in the Alberta senior championship), could only marvel at the resilience of his group on an emotionally draining day.
"Out there, being around them, you wouldn't have known the start was far from ideal or that they'd lost a tough one just a short while earlier,'' he said.
"We talked beforehand about the importance of patience and having some fun out there. Just do your thing.
"Even against Canada they didn't play their best and still had a few chances to win that game.
"So a lot of positives today."
As a reward, Silvernagle and her crew — vice-skip Stefanie Lawton, second Jessie Hunkin, lead Kara Thevenot and alternate Stephanie Schmidt — get the opening two draws of Monday's schedule off before facing unbeaten Alberta in the evening draw
"We're ready to rest, having two pregnant girls on the team," said Silvernagle, referring to Hunkin and Thevenot.
The bit of down time, chimed in Simmons, can only do the group a world of good.
"Means we'll be re-charged, refreshed and ready to roll."
In other late-draw results, Jennifer Jones and her Wild Card foursome (Winnipeg: 2-1) overcame a seemingly insurmountable 6-1 deficit, only to forge ahead and then finally have to outlast B.C.'s Corryn Brown (Kamloops; 2-1) 11-10, Alberta's Laura Walker (Edmonton; 3-0) dismissed New Brunswick's Andrea Crawford (Oromocto; 0-3) while P.E.I. with Suzanne Birt at the helm (Montague; 2-1) produced a big win in knocking off Ontario and Rachel Homan (Ottawa; 2-1) 9-8 in an extra end.
 The 2020 Scotties Tournament of Hearts continues Monday with draws at 8:30 a.m., 1:30 p.m. and 6:30 p.m. (CST).
Live scoring, standings and statistics for the 2020 Scotties Tournament of Hearts are available at www.curling.ca/scoreboard/
TSN and RDS2 (streamed on ESPN3 in the United States) will provide complete coverage of the 2020 Scotties Tournament of Hearts. CLICK HERE for the complete schedule.
For ticket information for the 2020 Scotties Tournament of Hearts, go to www.curling.ca/2020scotties/tickets/
This story will be available in French as soon as possible at www.curling.ca/2020scotties/nouvelles/?lang=fr