Momentum swing!
Early struggles forgotten as Canada climbs the leaderboard at 2020 world junior championships
The Assiniboine Memorial Curling Club's Jacques Gauthier and his Winnipeg foursome said in a previous interview that measured momentum would be the key to their success at the 2020 World Junior Curling Championships in Krasnoyarsk, Russia.

And now, after five sessions of men's play, they sit with a 4-1 record; tied for first overall alongside Germany's Sixten Totzek.

"I think we just need to stay in the groove right now, we don't need to get ahead of ourselves and look too far in the future. We're just taking it one game at a time. It's still really early in the competition. I think if we keep doing that, taking it one game at a time, one end at a time, maybe the results will continue," said Gauthier.

The Canadian junior men took their self appointed mentality to heart defeating both Italy's Giacomo Coli 7-2 in men's session 4 and Norway's Eirik Oey by a score of 9-3 in men's session 5.

Wins do not come easily on the world stage and Gauthier knows it.

"We've had a couple of days and games to process our opening loss. We've been playing better and better. We had a bit of a speed-bump tonight, we weren't as sharp as we'd like to be but every game we've picked it up and I'm pretty happy with our playing," said Gauthier.

His team continues to make the required adjustment to ensure success.
"I don't think I personally caught onto the ice as well as I would have liked to, and we had a little bit of struggles early trying to figure out ur rocks. I think we played a lot better after the fifth end. Ice conditions were a little different tonight – still really good, just a little different and we didn't pick up on that," said Gauthier.
The Canadian junior women's representative, the Mackenzie Zacharias rink of the Altona Curling Club, weren't to be excluded from the winning ways either; defeating Russia's Vlada Rumiansteva 9-6 in women's session 4 play.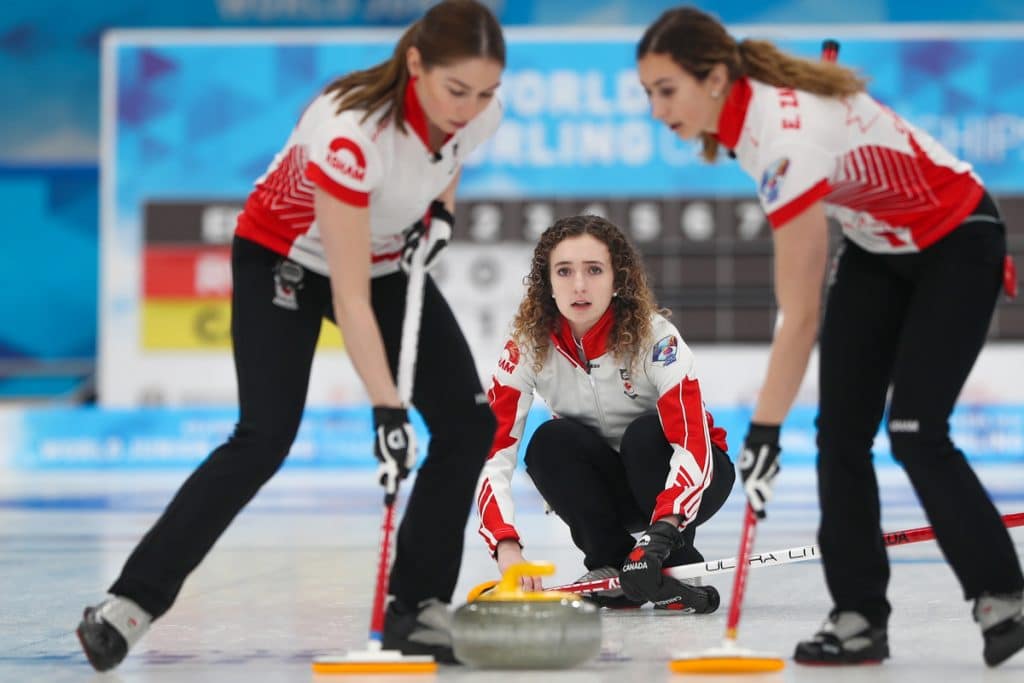 The match was touted as an extremely close one but was broken open early in the 4th end with Canada manufacturing a score of four with the hammer.

"I think it was really fortunate that we were able to score multiple points on this great team and Russia played fantastic today, they're an absolutely fabulous team and scoring that 4 really helped us gain a little bit of momentum and I think we were just able to carry that into the rest of the game," said Zacharias.

Zacharias is leading her team to success as they boast a 3-1 record and are tied for third overall in the round robin with Denmark, Russia and Switzerland, but feel they can still reach a higher level of performance.

"So far it's been good, we're still working on getting everything going. We had a really good showing at nationals and we're still not quite there yet, so we're looking forward to just keep going and keep the momentum going and hopefully we can be at peak performance by the end of the week," said Zacharias.
Zacharias and company will have ample chance to find the next gear as they face Hungary in women's session 5 action February 17th at 9 p.m (all times eastern) followed up by an important match versus Switzerland at 7 a.m. on February 18th

Meanwhile the men will look to improve their record with a win in their upcoming match versus New Zealand in men's session 6 action at 2 a.m.on February 18th.

Additional details are available here from the World Curling Federation's event page.