N. Ontario is in the hunt!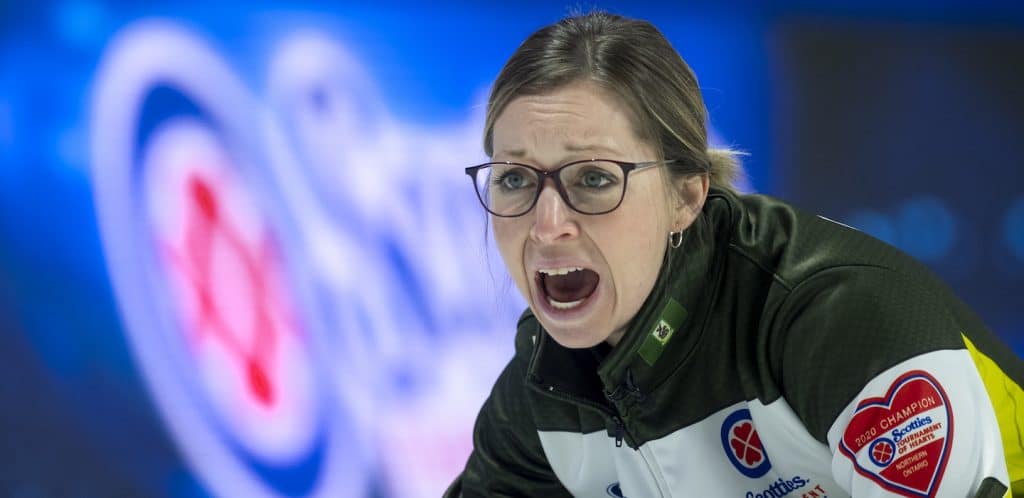 MCCARVILLE'S NORTHERN ONTARIO TEAM REMAINS IN CONTENTION AT 2020 SCOTTIES
MOOSE JAW, Sask. — Not quite at the top of the heap just yet but close enough to be able to see the view.
"Coming in,'' assured skip Krista McCarville, "if you'd told me we'd be 3-1 right now, I'd be very happy with that."
Rebounding from surrendering a two-spot on the 10th end in losing their unbeaten record to also-spotless Manitoba via an 8-7 decision only hours earlier on the 8:30 a.m. draw, the Northern Ontario reps from Thunder Bay rebounded in the afternoon to subdue the hard-luck, no-surrender Quebec entry from Chicoutimi/Glenmore/Trois-Rivieres, 9-7.
"Against Manitoba we had a really good game,'' McCarville pointed out. "Back and forth. We played really well. This afternoon not quite so well.
"Still figuring things out. The speed was a little bit different. But we managed. And when it was time to bear down and make those shots, I think we did."
The Thunder Bay crew overturned a 7-5 disadvantage with the game's final four points at Mosaic Place, three of those steals.
Along with the rest of the 2020 Scotties Tournament of Hearts field, they find themselves currently chasing skip Kerri Einarson's Manitobans, a spotless 4-0 so far.
"That Manitoba game was a real barn-burner, one of those who's gonna score last things, and they nipped us,'' reckoned Northern Ontario coach Rick Lang, a two-time world men's champion. "There was a lot of attention put on that game so we knew, particularly after the outcome, that this afternoon was going to be a real mental challenge. Just hard work. The key was not to allow our energy levels to drop. A problem with our not playing a lot together all year as a team is that we're not used to the back-to-backs.
"So we were happy with the W, no matter how it looked."
Once again, 0-4 Quebec was left to curse its lot, giving nothing away gratis but still finding themselves in search of a first reason to celebrate here.
"We're very unlucky,'' sighed skip Noémie Verrault. "Luck never turns in our favour. It's always one shot. I'm a little disappointed, but that's experience. It's frustrating, for sure.
"We're a great team. We put up a great fight. We've had really great games and we give the other teams a real battle."
McCarville can vouch for that.
"They made tons of shots out there,'' she praised. "We found the draw weight a little bit different so we struggled with that at the beginning. But they made some amazing shots.
"We knew coming here that every single game would be crucial because these are the best teams from every province."
Given that the 2021 Scotties are in their town a year from now, the McCarville team that also includes Kendra Lilly, Ashley Sippala and Jen Gates finds itself the subject of a lot of attention.
"Obviously, to be there would be phenomenal,'' hedged Lang, who's also the vice-chair of the Thunder Bay Host Committee, "but we're trying to keep away from that thought process because it just carries added pressure and expectation.
"I know you're hearing this a lot but we just want to play well this week. It's important that Krista and her team be there (at the 2021 Scotties) and it'd be great to lock up a spot this year (by winning this year's Scotties), a dream come true, but there's a lot of work to do."
In other Draw 7 games, Manitoba edged Chelsea Carey's Team Canada entry (Calgary; 2-2) 6-5 on an extra end; Nova Scotia skipped by Mary-Anne Arsenault (Halifax; 3-1) held off Erica Curtis and Newfoundland/Labrador (St. John's; 1-3) by a 9-5 scoreline; and Kerry Galusha's Northwest Territories team (Yellowknife); 2-2) toppled Hailey Birnie and the Yukon (Whitehorse; 0-4) 9-5.
The 2020 Scotties Tournament of Hearts continues today with a final draw at 6:30 p.m. (CST).
Live scoring, standings and statistics for the 2020 Scotties Tournament of Hearts are available at www.curling.ca/scoreboard/
TSN and RDS2 (streamed on ESPN3 in the United States) will provide complete coverage of the 2020 Scotties Tournament of Hearts. CLICK HERE for the complete schedule.
For ticket information for the 2020 Scotties Tournament of Hearts, go to www.curling.ca/2020scotties/tickets/
This story will be available in French as soon as possible at www.curling.ca/2020scotties/nouvelles/?lang=fr